Review: The iPad Pro is beginning to look like Apple's future computing platform. It's as powerful as 90% of laptops, and we suspect it will continue to grow in features, capabilities. It already renders faster than most MacBook Pros. All it needs now is an accessible file system and support for external drives.
Editor's note: We think this is such an important development that we're bringing you an extensive three-part review of the iPad Pro, by K. Stewart, and a final part by me (David Shapton) which looks at how the change from Intel to ARM and OS X to IOS as Apple's main computing platform could happen. As a preview to our conclusion: try to bear in mind while reading this that we think Apple is likely to provide greater access to the iPad's file system for professional users. Indeed this might be what ultimately distinguishes iPad Pros from lesser iPads. We also think that when this happens, Apple will allow full access to external storage. The hardware is there now (although not, seemingly, Thunderbolt, yet).
By virtue of Apple owning the entire widget, we're accustomed to its devices arriving properly formed with OS and key applications to support every technical advance.
The 2018 iPad Pros aren't like this.
A change of strategy with iOS 12 focusing on bug fixes and performances has stranded them in a halfway house of excellent hardware without supporting extensions of iOS capabilities.
Calling them tomorrow's machines arrived just a little too soon isn't a bad introduction, so let's look into the details.
Experience Pro's & Cons
In performance terms, the new iPads are otherworldly with Geekbench CPU performance beyond every MacBook other than the 2018 15-inch MacBook Pro. Graphics performance is comparable to an Xbox One S. All in a machine just 5.9 mm thick: the thinnest iOS devices ever.
These are landmark machines for iOS and computing in general.
The A12X processor is accompanied by a bold new look, Face ID and USB-C.
By volume, the 12.9 inch model reviewed here is 25% smaller than the previous gen. It's a dramatic difference in how lightweight and usable it is as a tablet.
While the design is reminiscent of the iPhone 4 with its austere, squared off lines, it doesn't look in any way dated. Set against the iPhone X, it looks just as modern and after eight years of iPad design evolution, it's so welcome to get a revolutionary change.
Set-up, even from new, is surprisingly fast. Face ID is far faster than Touch ID's move and replace finger routine.
The 120Hz ProMotion refresh rate coupled with the A12X processor provides a subtly seductive responsiveness that can make the app switching pauses and refresh times of a PC or Mac seem archaic. Left scroll from the bottom of the screen to flip through open apps in a blur.
iOS is designed to make low power processors look good by tricks such as snapshots of apps while they load in. Typical iOS app also tend to written to be far more efficient and lightweight than a typical desktop app.
Image: Apple
Electric performance
All of which means on-device performance is electric. Follow the right workflow, with app interaction guided by iPhone X-style gestures, and it's an utterly enrapturing experience. It's genuinely stunning to launch a powerful app like LumaFusion so quickly and to then so fluidly edit in 4K. The previous generation iPad Pro also did this well of course, but rendering times are slashed by A12X - easily beating not just the previous generation, but most MacBook Pros at double or treble the price.
Apple's aggressive marketing line about the new Pro's being more powerful than 92% of the laptops shipping this year drew an inevitable push back from the tech press.
Its existing performance is primarily due to the A12X's architecture with an eight core CPU, four high performance, four high efficiency, but in this iPad all of them can be active simultaneously if needed. The 7-core GPU is Apple's second generation in-house design and the iPad version is capable of double the performance of that in the iPhone XS, although some of this performance is also due to a far larger memory sub-system.
The performance of these parts is relatively easy to benchmark using standard tests. They're not the real-world, but they're known quantities.
What's currently untouched, apart from specific applications such as FaceID and camera performance, is the neural engine. Apple gambled big in 2018 with a lot of silicon space on the A12X devoted to that 8-core neural engine. Quite how well the iPad Pros would've done in Geekbench with this silicon providing extra CPU cores is hard to imagine. If the A12X can match an Xbox One S now, what about if Apple had chosen to double the graphic cores?
Face ID demands a neural engine, of course, but the iPhone X copes well enough with last year's far less powerful model (600 billion operations per second vs 5 trillion). However, Apple chose to make this big neural engine play.
Right now, there are no MacBooks with any kind of equivalent to the neural engine.
So far, Apple haven't ported any pro apps such as FCPX or Logic Pro to iOS in any form. Will this change in 2019 with iOS 13?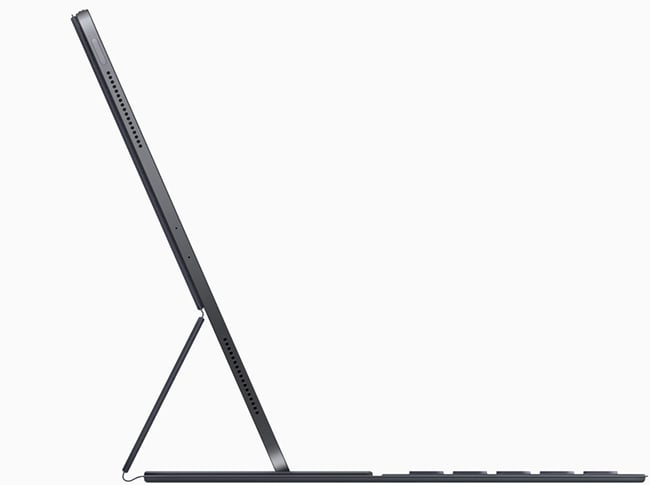 Image: Apple
Ipad Pro vs MacBook Pro
How would you like to compare FCPX running on iOS with A12X and dedicated routines built upon the neural engine vs a MacBook Pro?
The performance of the A12X in Geekbench is astonishing, but it's not causing a rush of MacBook switchers right now because equivalent or marginally superior performance isn't enough to be truly disruptive.
Apple's expectation has to be that its developers and third-parties will find a way to leverage the power of the neural engine in ways that more significantly outflank a conventional PC.
That feature in the new iPhones and iPads where you can alter the bokeh after the shot has been taken? That's a neat consumer feature, are there professional equivalents? The Pixel 3 delivers low light imagery that's simply astonishing due to some very clever AI coding.
Photoshop made a stunning demo at the iPad Pro launch with the existing engine using existing features. Graphics package are increasingly using AI routines to help remove unwanted picture elements. What's the potential here with so much dedicated hardware on tap?
All of this points to a potentially dazzling future.
And for all the pushback in the tech press about iOS limitations, it's unarguable that plenty of professionals have long making a living with iPads as a key part of their workflow. For them, the iPad Pro's extra power and reduced dimensions are something of a dream come true today.
Will we be using the iPad Pro as a primary edit machine soon? (Luma Fusion shown on an older iPad)
Limitations
But.
There are other workflows that can make an iPad Pro look like an iPhone with embarrassing pretensions.
No-one should be transferring around files on USB thumb drives, but time and again people fall back on them. Even with an SD card reader, iOS can only read photos and videos. Other file types are mostly invisible.
Apps like LumaFusion can draw upon hard drives via a wireless cloud share, but only in limited fashion from wired which is where the real speed comes from.
Apple's Files app provides a rudimentary meta-file manager that ties into other file management systems from Dropbox, OneDrive, Google Drive, Box etc etc. Each of which has their own UI and their own way of sharing / transferring content. Microsoft Word on iOS can only pick images from Photos, not even its partner OneDrive app. (However, if you put the apps side-by-side, then you can drag and drop.) MacOS took many, many years to get Finder up to scratch, but its latest upgrade in Mojave is a productivity dream that would transform iOS if ported across.
Making iOS a macOS clone isn't the way to go, but with the same underlying code base, the balance of features needs an update.
On macOS, iCloud allows you to choose which folders are synched and which are not. In iOS it's not so granular. Photos is the backbone of the file system for video and images, with an all or nothing optimise or not sync option. On an iPhone it's convenient for iOS to offload photos into the cloud so as to keep storage space open. When working in a NLE, coming back to a project and needing to re-download files is painful.
Tags: Technology