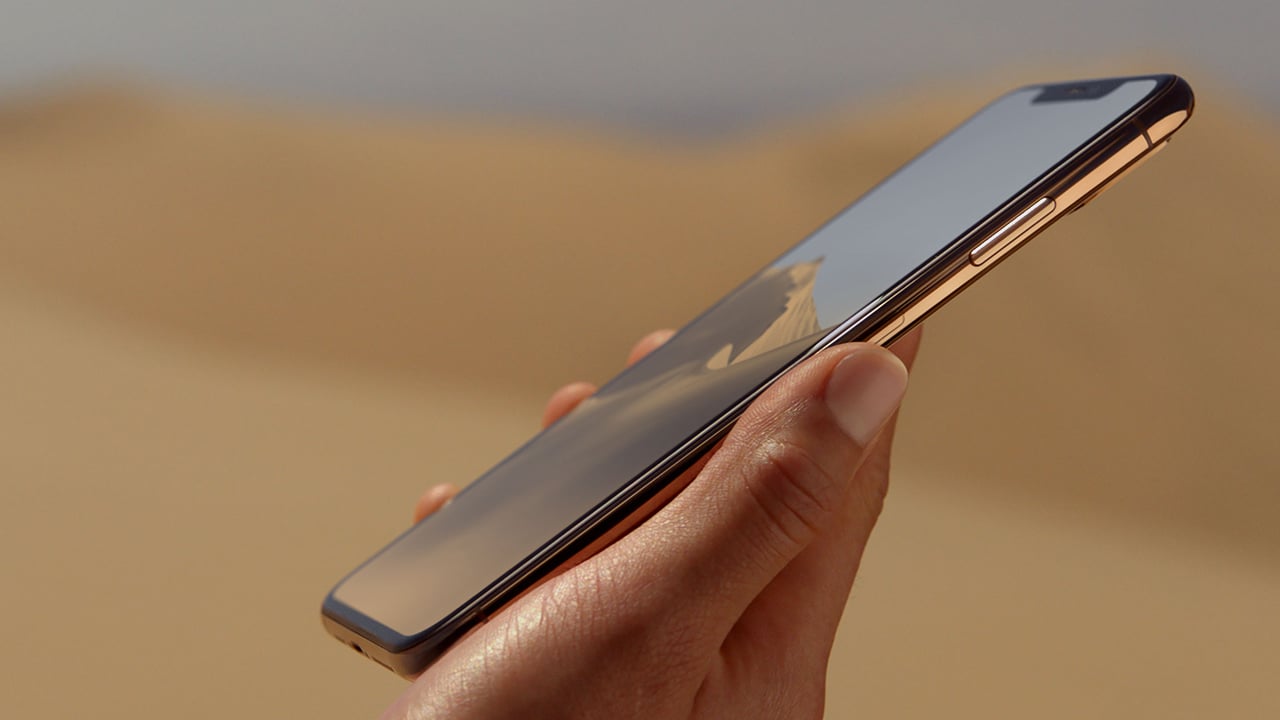 Apple's new iPhone announcements might not have offered us any huge surprises due to various rumours and leaks, but the new devices still impress with the powerful new A12 chip and increased photographic capabilities.
A slick Mission Impossible-style opening video set the scene for a tour de force of Apple engineering with its 2017 iPhone X future vision being iterated into 3 new models, including a super-size and (somewhat) more affordable LCD model, plus the first serious redesign of the Apple Watch chassis with its Series 4 iteration. In truth, almost everything had leaked prior to the event in one way or another. There was no stunning 'one more thing'. Very little in the way of innovative new software or features, but it all added up to an impressive iteration of industry leading technology that will take some beating if you're in the market to upgrade this year.
iOS 12 was originally going to push forward the interface design, particularly the homepage, with which we expected similar flair as the X did for the iPhone chassis. However, after a variety of issues with iOS 11, that plan got sidelined in favour of performance enhancement and bug fixes.
The new Apple Watch Series 4 with accurate ECG capabilities - Image: Apple
Series 4
Apple Watch made its debut in 2015 as the first post-Steve Jobs product line. In its original form, it was underpowered and the UI / product concept was more ambitious than practical. A thorough re-imagining of the UI a year later and steadily enhanced hardware has seen only modest tweaks to the basic rounded square watch face.
2018 moves things on significantly enlarging the screen size by about 30% due to an edge-to-edge design and increased resolution with a new, more power efficient display technology called LTPO. The chassis is taller, but also thinner with less total volume. With a blank screen, the differences between Series 3 and 4 might seems relatively subtle, but Apple has iterated the UI to take full advantage of the new screen. The signature Series 4 watch face has a round design crammed with as many as 8 complications. This might seem like overload, but there's definitely days when it can really be helpful to glance down and see multiple time zones, your next appointment, the weather, activity status and more. And this, remember, is just one choice. Fire and Water watch faces were shown off with no complications, just gorgeous animations spilling across the entire screen.
In addition to the slimmer, more curvaceous chassis the Digital Crown has been completely re-engineered, it's still mechanical but includes subtle haptic feedback which should allow for finer control of some applications. You actually feel a subtle click in the music app as you scroll through songs as an example. The speaker is louder and the microphone has been moved to the opposite side, both of which help with cellular calls and interacting with Siri.
The underside of the Apple Watch is now black ceramic and sapphire crystal while also integrating an ECG - the first to be available over the counter and FDA endorsed. Alongside this, Apple Watch now also offers a low heart rate alarm and atrial fibrillation alerts.
The S4 chip is a 64-bit dual core design and offers up to twice the performance of the previous chip, so apps open even more quickly and are more responsive. Battery life is approximately the same 18 hours as before, despite the bigger screen and reduced volume, and workout tracking time is extended.
As to what to do with all this performance... With a next generation gyroscope and accelerometer sensors Series 4 is able to detect falls and, if you're immobile for more than a minute, can trigger a call to get help. This is admirable, particularly as we got a brief insight into the complexity of this technology, but it's another sign of Apple Watch being primarily a health and notifications platform rather than the general purpose computing device it started out as. Many third party apps have stopped supporting Apple Watch rather than be redeveloped to support the latest OS. As the world's bestselling watch and with this enhanced design, possibly that might change in the future but there was little indication of it this year.
At launch, Apple Watch (in)famously shipped with a gold Edition model, later superseded by a ceramic premium option. This year the range is simplified with a choice of stainless steel or aluminium, plus multiple colour options and 44 or 42mm chassis sizes. All stainless steel models are cellular capable, only with aluminium can you go for a non-cellular GPS model with entry level pricing of £399 for 42mm and £429 for 44mm - a significant uplift from the previous generation and a signature (if unspoken) theme of the 2018 event. At least all of the bands remain compatible between Watch ranges, despite the subtle size changes, and Series 3 stays in the line-up with a big price drop from today.
Apple Watch pre-orders open on Friday 14th with first deliveries a week later. Watch OS5 is due on September 17th.
The new flagship iPhone XS series - Image: Apple
iPhone XS
Despite being accompanied by a record price tag, the 2017 iPhone X proved to be a hit which helped power Apple to its trillion dollar valuation.
The 2018 model is called XS - the S being a nod to Apple's tradition of new chassis designs being followed by identical looking successors with enhanced internals. Apart from its brighter screen, a tweak to the bottom speaker grill and new gold colour variant, the 5.8 inch XS is visually near identical to last year's model. There is however a 6.5-inch XS Max which apart from screen size is identical to the standard XS.
Both models come with the most durable glass yet (far from trivial given Apple's eye-watering charges for replacing its OLED screen) and upgraded IP68 water proofing - submerged for 30 minutes at 2m depth. Thorough testing included not just fresh and saline water, but wine, beer etc...
The Super Retina OLED screen (458ppi) supports Dolby Vision and HDR10 with 60% greater dynamic range than the iPhone X for a stunning 1 million: 1 contrast ratio. Stereo sound is also better than ever, with a richer wider feel.
The A12 Bionic was promoted as the industry's first 7 nanometer chip. Huawei already announced their Kirin 980 at IFA, but in terms of volume shipments to market it will be close between the two. The A12 features 6.9 billion transistors - a stunning increase of 60% on last year's A11.
The CPU design again features two high performance cores, four high efficiency, and there's only a modest 15% performance increase overall, but efficiency is enhanced with up to 50% power reduction. Compared to X, the XS offer 30 minutes more battery life while iPhone XS Max offers 90 minutes more.
The GPU is now Apple designed of course and now features 4 cores rather than 3 in the A11 with up to 50% performance increase.
Game graphics can now reach true console quality - Image: Apple
Neural engine
Last year saw the debut of a neural engine and Apple has iterated significantly on this in 2018. The number of cores jumps from 2 to 8, while peak performance is a stunning 5 TeraOPs - an 8x increase from last year. Core ML is the framework that runs on top of the neural engine and its apparently 9x faster using 1/10th the energy on iPhone XS.
Alongside these processor cores, the A12 features a smart compute system designed to dynamically switch processing between CPU, GPU and Neural Engine to ensure maximum efficiency. The A12 is also capable of addressing 512Gb of internal storage.
Apple claim it's the smartest and most powerful chip in a smartphone. From past experience, it's unlikely they'll be proven wrong.
As to why this matters, Apple took care to emphasise everything in iPhone is powered by this best in class processor. The time to unlock iPhone (with Face ID), to launching apps (up to 30% faster) to searching photos to multi-tasking to games relies upon A12. It's fair to say the iPhone X felt phenomenally fast at launch and iOS 12's tweaks only enhance this, but Apple make a lot of the security benefits of processing happening on device (rather than cloud) for things such as curation of photos, so there's that to consider. Real-time Animoji being superimposed on your face in video is also computationally intense, of course.
It's clear Apple needs developers onboard to leverage this power.
Once again Apple returned to Augmented Reality with iOS 12 featuring ARKit to support applications such as turning your kitchen into a cool looking aquarium as a momentary distraction
Then we had a demo by Bethesda of Elder Scrolls Blades, a first person RPG with seriously impressive visuals. It's available to preorder now with a shipping date in December. Previously revealed at E3 for Android as well as iOS, it should prove an interesting comparison between best in class smartphones at that time. The visuals were compared to a current generation console with a giant spider and fire spewing dragon providing some proof of visual flair for this type of game with the OLED HDR screen helping distinguish finer details.
Another demo used AR with a basketball training app tracking the player's movement to monitor and improve performance. The real-time tracking is only possible on the new iPhone with its neural engine capabilities.
Finally, we saw Directive Games demo an AR arcade game which looked to be actually good fun with Galaga re-imagined as a multi-player AR experience. The visuals were great, it was different to a mainstream console game and it's due in the App Store later this year.
The new camera produces even better pictures than before - Image: Apple
The camera
The third-party demos served as a useful warm-up for the main event, which is the latest generation of the world's most popular camera with Phil Schiller proudly showing off a Time magazine cover shot on iPhone.
The basic specs are unchanged from the X: dual 12MP sensors for both the standard wide angle and telephoto lenses with optical image stabilisation on both. The former is f/1.8 and the latter f/2.4, however the sensors themselves are bigger - 1.4µm rather than 1.22µm - which allows it to capture more light.
The biggest improvement lies outside the conventional imaging chain however with the 2018 iPhones enabling the Image Sensor Processor to work in real-time with that huge new neural engine for a whole host of processing operations from detection of face and body, white balance, instant red-eye reduction and much much more. The imaging system is capable of 1 trillion ops for a single photo.
Smart HDR is one result of this power and offers zero shutter lag with a 4 frame buffer, plus intra-frame shots composited on the fly to deliver stunning results. An example shot showed the results from shooting into the sun while retaining amazing detail on the foreground subject.
One attractive innovation of the iPhone's processing capabilities has been DSLR-style portrait mode with depth effect which could be turned on or off in post-processing. Now the 2018 iPhones go one step further with the ability to dynamically adjust the depth of field after the shot taken.
Phil Schiller heralded this as a new era of photography. In truth, last year's Pixel phones used computational photography to match or even out perform the iPhone's dual cameras depth effect with a single camera. That said, the vast increase in the capabilities of the A12's neural engine and Apple's ability to fine tune image processing via OS updates mean this year's rematch should be fascinating. Without question, computational photography is here.
In terms of video, the sensor is twice as fast and low light demo footage looked phenomenal while four microphones now support stereo sound recording. There's been mixed reaction, let's say, to Soderburgh's Unsane which was shot on an IPhone 7 Plus, but the iPhone XS showcase videos are truly impressive.
Also worth noting is that the camera set-up between the XS and XS Max appears to be exactly the same, unlike previous generations where the Plus size gets a superior set-up. Rumours of a triple camera on the large phone will have to wait until 2019 at least.
The new iPhones support Gigabit LTE with yet more bands for international roaming, while Dual Sim is added as a global feature relying upon eSim technology previously seen on Apple's cellular iPads and Apple Watch. The technology is called Dual Sim Dual Standby and carrier support is limited but growing. EE are one supporter in the UK. In China, uniquely, the XS will offer physical dual sim support due to the popularity of that feature over there.
XS pricing starts at £999 for the 64Gb model, £1149 for 256Gb and there's a new 512Gb model at £1349. Given the improved imaging performance, it's a shame once again there's no 128Gb model. The XS Max costs £100 extra at the same capacity levels. Pre-orders begin on the 14th with deliveries from the 21st.
The iPhone XR is the new entry level phone in the "X" line-up - Image: Apple
iPhone XR
Earlier in the year there was buzz around a new, more affordable iPhone that would adopt the X design template but adopt LCD rather than OLED, a single camera rather than dual, and aluminium rather than stainless steel.
This is, indeed, what iPhone XR is but the affordability is relative - this cheapest current generation iPhone is now starting at about the price of what used to be the most expensive model: the iPhone Plus.
That said, one of the most interesting aspects of the XR is the screen size of 6.1 inch which sits between the 5.8 inch XS and 6.5 inch XS Max which is bigger than the old Plus models of course. Similarly, in terms of features the compromises are limited.
There's no 3D Touch and Haptic Touch doesn't feel quite as good, but this is quite a niche feature that not many people actively use. Water resistance is just a notch below the new iPhones, IP67 rather than IP68 - so just 1m depth submerged for 30 minutes. Despite having only a single camera, the XR uses the A12 chip to offer the full range of effects seen in the XS models including portrait mode and dynamic control of depth effect. The front facing camera and Face ID system is just the same as on the XS, while the single rear camera is a 12MP wide-angle camera F/1.8 aperture.
As an all-screen design, the LCD is a significant differentiator. Its Retina rather than Super Retina (326ppi 1792x828) with a 1400:1 contrast ratio. It can't offer Dolby Vision but if you're not watching movies all the time, this might not matter so much. The aluminium may cheaper than stainless steel, but this isn't any kind of equivalent of the plastic C range Apple experimented with. The feel is premium, there's six colours to choose from including a highly appealing Product (Red) finish.
The XR price starts at 749 (64Gb) to £799 (128Gb) to £899 (256Gb) with pre-orders starting 19th October.
Details
None of the iPhones have headphone jacks of course and the 3.5mm adapters no longer come included. Fast charging is improved beyond the 7.5w supported last year, but the supplied USB chargers, contrary to rumours, stays at 5w. The small format iPhone SE has also dropped from the line-up entirely, while the AirPower multi-device charger previewed last year not only wasn't launched but most references have been wiped from Apple's website.
Conclusion
The new iPhones and Apple Watch show the world's most successful company iterating its technology with impressive flair. For anyone in the imaging business, the 2018 iPhones' unification of its ISP and an 8-core neural engine is something to watch with great interest. Whether Apple or Google have initiated this new era of computational photography isn't so much the point as the fact it's inarguably arrived. Given that some 60% of the world's first trillion dollar company comes from iPhone and the camera is given so much stage time, the amount of investment in each iteration must be staggering and leagues beyond what professional camcorder manufacturers could countenance.
This aside, the refinement of the iPhone and Apple Watch is accompanied by pricing that relies upon previous generation hardware to maintain a presence in anything other than the premium market. This is a shame. In the US, Apple have unveiled Apple Care with Theft and Loss but it's not cheap and is a reminder the total cost of ownership of these devices is significant.
Given its importance to Apple, it's traditional for iPhone to dominate the September event and hence we still expect another event in October for iPad Pros and a redesigned MacBook Air.