While the consumer press zeroed in their attention on the HomePod, the big news from Apple as far as our area of the industry goes was the surprise unveiling of a new $4999 iMac Pro. All this and more from WWDC 2017 in our comprehensive roundup by K Stewart.
Tim Cook promised the best WWDC ever and over the course of 2 hours and twenty minutes Apple more than delivered in scale if nothing else with a bravura showcase of Apple's 2017 line-up.
iMac Pro Preview
While an all-new Mac Pro is scheduled for 2018, Apple surprised everyone with a tricked out iMac Pro designed to push the iMac form factor to the absolute maximum.
Due on sale this December, the iMac Pro has the same exterior design as the standard 27-inch Mac but with an alluring Space Grey finish plus matching keyboard and mouse. It's raison d'etre is to integrate workstation class performance into a chassis that's often seemed more suited to laptop components than desktop. An all-new thermal architecture, with a dual centrifugal fan, gives 80% more cooling performance while maintaining a low noise profile.
With great power comes great cooling...
For a CPU, options will include 8, 10 and 18-core Xeon Processors. For graphics, there's a cutting-edge AMD Radeon Pro Vega with up to 16GB of VRAM and 400Gbps of bandwidth to deliver 11 teraflops of single precision compute power, but which can also do half-precision compute for 22Tflops. RAM goes up to 128GB of ECC RAM and up to 4TB SSDs.
For IO, there's 4X Thunderbolt 3, which can support two 5K displays and two high-performance RAID arrays, plus 10Gb Ethernet. there's also four USB 3.0 ports and an SD Card reader.
According to Apple, an equivalent PC would cost over $7K, while the iMac Pro starts at $4999. No doubt there'll be furious debate over price comparisons, but the headline news is incontrovertible - Apple is back in the serious workstation business with a bang.
And just to confirm, this definitely isn't the Mac Pro replacement — that is still on track for 2018 and will have a modular design for easier upgrading.
Read our analysis of the new iMac Pro and what it means for the future direction of Apple here: Apple remembers its professional heritage.
iMacs & MacBooks for Pros
If you can't wait for the iMac Pro, Apple has available today a wholesale refresh of most of the Mac line-up.
The updated iMacs feature Intel Kaby Lake processors with up 4.2GHz (4.5Ghz Turbo Boost) and support for twice as much as memory before. All the 27-inch models feature the SSD/HDD Fusion Drive, plus the top-end 21.5" model. SSD storage options are up to 50% faster, while I/O has been upgraded with Thunderbolt 3. (All the more important with High Sierra/Metal 2 offering support for external GPUs.)
The iMac screens have also been enhanced - 43% brighter at 500 nits and 10bit support offering up to 1 billion colours.
However, it's the GPU upgrades that are the most startling for a range that's often been ill-served in this area. The 21.5-inch entry-level iMacs get Iris Plus 650 with 64MB eDRAM for up to 80% faster graphics. The 4K iMacs get up to a 3x boost thanks to discrete Radeon Pro 555 and 560 GPUs with up to 4GB VRAM.
The flagship 27-inch 5K iMac get a Radeon Pro 570, 575 and 580 options with up to 8GB VRAM. That's up to 5.5 TFlops of graphics compute which was perfectly illustrated by a Star Wars VR demo by ILM with Epic Games showing off their Unreal Engine for VR. The scenario wasn't a game per se, but using the Mac to develop a VR experience complete with wave after wave of TiE fighters and a light sabre swinging Darth Vader. An ILM spokesperson made the point that the company uses VR to scout locations and develop CGI environments for the movies, so there's the potential of a true Hollywood tool chain for movies carrying over assets to home VR.
The arrival of a world class VR dev machine in a year in which AR/VR is potentially a key feature for iPhone 8 with vertical twin cameras could, of course, be entirely coincidental...
On the MacBook front, the ultra portable 12-inch MacBook is upgraded to Kaby Lake processors up to 1.3GHZ Core i7 (Turbo Boost 3.6 GHz), 50% faster SSD and support for twice the memory. The keyboard has also been updated, making for the most significant of the MacBook updates.
The 13-inch MacBook Pro has a 3.5 GHz Kaby Lake Core i7 (Turbo Boost 4.0 GHz) high-end option and the 15-inch tops out with a 3.1 GHz Kaby Lake Core i7 (Turbo Boost 4.1 GHz). Since the Pro line-up was only refreshed less than a year ago, the enhancements (including GPU updates) are less significant than the MacBook and 16GB remains the max RAM until the next Intel upgrade.
The MacBook Air is still somehow still hanging on in there, despite being now being Apple's bulkiest laptop, but only receives a processor speed update.
High Sierra goes H.265
Apple has a tradition of MacOS updates that swing between new feature oriented and more performance/tune-up releases. As the name indicates, this year's macOS update will be more of a tune-up but for professionals, in particular, this is one to watch out for. Apple has already rolled out its all-new APFS file system to iOS, now it's coming to Mac. The challenges are bigger with a more open architecture, but the benefits are also more far reaching. A key demo showed the copying of a large video file, with Sierra being reasonably quick while High Sierra seemed instantaneous. An all-new file system is going to make professionals wary about when and how they upgrade, but when the bugs are worked out the workflow benefits could be huge.
Professionals will also welcome the adoption of H.265 with 40% better compression than H.264 - opening the door for better support for 4K content. All new Macs will get hardware acceleration of H.265, while older Macs will make do with software-based support.
GPU performance has been a stand-out of the last 10 years and Metal 2 offers a 10x improvement in performance compared to Metal. This will not only make the most of the GPUs Macs ship with, a $600 developer kit including an AMD Radeon RX580, external GPU chassis and USB-C port is to be made available to support using Metal and Thunderbolt to integrate external GPUs.
This particularly matters for VR content creation. There will be Metal for VR. Final Cut Pro X will support VR. Steam VR for Mac is available now in beta form.
Moreover, it's not just graphics that benefit from Metal, machine learning such as used by Photos runs off Metal.
Safari has won respect for its energy efficiency, certainly compared against Chrome, and the latest version will extend that and also deliver higher performance than its rivals to be the 'world's fastest desktop browser' and that's including Windows. There will also be blocking of auto-play videos and technology to block ads following you across multiple websites - I'm sure Google will appreciate that.
Photos will see further improvements in its AI identification of people, objects etc. and printing of books will be opened up to third-party providers.
High Sierra will run on exactly the same hardware as Sierra, so no Macs are getting cut from support this year.
New 10.5inch IPad Pro & more
After a value-oriented update of the iPad range earlier in the year, WWDC hosted a refresh or the Pro range and the introduction of a new 10.5-inch model which replaces the previous 9.7-inch one. The exterior dimensions are only slightly bigger while the weight is the same, but slimmed down bezels allow for a 20% bigger screen. Last year there were rumours of a more widescreen aspect ratio — better suited for movies — but this Pro-oriented update keeps the familiar aspect ratio. The ability to feature two documents side by side at reasonable resolution while keeping the sheer portability of this form factor will make it a tough competitor for the 12.9 model.
In terms of features, the new model and refreshed 12.9 model feature something Apple calls ProMotion and, they say, make these the most advanced screens anywhere. The standard 60Hz screen refresh is now doubled to 120Hz for smoother motion and even better performance with the Apple Pencil — an industry-leading 20ms latency. However, to save power the screen can also dip down to 48Hz and even 24Hz, the latter being ideal for viewing still photos.
All the new Pros also feature True Tone displays (to adapt output to ambient lighting), P3 wide colour gamut, ultra-low reflectivity and 600 nits brightness (50% brighter than before) which helps display HDR video.
The iPad range has long boasted powerhouse silicon and these are no exception. The A10X Fusion CPU delivers 30% faster performance compared to the A9X alongside 40% faster graphics performance. The front and rear facing cameras are the same as those in the iPhone 7 — a particularly substantial upgrade for the iPad Pro 12.9 — and they all support USB 3 transfer speeds and fast-charging via USB-C chargers.
Entry-level memory is doubled to 64GB and the 10.5-inch model starts at $619 going up to 512Gb for $889. As usual, adding a cellular option adds another $100 to the price.
Whether or not this will re-energise iPad sales is hard to say. In a crammed presentation, they only had time for one application demonstration with an impressive demo of a new photo editing app, Affinity Photo, that offered blazing performance in image manipulation. It was claimed the iPad Pro delivers 4x better performance compared to an i7 desktop PC due to more efficient hardware and performance optimisation via Metal 2. Fingertip flicking of a detailed ocean graphic, precision Apple Pencil adjustment of lighting controlled via the tilt was all pretty impressive. Anyway, it's available today and introductory pricing is $19.99.
If the Macs hadn't received such powerhouse support, there might have been grumbling from professionals about being corralled to an iPad only future. The message here wasn't about deprecating the Mac, it was about growing both platforms to offer different options. For the iPads, the new hardware was impressive, but iOS 11's iPad upgrades were the true game changer.
iOS 11 for iPads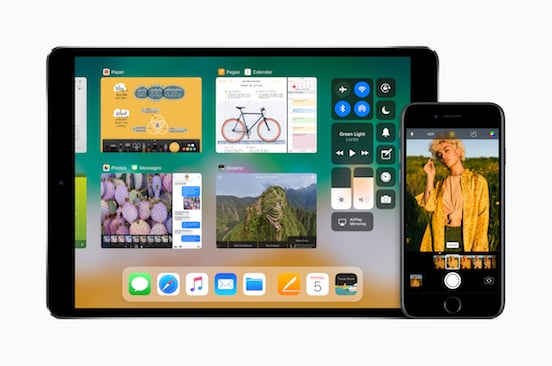 However powerful the silicon packed into an iPad, iOS itself has long struggled to exploit it with the focus always being on iPhone. iOS 9 introduced a slew of promising productivity features, but last year's upgrade disappointed. iOS 11 is, however, a true landmark release that in a whirlwind presentation blew away all expectations.
The App dock finally takes full advantage of bigger screen sizes to fit in more apps and also has a Siri suggested app section. The new App Switcher has been completely rethought and now looks far more impressive.
A new Files app looks comparable to Finder in macOS in looks with grid, list and recent listing options, plus integration of not just iCloud but also third-party services such as Dropbox. It's not going to be as flexible as macOS, but touch-enabled drag-and-drop operation for moving files around looked a dream come true. One particularly cool feature is taking a PDF screenshot, which automatically drops down into an icon at bottom left. You can then open this up and use Apple Pencil for mark-up purposes.
Integration of the Pencil is improving across iOS, one nice feature is Instant Notes - simply tap on the lock screen to launch notes and begin writing with the Pencil. There's OS-level handwriting recognition, so Spotlight searches can find handwritten notes just as easily as typed.
Another cool demo showed the IPad's camera being used to snap an NDA document. The camera intelligently located the document from an angled view, adjusted it to the correct aspect ratio and then allowed for signature using the Pencil. Microsoft's OneNote and Evernote have been doing similar things for a while, but it's good to see this coming into iOS's own core Notes app.
iOS 11
Possibly the most intriguing feature unveiled at WWDC was an early preview of iOS API support for AR. One demo showed everyday items such as a coffee cup, a lamp and so on being placed on a real table, automatically being properly scaled, casting shadows and interactive with each other. Peter Jackson's Wingnut software company showed a game board being set on a table and a dramatic 3D game swiftly unfolding with aircraft flying overhead. And of course there was a brief Pokemon Go clip to show how superior the game looked using the new API to more realistically fit into the real world. If AR isn't a signature feature of iPhone 8, there's going to be a lot of surprised developers (and journalists). For now, Apple promises ARKit will make iOS the world's largest AR platform when is iOS11 ships.
More prosaically, Siri is to get a more natural voice, a new visual interface, support translation (such as English to Chinese), and Siri Kit will expand how far third-party apps can integrate its functionality.
In China, the WeChat messaging app has become a platform in of itself, so it was no surprise to find a key feature of 11 will be a further extension of Apple's Messages app adding features such as Apple Pay while also making it much more intuitive to use.
The Photos app will switch to H.265 for better compression of video, while still photos will switch from JPEG to a more efficient compression while still being shareable. The Live Photos feature will be updated with better editing, looping and other features that Google's Motion Stills offer now.
Maps will be enhanced with floor plans of malls and airports, a limited selection initially but growing rapidly. There'll be a Do Not Disturb option for driving, including a feature to respond to texts by automatically saying you're driving. This can be over-ridden if someone insists it's urgent. There will also be enhanced driving instructions, such as which lane to be in approaching a junction.
The Apple Store will also be thoroughly redesigned with much richer content available on apps.
As expected, iOS 11 will drop support for 32bit hardware such as the iPhone 5, 5C and fourth generation iPad and on those machines it does support, 32bit app support is dropped. A Public beta is due at the end of the month, with autumn for the general release.
HomePod speaker
This had been rumoured before the event and it's not the first time Apple has played in this space, with Steve Jobs proudly introducing the ill-fated iPod Hi-Fi back in 2006. Over a decade later, it's unsurprising that audio quality is again supposed to be a killer feature with a 4-inch woofer and seven tweeters for consistent 360-degree sound. Early impressions are very positive, particularly in how directional speakers deliver a spacious sound and yes two HomePods can be paired together to extend the experience.
What's different this time around, apart from a 7-inch cylindrical rather than rectangular design, is the integration of processing power with an A8 chip making this perhaps the most computationally powerful speaker on the market. The A8 will deliver a music optimised version of Siri, plus a sub-set of other key features such as reminders and so on that should work best in this scenario. It's mains powered and also acts as a HomeKit hub. Amazon's Alexa has already proved the concept will sell, whether or not Apple can deliver on its promised superior audio and AI experience remains to be seen.
HomePod will ship this December for $350.
Apple watchOS 4
There's still no option for third-party watch faces, but three new options were revealed - the most significant of which is a Siri watch face. This uses Siri's AI to integrate what's relevant to you at any given time, so imminent calendar events, local weather, travel time and so on. You can vertically scroll through this list, which is automatically generated whenever you lift your wrist. The other new faces were a kaleidoscope option and characters from Toy Story.
Starting this Autumn, leading gym manufacturers will begin integrating NFC chips so that information can be automatically be communicated to Apple Watch about the equipment you're exercising on. The Music app will be updated to support multiple playlists and automatic download of tracks, while the Dock app is again being revised so as to now scroll vertically. Core Bluetooth will extend integration to those typically smaller devices and overall a solid if unspectacular update.
Amazon & tvOS
As one of the four Apple platforms, this had to feature at WWDC but the addition of Amazon Prime was a welcome if slender addition. However, the brief presentation concluded with a promise that we'd be hearing much more later in the year, so a belated 4K HDR update would seem a safe bet.
Next time we visit a major Apple event, Apple TV might no longer just be a footnote at the end…
Tags: Technology