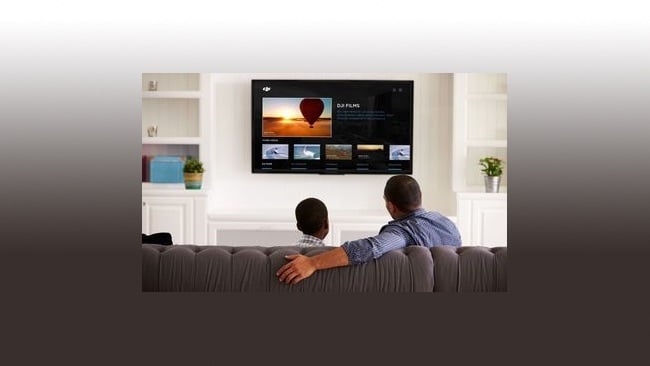 For those tired of Netflix, Amazon, or even what we now have to refer to as linear TV, DJI has launched a new app for Smart TVs showcasing some of the best user-generated content from its worldwide drone fleet.
With internet-enabled smart TVs the norm now and streaming becoming more widespread, more channels are popping up, providing even more entertainment options. To that end, DJI is launching its own streaming TV channel to give content creators a portal for showing off the stunning aerial images that can be had from its various aerial platforms.
"We've made flying and capturing aerial footage easy with our drones, and now with the DJI Smart TV App, creators will have more ways to share their work with the world. This is really an opportunity for people to be inspired, intrigued, travel to places they would have never imagined and see the world in a whole new way," said Paul Pan, Senior Product Manager.
The DJI app will allow users to stream aerial content and 4K videos (sorry Apple TV users) and will feature videos from content creators all around the world. DJI has made it available for smart TVs from Samsung, Tizen and AppleTV through various app stores and can be downloaded and activated without the need of registration. Streaming boxes can also download and install the app if they are running Android 5.1 and above.
But DJI isn't the only content creation based app available to streamers. GoPro launched their channel on Xbox Live back in 2013 and has since expanded to Sony Playstation consoles, as well as Amazon Fire TV, Roku, Comcast Watchable, Sky, Vessel Entertainment, LG and Virgin America. It's also available in the Microsoft app store. "We want GoPro content and programming to be easily accessible on every platform where our millions of fans spend time," said Jon Cohen, director of distribution at GoPro.
So whether you're a content creator who flies a DJI, or one that shreds with the best using your GoPro, there's plenty of opportunities to showcase your videos, or to simply enjoy what others are doing. Streaming has never been more exciting, or personal. Expect other manufacturers to follow...
Tags: Technology