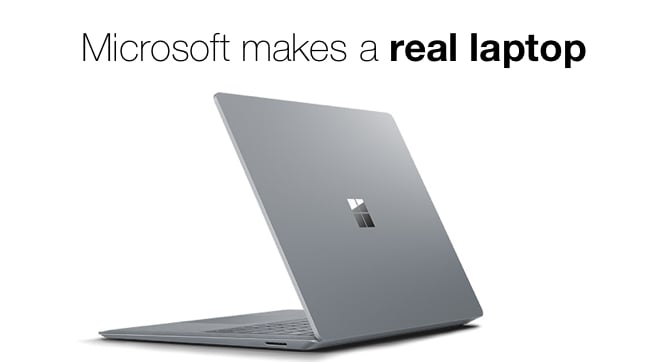 Microsoft seems to be taking a direct potshot at the MacBook Air and the valuable education market with its new $999 13.5-inch screen Surface laptop featuring a 14-hour battery life. Could this be the start of an all-out assault?
We're not sure how good Microsoft's new Surface Laptop will be running video editing applications but it does look like a really gorgeous piece of hardware.
So perhaps the significance of this announcement - that this new laptop will run Windows 10 S, a pared-down version of Windows that will only run apps from the Microsoft Store - is not that this nice-looking laptop is here to buy, but that we can reasonably assume that there will be more products in the range, and that these will almost certainly give a better price/performance than a Macbook Pro.
Microsoft seems to have got the better of Apple just recently in its industrial design. It can't seem to put a foot wrong. Much as I like to think that it doesn't matter what my computer looks like; actually, it does. A lot. It's something that you use all day and take with you.
The new Windows Laptop, which is remarkable for the unremarkable fact that it isn't a tablet nor a laptop with its weird hinge and detachable screen, comes as standard with Windows 10 S. While this might sound like a rather severe restriction on a new laptop, it does have certain potential advantages. You're less likely to download malicious software, and there may be less likelihood of conflicts.
This assumes that you can download the applications you need from the online shop. If you can't, then it's a non-starter. I can see this being very good for education.
All of which is somewhat academic because Microsoft has confirmed that you'll be able to upgrade to a full version of Windows: there's no restriction at all on that.
The specifications are good, with Core i5 and i7 CPUs available. Graphics are Intel's Iris Plus chips - so this is not going to be a rendering monster but will probably be okay for basic to medium-strength video editing.
The screen is very good. It's a 13.5" PixelSense touchscreen: the same technology as used on Microsoft's other Surface models and with a resolution of 2,256 x 1,504 it will look sharp, smooth and detailed.
Here's a nicely made video showing how the Windows Laptop is built.