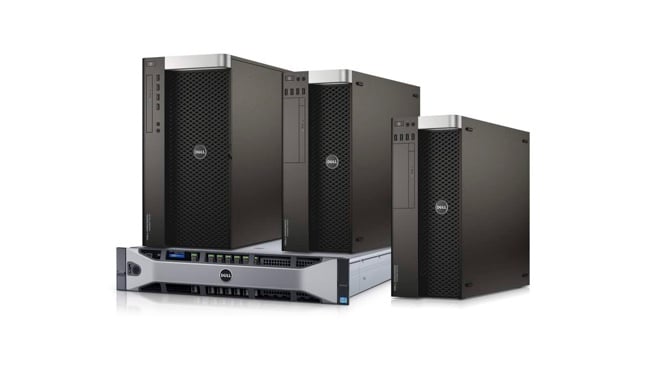 Dell has upgraded its Precision Tower and Rack Workstations specifially for the creation of high-quality Virtual Reality content and they're shipping tomorrow. By Leo Waldock
'The new configurations meet Dell's recommended minimum system hardware requirements for an optimal VR experience with HTC Vive and Oculus Rift VR solutions, and will be a powerful tool for professional VR content creators who demand no-compromise performance and reliability. The newly refreshed Dell Precision Tower 5810, 7810, and 7910 Workstations and Rack 7910 feature new Intel Broadwell EP processors ideal for complex modelling and calculations, the latest professional graphics solutions from AMD & NVIDIA, as well as up to 1TB of DDR4 2400MHz memory running at 2400MHz speed.'
This announcement coincides with the launch by Intel of a range of new Xeon processors called Broadwell-EP. If you follow the ways of Intel closely you will probably be aware that Broadwell is the name of the fifth generation fizzle that came after Haswell that was rapidly replaced by Skylake so Broadwell-EP may sound uninteresting or, possibly, irrelevant, but in fact it is big news.
High end LGA2011-3 desktop CPUs and Xeons are introduced at a more measured pace than the desktop processors you find in gaming PCs where Skylake is at the cutting edge. We are told this is because the qualification process for workstation and server chips is quite lengthy to ensure compatibility with the hugely expensive software that will run on these machines.
When you look at the specific model code of a Xeon the previous models are v3 and are made using a 22nm fabrication process while Broadwell-EP Xeons are v4 and introduce 14nm technology.
New CPUs require significant changes to the motherboard, chipset and memory, however that is only part of the deal. Here's the next chunk of the Press release
'Dell also announced upgrades to its Dell Precision Tower Workstations to meet the needs of professional creators, with new increased performance, graphics, and memory for VR content creation. The newly refreshed Dell Precision Tower 5810, 7810, and 7910 Workstations and Rack 7910 have been upgraded with new Intel Broadwell EP Processors that have more cores and performance for multi-threaded applications that are ideal for professional modelling, analysis, and calculations.
Additional upgrades include the latest professional graphics technology from AMD and NVIDIA, Dell Precision Ultra-Speed PCle drives with up to 4x faster performance than traditional SATA SSD storage and up to 1TB of DDR4 Memory running at 2400MHz speed. The enhancements also include Dell exclusive technologies, like Dell's patented Reliable Memory Technology, Dell Intel CAS-W cache acceleration on software and an upgraded Dell Precision Optimiser, which automatically tunes your workstation for 22 professional application profiles elevating productivity and ensuring the best overall performance. In addition to these impressive performance improvements, Dell has also expanded its liquid cooling offerings which improve system acoustics by up to 38 percent.'
Grunt required
Both Oculus and HTC headsets have a total resolution of 2160×1200 pixels so VR effectively means 2.5K video with a minimum frame rate of 90Hz. The surprising thing is that VR consumers do not require an especially beefy PC, provided it has a decent graphics card. There are plenty of gaming laptops on the market that can handle VR although they may have a problem when it comes to the number of USB ports that are required to handle the peripherals and sensors.
If you have a few minutes to spare you might watch this video where I recently discussed VR and graphics with Jon Martindale of KitGuru.
If you want to use a VR head set you require a Core i5 CPU, a high end graphics card such as Radeon R9 390X and a decent amount of system memory along with an SSD for storage.
In other words a gaming PC and my own PC hauled through the SteamVR Performance test very nicely thank you.
If you want to create VR content you can simply think in terms of 4K and pull back a bit. We all know the processor is king in a workstation and that entry level models tend to consider the graphics card as a bit of an afterthought. On the other hand if you are processing on GPU the graphics are a huge consideration in which case I'll have a pair of Xeons and a trio of FirePros or Quadros, thanks very much.
If you are creating content for video you can watch the results on your TV but anyone creating VR content requires a £300 gaming graphics card as a minimum.
Dell takes things step further and stipulates they are using M.2 SSD with PCI Express interface to blow those crusty old SATA SSDs into the weeds.
Do you need a new workstation for VR content creation? If you are currently producing 4K content then no, probably not, although we do have a sting in the tail for you. At present Oculus Rift and HTC Vive run on Windows and not on Mac OS. If you create content on a Mac you will have to buy a PC to try out your content.
Alternatively you might – deep breath – consider moving from your Mac to a shiny new Dell Precision Workstation.