It's been a long time coming, but now we finally have a 'pro' iOS device is it really all that we'd hoped for? K Stewart has been living with one and finds it an important step to something that could be truly great.
'Joyless' is how one Apple commentator labelled the iPad Pro's retail launch due to the extreme scarcity of the Pencil and Smart Keyboard - the accessories that most sharply differentiate it from previous iPads. Without these, the Pro's primary impact is simply its (considerable) size.
Straight out of the box it's just a big (12.9-inch) slab of screen. We're used to Apple making devices disappear, but with the Pro the familiar rounded corners and chamfered edges only heighten the sensation of a super-sized iPad. There are no new design elements to ameliorate its scale. And while the curved contours of a MacBook Pro make it second-nature to close and carry, a bare iPad Pro is simply very flat and unwieldy.
Microsoft's Surface Pro was developed from the start as a hybrid device, something that looked like a tablet but could easily transform into a laptop with an integrated kickstand and a variety of all but essential add-on keyboards.
By way of comparison, the iPad Pro adds a discreet Smart Connector on its left, magnetised side, but is otherwise identical to an up-scaled iPad Air. And that includes the 720p FaceTime camera being positioned at the top of the iPad in portrait mode, rather than being moved to suit landscape usage. The excitement of a new device is blunted when so little is surprising or fresh.
The raison d'etre of the iPad Pro is simply to be the best, most powerful iOS tablet Apple could make for less than £1000. You can use it as a laptop replacement if it meets your needs, as it does for Apple CEO Tim Cook, but it's not designed as such.
Something old, something new
iOS, at essence, is a touch-friendly UI on top of a radically slimmed down version of Mac OS. At 3.5 inches it's a phone, stretch it to 9.7 inches and you have an iPad. At 12.9-inches it's something else again.
An iPad Pro isn't a little bit bigger, a little more powerful than an iPad Air 2. It's something quite different. A textbook rather than a go-anywhere paperback.
And just as with the first iPad, it will take time to define exactly what that thing is and what it can become.
To cover the basics, the iPad Pro starts at £679 for a credibility challenging 32GB WiFi model. Let's call that the Pro Consumer Netflix model for short.
At £799, you get the largest amount of storage ever in an iOS device - 128GB. The same as an entry level MacBook Air, but in a eco-system where iPhones still ship with 16GB, it feels almost unimaginably expansive.
£899 adds cellular data - a significant advantage over the MacBook range if you need it. However, a MacBook is a pretty self contained entity, whereas a bare iPad Pro will likely need some degree of accessories - a Smart Cover is £49, a silicone back cover a startling £65.
Keyboards: Soft Vs Hard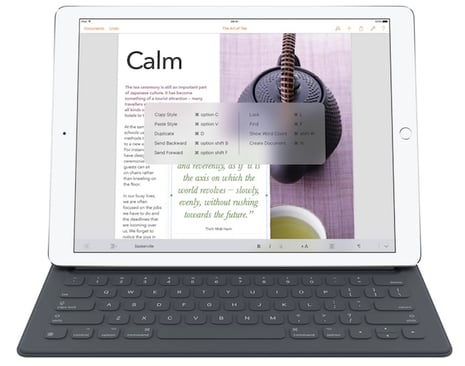 If you're simply consuming content, a keyboard needs to be little more than functional. For a professional device, however, you need to go further.
Rather than evolve the iPad's existing soft keyboard, Apple has made use of the Pro's size to basically clone a MacBook keyboard, with full-width tab, caps lock and shift keys, plus half-height number keys. In theory you can easily move from a physical keyboard to touch type on the Pro.
If, however, you're used to touch typing on the old iPad keyboard, you'll need to adjust. An upward flick on the full stop key now results in a bracket rather than an apostrophe, while the bottom left key which used to bring up punctuation now brings up the emoji keyboard. And it doesn't help the relearning process that apps not yet updated to support the Pro will still bring up the old keyboard...
iOS 9 also introduced a virtual trackpad — simply press down with two fingers to turn the keyboard into a trackpad, so you can very quickly move the cursor to wherever you want. This works really well on the Pro.
Another trick is a double tapping with one finger to select a word, two fingers for a sentence, and a triple tap for a paragraph. I don't find this quite so intuitive, while cutting and pasting on the soft keyboard falls far short of the fluidity of keyboard and mouse.
Overall, the soft keyboard excels at text input — and of course iOS9 supports third-party soft keyboards as well — but it still covers up about a third of the screen. To get the best out of that laptop size screen, you need an external keyboard.
As with any iPad, you can easily pair up with a wide range of Bluetooth keyboards and iOS9 significantly enhanced support for hardware keyboards. There's a Mac OS style app switcher, system wide keyboard shortcuts and simply holding down Control will bring up a cheat card listing app-specific shortcuts. And iOS 10 will no doubt bring more, with UIFocusEngine code suggesting Apple is thinking very seriously about keyboard-only control of iOS and tvOS devices.
The iPad Pro also introduced what Apple calls a Smart Connector — three, small circles on the magnetised left edge of the iPad. These provide power as well as a data connection, with the first accessories to make using of it being a pair of keyboards. Using the Smart Connector, there's no hassle pairing or worrying about recharging the keyboard — simply hold the keyboard in the right position and it will snap into place, powering on the keyboard ready to go.
The most conventional of the two keyboards is Logitech's CREATE which adopts a typical folio-style iPad design. The lower half of the folio is the keyboard, the upper half provides a back cover when the iPad Pro is snapped into it.
At £110, CREATE comes in five colours, has a backlit keyboard, custom iOS function keys and a relatively soft, deep key travel that enthusiasts feel is comparable to a standard MacBook.
It provides good protection for the Pro, at the cost of significantly adding bulk and weight (725g), while not being easy to add or remove.
Apple's own £139 offering is quite different, essentially taking its triple-fold Smart Cover and adding another panel that contains a low profile keyboard.
Right now, this is only available with a US keyboard, although in software you can switch its functionality to a UK keyboard (so that a '3' key brings up a £ symbol rather than a #).
The keyboard has an odd textured feel, its top layer being a water and stain resistant fabric, but the keys have more 'give' than the new MacBook keyboard and I was pleasantly surprised at how much I enjoyed typing with it.
The Smart Keyboard can also be folded with the keyboard behind the screen, propping it up for a viewing only display.
On the negative side, the folding and refolding takes time to get the hang of it. You need to get the orientation just right - iPad face down with camera toward you - before lifting the iPad, unfolding the keyboard and then clicking the Pro into place. Start off in the wrong position and you can give the impression of laboriously erecting a small tent on your desk...
Despite its low profile, the Smart Keyboard is actually pretty decent for using in your lap. The magnetic connection is strong enough that everything holds together quite firmly. There's no palm rest, but due to the low profile it's hardly needed and the shallow depth brings that huge screen closer to you than on a traditional laptop.
The Smart Keyboard lives up to its name as lightweight, practical means of making an iPad Pro more useful and much less unwieldy to carry around. It's not magical, however — that's where the Pencil comes in...
A Pencil is not a stylus
Prior to the iPhone - with its 'huge' 3.5-inch, high resolution multi-touch screen - handhelds invariably relied upon a stylus to help navigate their cramped, low resolution UIs.
As Apple insists, the Pencil isn't designed for that purpose, which is just as well since it's not really good at it.
If you're thinking of the Pencil as a cool-looking means of navigating the iPad UI without getting fingerprints on the screen, you're much better off with one of those cheap styli with a fat rubber tip that mimics a human finger.
That type of stylus can access all the usual finger swipes, while being considerably cheaper, lighter and more pocketable.
The Pencil is for drawing and painting. It's a long, elegant facsimile of a real pencil which isn't meant for tapping and swiping, but rather the elegant, fine gestures of art work. Change the angle of the nib to go from a fine line to shading, just like a real pencil. It's not zero-lag, but it's close enough to be immediately entrancing.
The Pencil is what you turn to demo the iPad Pro, it provides the 'wow' effect that iPad alone mostly lacks.
Apple's Notes app is an unlikely showcase of the fluidity and flexibility of sketching with Pencil, while ProCreate and Adobe's Sketch offer an even richer range of brushes and nibs. It's mesmerising to play with, switching with a single tap from a pencil to charcoal to fibre tip to a paint brush with splotches of water colour.
The Pencil's precision makes fine handwriting easily possible, although it has to be said if your cursive is out of practice the sensation of writing on glass won't immediately improve it. However both Evernote and OneNote will apply cloud-based OCR to your stored scribbles and, as much as possible, recognise and make searchable.
Even more impressive is the Pro's handling of Mandarin - the iPhone already offers an excellent input system for recognising Chinese characters drawn with a fingertip, but the iPad Pro/Pencil combination is significantly better. Chinese dictation also seems enhanced on the Pro.
Quite how many people will really keep using the £79 pencil is an open question. Hopefully, next year will see the technology roll out across the entire iPad range and open the door to kids as well as professionals to make use of it.
Pro Software?
While the original iPad launched with Apple's own iWork suite, iPad Pro had both Microsoft and Adobe on stage to demonstrate support for the new device.
Office on iPad Pro is still a stripped down version of the desktop version: no outline mode, no split-screen view let alone Mail Merge in Word for example, but it maintains file compatibility and takes full advantage of iOS9 multi-tasking features such as SplitView so you can have Word side-by-side with Powerpoint. The App's UI has also been upgraded to suit the Pro, however this is perhaps only to be expected as unlike the smaller iPads — where Office is essentially free — the Pro requires a full Office 365 subscription to create or edit documents. If you're paying the same as users with a desktop version, you might expect feature parity. If not, hopefully Microsoft's hefty annual fee will encourage rivals such as WPS, Smart Office and iWork to offer something for iPad Pro that delivers true desktop performance rather than just a streamlined mobile version.
To be fair to Microsoft et al, the underlying frameworks that exist on Mac OS are not yet matched by iOS - as the endless delays to even a feature-reduced version of Scrivener for iOS exemplify.
On a more positive note, Microsoft's Outlook is (thanks to the purchase of Accompli) arguably the best email client bar none on iOS. And unlike Outlook on Mac, it supports ActiveSynch so - if enabled by admin the Exchange Server - it's easy to use remotely.
Mobile-first doesn't always mean inferior functionality, sometimes it means a lighter, faster, smarter approach that isn't encumbered with decades of development cruft.
Like Microsoft, Adobe's iOS apps exist to sell in a subscription fee and do so with no small measure of wit. PhotoShop is split into Adobe Sketch, Mix and Fix, each of which slickly presented and powerful in its own right. If you're happy with JPG output, they're entirely free - the subscription fee kicks in if you need layered versions to refine in desktop PhotoShop or InDesign. Adobe Comp CC is particularly intriguing as a means to sketch out design ideas in a touch environment. It's a shame in this case Adobe doesn't allow non-subscribers to sketch out ideas for sharing as PSDs with a design team.
The quality of Adobe and Microsoft apps reflects not just the size of the iOS market but also an awareness of the dynamism of independent developers hoping to leapfrog them.
Pixelmator is a 64bit app that can handle 8K images and costs just £3.99 - no subscription required, while ProCreate is £4.49. These apps can't beat the established desktop versions, but alone or in combination with other apps they keep getting closer to the functionality required by an ever growing segment of prosumers and even professionals.
There are no doubt more people working on websites and blogs than magazines or newspapers. And for the former, the iPad Pro is going to be seriously tempting.
The Omni Office suite of OmniFocus, OmniOutliner, OmniPlan and OmniGraffle are expensive for iOS, but cheap compared to Adobe/Microsoft. OmniGraffle, like Comp CC, has Pencil friendly automatic shape recognition, turning your scribbled circles and squares into pristine geometric shapes when outlining workflows or web designs.
In the professional audio market, Apple's Garageband continues to inspire, the screen transforming into a keyboard, drums, strings or whatever's required and it's at the centre of a remarkable range of audio apps on iPad.
Apple's own professional heavyweights, Final Cut Pro X and Logic Pro X, are not even a whisper on iOS today. But there are solid rumours of iOS development suite XCode being worked on within Cupertino.
Gaming
While Apple TV's unique tvOS demands games are adapted to suit it, not least in supporting the Siri Remote, the iPad Pro will run any iPad game.
Games like X-Com: Enemy Unknown that reuse assets developed for PC are a revelation on iPad Pro. Other games, like say Alto's Adventure and Crossy Road which we praised on Apple TV are no less visually impressive on iPad Pro.
In terms of control, the £40 Steel Series Nimbus controller cross-promoted with Apple TV works just as well with iPad Pro, although we should add a caveat about MiFi controller support still being an evolving feature in iOS world.
Processing power
Apple's A-Series processors set the pace for mobile with the iPhone 6S 1.85Ghz A9 chip delivering comparable CPU benchmarks to Intel's Core M.
The iPad Pro blasts past that level of performance and is broadly comparable to a Core i5 from 2013 with minimal thermal throttling, despite the fan-less design.
4GB of RAM and an all-new memory architecture with a 128bit memory bus delivering 51.2Gb/sec performance (compared to 25.6GB/sec in the Air 2) helps makes 4K video and RAW performance amazing.
Moreover, comparing an Intel-driven MacBook to an A-Series iDevice isn't any kind of simple equation due to the radically different operating systems. As long as the feature you want is enabled on the iPad Pro, it's going to feel faster than the vast majority of laptops.
The iPad 3 had a notably short life due to its chipset struggling with driving a Retina screen. The iPad Air 2, by contrast, often seemed to overpower the OS it shipped with, occasionally crashing the app selector when you spun through it too quickly before updates brought it under control.
Despite its huge new screen, the iPad Pro is both fast and robust. It feels like the machine iOS 9 was developed for with all the multi-tasking capabilities fast and useful.
I/O
A defining paradox of iOS is how powerful its chipset has become while still shackled by a single Lightning port and a USB2 cable.
iMovie on iPad Pro is capable of handling three streams of 4K video with a fluidity that would embarrass almost any mid-range laptop. It's the perfect tool for editing iPhone and GoPro 4K footage uploaded into iCloud.
As an iDevice, it's no surprise the Pro has bleeding edge 866Mbps 802.11ac WiFi to make the most of super-fast networks - considerably faster than the supplied Lightning to USB2 cable with a theoretical maximum of 480Mbit/s.
What's more surprising is the discovery of an internal USB3 controller that could open the door to 4.8Gbps transfer speeds with new cables and adapters — which journalists close to Apple claim to be already in development.
No-one should buy an iPad Pro expecting to get USB3 anytime soon. It could yet turn out to be a feature only properly realised on the Pro 2. But it's an encouraging indicator when, right now, the biggest issue for so many data intensive professional applications is sharing content with the iOS world.
Screen Quality
The 12.9 inch, 2732 x 2048 screen has no less than 5.6 million pixels as compared to five million pixels in the 15-inch MacBook Pro. At 264 ppi pixel density, only the 5K iMac is sharper. The only reason why this isn't amazing people is because we've grown so used to this level of exceptional performance from Apple and the iPad Pro screen is marginally superior to the Air 2, perhaps slightly inferior to the iPad 4 mini according to DisplayMate, who nevertheless concludes the iPad Pro offers a 'Top Top professional display.'
The iPad Pro doesn't define itself by a big step forward in screen quality, that's not realistic given the excellence of earlier models, it impresses in achieving that on such a large screen, 79% bigger than an iPad Air. Watching widescreen movies can now be enjoyed without zooming in, while TV shows using less extreme aspect ratios are stunning. For affordable on location monitoring, the iPad Pro is undoubtedly professional grade.
Audio
iPad speaker quality has always been functional rather than in any way impressive. The Pro changes that completely. There are actually four speakers, one on each cover and the iPad dynamically adjusts output to suit orientation so the lower speakers always carry the bass. The only downside is that if you're holding the iPad with your hands it's easy to cover up the lower speakers, so you'll need a case which can prop it up rather than using it bare.
Battery life
Apple always targets ten hours typical / moderate usage for its iPads and the Pro is no exception, but it's notable that achieving this involves halving the refresh of that huge screen to 30fps when content is static. Moreover, this is the first iPad which doesn't pack out the chassis with battery cells. In fact, about a third of the internal space is used by the four speakers. Given the weight of the iPad Pro, and the fact it already takes four and a half hours to fully charge its 10307mAH battery using the supplied 12W power adapter, it's no surprise why Apple made this trade-off.
Some reviewers have boasted about going a week without charging the iPad Pro, but if you're putting it to serious use through the day - let alone doing 3D gaming or editing video - then all-day battery life is about right. One pleasant surprise is a 2m Lightning charging cable, which makes it considerably easier to use while charging than the standard 1m version. Bought separately, Apple's 2m cable is £25.
Pro Verdict?
A truly professional, iPad version of iOS has been a long time coming and a mere two months after its official reveal, there's no way of knowing whether this will arrest the past few years' decline in Pad sales or even more importantly spark an uptick in professional iOS apps.
The iPad Pro is a huge step forward for the iOS ecosystem, but it also feels like a precursor of what's to come for iOS in the professional space rather than the finished article. In many applications, such as pro audio, on location viewing for professional photography or even video, specialised IBM business apps and of course CEOs tapping out emails on the go, the iPad Pro is a superb solution right now. In the mainstream, however, its professional backbone is still mostly satellite or stripped down apps rather than transformative apps to challenge Mac/PC workflows.
But what's to come is more likely to be the true breakout device than this first iteration. An iPad Pro 2, or radical new forms not yet named, could more fully shift the balance between Mac OS and iOS for professionals. This first iteration is a niche player rather than a revolution.
Tags: Technology