Apple Music, Metal for Mac OS Pro Apps and plenty more at WWDC15. This was a sprawling, diffuse keynote that, if nothing else, helped illustrate how Steve Jobs' famously focused company has evolved to compete on so many different fronts, even if the product line would still fit on a single table. Report by K. Stewart.
No new hardware at all.
Just the world's largest corporation proposing to reinvent commercial music, reimagine the mobile reading experience and, of course, extend Apple Pay to the UK in July.
Apple's current market position makes its music and news efforts appear almost charitable - goodwill gestures to struggling industries profoundly disrupted by the Internet and mobile devices. And a preview of what might be to come for TV…
Mac OS 10.11 gets Metal for 8X pro apps
Mac OS Metal offers plenty of polygon shifting power
Let's get this out of the way first, the next Mac OS is 10.11. Please remember this. Otherwise, you'll be answering the tech support guy's query with, 'my MacBook's running, uh, El Capitan' and you don't want to be doing that.
For professionals, what could be the most welcome feature of 10.11 is Metal for Mac, which takes the iOS graphics API concept and extends it even further. Combining Open CL compute power and Open GL graphics power with low overhead access to the GPU delivers a big return for developers willing to tune their apps. Given how focused the chip industry is on mobile devices and power efficiency rather than raw power, anything that delivers more performance for professional apps is going to be welcome.
Adobe didn't have anyone on stage at WWDC, but contributed some impressive proofs of concept with After Effects and Illustrator name checked by Craig Federighi.
"We are committed to adopting Metal on our OS X apps. With performance increases of up to 8x, we are excited about what Metal can do for our Creative Cloud users," commented David Wadhwani, Sr VP and GM, Digital Media via a slide that could be said to end the Apple/Adobe Cold War.
Aside from the small matter of Apple's opposition to Flash, back in 2001 Adobe famously declined to bring Premiere to Mac OS X at all and while Apple's success eventually led to a change of mind, Adobe was still the last major third-party developer to fully support Mac OS. For Adobe to be onboard for Metal suggests its benefits are significant enough for a widespread adoption with pro apps and Creative Cloud is, of course, the leading pro app bundle on the market right now.
For games, Metal offers an up to 10x improvement in draw call performance and there was an impressive demo by Epic Games of their 3D zombie game Fortnite with no less than 64-layers of rendering effects in real-time. Apparently, Metal enabled a 70% reduction in CPU usage compared to Open GL, so the possibility opens of mainstream PC game engines making use of Metal to enable easier ports. Given the unhappy history of the Mac and gaming, it has to be something we wish for rather than necessarily expect.
More broadly, 10.11 is focused on enhancing performance with faster opening apps (1.4x faster), switching between apps (2x faster) and even opening PDFs in Preview (4x improvement).
Enhanced Mac Experience
In concert with optimising performance overall, specific improvements are coming to some key apps to further enhance user experience.
For example, Safari enables pinning favourite sites, which the app recognises to enable faster launching and clicking on links will automatically load them into a new tab. Safari also enables easier muting of audio in those annoying scenarios where something autoplays in a tab.
Mail has been enhanced, with tabbed windows to make working with multiple messages much easier and the use of gestures to highlight or delete mails. Mail has always been a functional rather than stellar Mac app, so these changes along with improved windows management (snapping windows etc.) could deliver genuine workflow improvements at a time with Microsoft's Outlook for Mac is becoming a very serious competitor.
Of all the updated apps, Notes showed the most improvement, with the ability to embed photos, use rich type and graphical hyperlinks. You don't get the sense Apple are seriously going after Evernote or even OneNote, but enriching its performance provides a baseline service to hook into Siri and other services, plus of course everything can be seamlessly shared with iOS 9 devices via iCloud.
Spotlight will also be improved with better support for natural language search and access to yet more data sources, including an enhanced Apple Maps that finally gets support for public transport with London one of the first cities onboard along with a handful of other US cities plus 300 (!) Chinese cites.
Mac OS El Capitan (sigh) is available now for developers, with a public beta in July and public availability in Autumn with the usual free price tag.
iOS 9's Proactive Assistance and Multitasking
In answer to Google Now, OS 9 will offer enhanced 'proactivity' with a variety of new and improved features. Siri gets an enhanced look inspired by its Apple Watch look, while its proactive functionality means it will parse 'remind me about this when I'm home' or 'remind me about this' with understanding of where home is and actually what item you were looking at when you set the reminder. As you'd expect, Apple stressed Siri's intelligence is designed to protect your privacy with processing on device rather than on the cloud. Anything that does use the internet, would carefully anonymise your details and Apple wouldn't share any personal information with third-parties.
Multi-tasking will be significantly enhanced, with the iPad at last getting some unique optimisations that exploit the larger screen and, potentially, pave the way for the long rumoured iPad Pro to debut in the Autumn with a UI to better compare to Windows 10, or indeed Mac OS itself.
One of the coolest examples with picture-in-picture on iPad, so if you're watching a streaming TV show, you might shrink it to a dynamically resizable window that keeps playing while you do a quick email.
Slide Over means you can open a second app without exiting the one you're in, so while writing this article on iPad I could bring up Safari on the right of the screen to view content and copy/paste into Pages. Both apps display simultaneously, but only one is active at a time. However, Split View enables dynamic resizing of the split windows, while both Apps will be fully interactive at the same time - something that's only possible on iPad Air 2 with its powerhouse chipset.
Another benefit for iPad owners is a QuickType keyboard that adds some intelligent shortcuts to the predictive text bar (e.g. cut, paste, formatting) and using two fingers will turn the keyboard area into a trackpad to radically speed up highlighting text. No mention of ForceTouch clicking, but more than likely that will come with new hardware. A demo using QuickType with improved Notes app was truly impressive for the speed with which plain text could be edited and reformatted into an attractive list. And if you use an external keyboard, there's still some improvements with shortcuts for app switching and searching in Spotlight.
While some features such as Split View will require higher specs, iOS 9 won't just run on the same hardware as iOS 8, it will also be optimised to run much better on older hardware and the footprint download for upgrading is sharply reduced to 1.3Gb compared to 4.6Gb for iOS 8.
Performance enhancements overall should deliver an hour more battery life, while a new low-power mode can extend battery life for another 3 hours.
iOS 9 is available today for developers, public beta in July and shipping for free in Autumn.
Apple News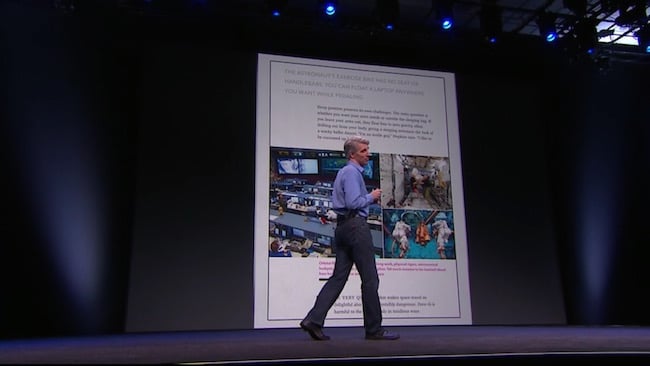 This is initially an iOS-only feature, replacing the ill-regarded Newsstand with a personalised 'best of' web content app similar to Flipboard or Zite. Like those apps, you're prompted on starting up the app to reveal your interests, either following certain websites such as Wired or specific topics. The app then pulls through content to reflect your interests. This can be drawn directly from a site's standard web pages, or better yet specifically optimised for the app as was illustrated with some stunning NYTimes content - apparently 30 free articles a day, which is sharply up from the 10 stories per month as currently.
News only got a fraction of the promotional time of Music, but Susan Prescott, VP of Applications, insisted its support rich typography and high quality image handling to provide the 'best mobile reading experience ever.' There were no ads in any of the examples, so it was unclear what the business arrangement would be, particularly as again privacy was stressed so no sharing of your data with other Apple services.
Its initial roll-out will be the US, UK and Australia.
Apple Pay in the UK
Not only will Apple Pay launch in the UK in July, it will debut with more merchant locations than for the original US launch - over 250,000. The first wave of supporters include HSBC, RBS, NatWest, Nationwide, Santander, Lloyds Bank and will cover 70% of credit and debit cards in the UK. It will also be accepted by London's Underground.
As a reminder, Apple Pay uses the NFC chip on iPhone 6 and 6S, plus on Apple Watch used with iPhone 5 and above. Aside from in-store contactless payments, there's support for in app payments authenticated by the fingerprint sensor in iPad Air 2 and mini 3.
iOS 9 will also add support for store credit, debit and even loyalty cards with Passbook being renamed Wallet.
Apple Watch OS 2
While we expected a native app SDK, Apple's Kevin Lynch still had some surprises to share, perhaps the most notable being a fun Time Travel feature where you advance time with the Digital Crown to move forward and even backwards through the on-screen complications, previewing your diary, weather and even the remaining charge on your electrical car. In the latter example, complications (or display features on the watch face) will now be open to third-party apps. Aside from your car's battery life, a flight time complication was shown.
In terms of what third-party apps running natively on Apple Watch can do, the list was extensive with everything from microphone access to playing video. While non-native apps have mostly disappointed due to laggy loading times, the next wave should be a lot more interesting.
Again, beta for developers today, public availability in the Autumn.
Apple Music
Tim Cook has been sparing of his use of 'just one more thing.' Apple Watch was the first, Apple Music is the second with a long, impassioned presentation that began with Jimmy Iovine setting out the background. Just as Steve Jobs and iTunes made paying for music online a success, now there was a need to transform the experience of online music, the discovery process, streaming music and artists sharing with fans.
That's a much more nebulous, fuzzy objective than iTunes original 99 cents per track and the presentation blurred together key components of the proposition which Apple tried to simplify down to three key features.
For the Discovery side of things, Apple is launching a 24-hour Beats-1 radio service from London, LA and New York broadcasting to 100 countries and headlined by Zane Lowe. It's free.
Connection is a means by which artists can share with you text, music and videos appearing on their homepages within the new music app. Let's call it Ping 2, but much cooler, with Facebook and Twitter integration. Anyone can view Connect for free (apart from Android users), but downloading requires you to be a subscriber to the streaming service.
The streaming service itself will cost $10 per user, or $15 per six member family - the latter enabling fully individual accounts with playlists, recommendations etc. Playlists are a big part of the proposition, with Apple having a host of experts from Zane Lowe himself creating these, plus contributions from Rolling Stone, Q Magazine etc.
Presumably Apple will have an advantage in the number of tracks on offer, but there's no singular killer benefit to convince anyone to switch from Spotify or buy into the whole streaming concept if they're not there now. The service doesn't even replace Apple Match, but exists alongside it so you'll need to pay for both.
Tidal, for all its problems, has a clear focus; a better return for artists and a higher quality, higher cost tier, plus a promise of exclusive content.
Apple Music is just another streaming service at a similar price point to competitors but a lot of surrounding hype (Beats 1 radio) and another promise of exclusive content. The experiment begins on June 30th with iOS 8.4, plus iTunes updates for Mac and PC, and there'll even be an Android app to follow in Autumn. A free 3-month trial period will be key to revealing if its exclusive Connect content provides sufficient differentiation from the rest.
Apple TV to follow?
For content creators, this was an intriguing event which leant more heavily than ever on short, highly professional video clips and ads to make its points.
And in the glitzy reveal of Apple Music there was a preview of what might follow if Apple's TV streaming service ever gets off the ground. Will there be any comparable service for video producers to the Connect artist service in Music? Could Apple TV become a money-making platform for independents as well as corporate giants?
Apple Music itself looks promising, but by no means a sure thing which makes it all the more important that this year's iterations of Mac OS and iOS 9 look like solid, productive iterations alongside an important transformation of Apple Watch with native apps.
Tags: Technology