Dell's M6800 is a laptop with the power of a desktop workstation. We've tried it out
Talk about a contrast.
The last Dell Laptop that we looked at was the gorgeous M3800 - a super-sleek laptop with looks to rival the a Macbook Retina, a superb screen, and pretty powerful for its form factor.
Alongside the Dell 6800, and there's no comparison.
But such comparisons were never meant to be made, because these are completely different types of computer. The M3800 is a light and slim but still very usable machine that you can take with you all the time. The M6800 is a workhorse. It's a brute of a machine that's as powerful as you can get, with few concessions to fasion or portability. The power supply alone is two-thirds of the weight of my Macbook Air.
Desktop performance that you can take with you
What you do get with the heavier Dell is, essentially, Desktop performance that you can take with you, if not, necessarily, jogging.
This isn't a lab test. There are no benchmarks: with a complex machine like this, they often raise more questions than they answer. These are my entirely subjective impressions of a laptop that Dell claims is currently the fastest in the world.
Where the M3800 might be a sports boat, or a sleek roadster, the M6800 is a cargo ship, or perhaps a tug boat. You wouldn't buy it for its looks, but, ungainly though it is, it's what you need to get through those heavy jobs. The fact that you can take it with you means that freelancers can have their kit with them on location, without the need for using a client's machine. You can't underestimate the value of having all your software and your computing "environment" available to you anywhere.
You just have to get used to the bulk of this thing. The power supply alone weights a sizeable portion of the weight of a Macbook Air, but the M6800 would eat such a laptop for breakfast.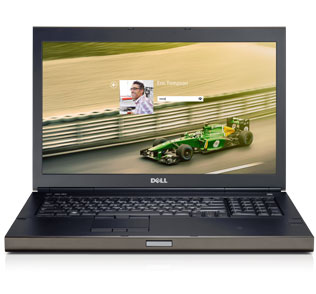 There are a couple of points where I would question the choice of components.
First of all, the keyboard looks sub-par. It can be spongy if you press hard. Frankly, it seems old-fashioned. These days most top-end machines come with an "island" style keyboard where the actual chassis supports each key individually. I don't think this is a cheap component, though. It feels OK to type on, although it took me, a fast touch-typist, a while to get used to it. There's a full numeric keypad, making the most of this unusually wide machine.
The touchpad seems quite small, but is responsive and predictable. It does support two finger scrolling, and does so smoothly. It also supports a two fingered "right-click".
The screen
And then there's the screen. It's a non-glossy one (not my personal choice but I know that I lot of people prefer them) and - this is a biggie - it's only HD resolution. Again, these days, this seems a bit behind the times. While 4K screens on laptops are still rare, you would perhaps expect a top-end performer like this to have a higher resolution than 1920 x1080. .
The screen itself is very clear, sharp and pretty bright. It's a world away from the sort of screen that you see on so many "bargain basement" PCs. It didn't seem too sensitive to viewing angle, either. Again, apart from the limited resolution, it seems professional.
But none of this really matters if you use a laptop the way that I do. The first thing I usually do is hook up to a keyboard of my choice, and then an external screen. The Dell 8600 is happy to run the Dell UP3214Q 4K Monitor, albeit at a maximum framerate of 30 fps. If you do this at home, then you can forgive the keyboard and screen when you go on the road.
Having said all that, the computer, with the screen open, looks professional. It's almost like something you'd see on the bridge of a navy vessel. No frills, tidy, and ready for business.
It came with Windows 7 installed: not a complete surprise as many professionals have avoided the upgrade. Not only is the new OS rather alien or even pointless to them but Windows 7 was a very good release, and anyone using external hardware might be reluctant to upgrade their drivers yet again. (On Dell's website the computers are pictured with Windows 8.1, so it is clearly an option).
Built on a solid foundation
The M6800 is built on a very solid foundation. The processor is an Intel i7 4800MQ 2.7GHz, there's 32 GB of RAM (in our machine) and an Nvidia Quadro K5100M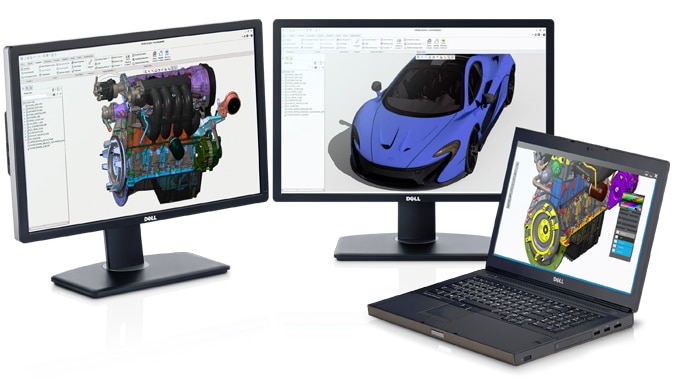 If you were to compare the specs of the Quardo card, you might find some "gaming" cards faster - and undoubtedly cheaper. But the Quadros are designed for professionals. They have power where it matters for 3D animation, CGI and all types of image manipulation. They're also guaranteed to be current for longer. If you have a working set-up, the last thing you want is a myriad of driver changes and potential incompatibilities. The M6800 brings this level of professional consistency to mobile computing.
There's an abundance of ports: four USB 3.0, eSATA, Gigabit Ethernet, of course, a nostalgic VGA D-Sub and finally HDMI. There's also a DisplayPort connector - useful if you're going to connect to Dell's 4K monitors.
To accomodate all these ports - and the high-powered iternal components - the machine is pretty thick. Here's a shot of it next to a Macbook Retina
How fast is it?
How does it feel?
There's no doubt that it's very fast. Faster than any other laptop I've tried. Without doing lab tests, I can't quantify this, but tasks that seemed to take a long time even on other, fast, computers, were much faster on this. Even installing programs was quicker. It was almost as if I was watching a time-lapse: it seemed like time was being compressed.
I would estimate battery life at between two and a half and four hours, depending on what you're doing at the time. Not as good as with some of the slimmer laptops but they will never be as fast as this monster.
There are a million pieces of software out there, and billions of combinations. So your milage may vary. But I think what you can very safely say with this laptop is that it is an extremely solid foundation for your working life. It has all the right ingredients.
By the way, don't be swayed by what you might have heard about Dell quality and support. Only a very small percentage of Dell's revenue comes from low-end "domestic" computer sales. A huge majority of their income comes from enterprise and professional models. And that means that they are built and supported to a suitable standard, and have the sort of reliability that you need if you're a professional.
When you take all of this into account, at a starting price of $1599 (which is one of Dell's current special offers, not necessarily with the above specification), you could say that the world's most powerful laptop is something of a bargain. (Pricing is - as ever - complicated with a rich specification like this. You should check your local Dell website for specifics).
Read our review of the Dell M3800 here
Tags: Technology