G-Technolgy G Dock EV offers a new and extremely flexible topology for external hard drives. Here's Jim Pierson's review

The G Dock EV offers two 1TB 7200rpm hard disk drives with have both USB3 and SATA connections, plus a Thunderbolt dock with external power supply. You can use the drives individually connected directly to your workstation using the USB 3 cables provided or put both of them into the dock (where they connect using the SATA connector) and then connect the dock via thunderbolt to your workstation. The dock has 2 Thunderbolt ports so you don't loose a port with this device connected.
My test set-up was the current 15" Macbook Pro Retina with Mavericks installed.
I like this product. It's got a really good build quality and the stylish, small form factor matches my Mac laptop. I wonder if they'll do a black version for the new Mac Pros?
What also appeals to me and the way I work is that I can take a removable drive and stick it in my picket to go to a client without needing a cover.
It's good that it comes with the Thunderbolt to Thunderbolt cable included, and has a second port so you're not a port down when it's connected. It also comes with two USB 3 cables: one for each drive.
I would have preferred the PSU to be internal. It's a lot less cables and connectors to lose en route. There's also a small anomaly which is that the Drive bay has a Kingston fixing to secure the dock to the desk, but there's no way of locking the drives inside the unit.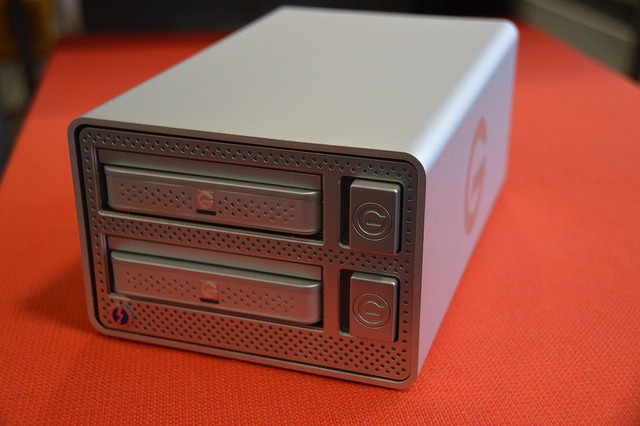 Performance - after the break
Performance
Using the AJA System test there was no discernible difference in performance for a single drive connected over USB 3 or via thunderbolt. Using a 16GB file size, DVCPROHD 1080i50 it gave:

131.7 Mbytes/s Read and 127.1 Mbytes/s Write
Using the Black Magic disk speed test with a 5GB stress setting gave a slightly lower values for performance via thunderbolt than via USB3.
Thunderbolt
10bit YUV 4:2:2 PAL Read 111 Mbytes/s Write 108 Mbytes/s
USB 3
10bit YUV 4:2:2 PAL Read 114 Mbytes/s Write 94 Mbytes/s
Finally
Should you want to use both drives together you can use the disk utility in the Mac OS to combine them as either RAID 0 (performance) or RAID 1(redundancy), disk utility refers to RAID 1 as mirrored and RAID 0 as spanned.
AJA System Test - 2 drives as Mirror
Read 131.4 Mbytes/s Write 127.8 Mbytes/s
AJA System Test - 2 drives as Stripe
Read 264.4 Mbytes/s Write 258.3 Mbytes/s
Summary
This is a great piece of kit to add to your Mac workstation or laptop.
The drive packaging protects your drives when used outside of the dock yet they slide into the dock for desktop use. So it works "on the go" and it works at your desk.
With 2 x 1TB, 7200 rpm spinning disks this is built for storing a lot media at a reasonable price performance point. If you choose to RAID protect your media it gives added security with no appreciable loss in performance over a single drive.
For those who demand higher performance using the two drives together as a stripe set gives almost SSD speed.
I like that it comes with all necessary cables and I can live with the external power supply now that I have velcro'd it to the side of the dock!
By Jim Pierson
More pictures after the break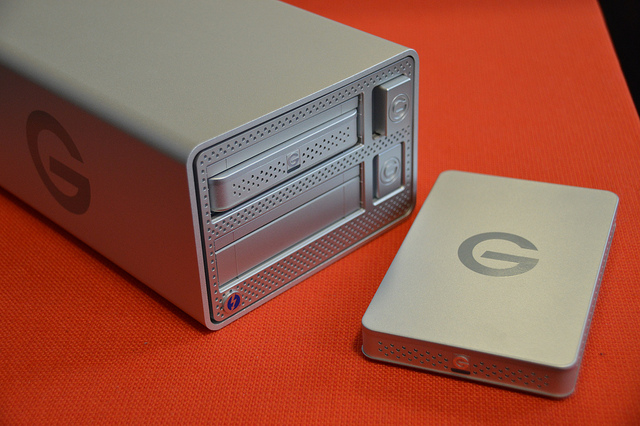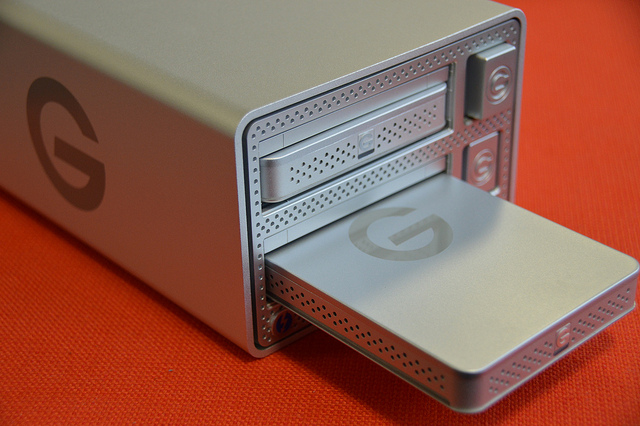 Tags: Technology