Brett Danton has been capturing visual stories about some of the world's most iconic brands for more than 20 years. Working alongside companies like Emirates, Jeep, Canon, Interface and Land Rover, Brett has travelled the world working as a Director, DOP and Photographer. On a recent worldwide trip, combining several shoots, Brett tried the Gigabyte AERO 17" 4K alongside the new Apple MacBook Pro 16"
I have been a MacBook user since I had one of the first black versions with a dial up modem. For many years I used a desktop for real work and the laptop for emails, browsing, etc. When the 17" MacBook Pro came along I had three of them in a row. It was the first machine I could work on the road, editing and grading, not having to dip back to the desktop. Trying to work between a desktop and laptop used to drive me up the wall. I was often working in different countries and time zones, and no matter how much I double checked, there always seemed to be something in the wrong place or which I'd forgotten.
An Apple fan - but persuadable
The 17" MacBook Pro had the screen real estate and what I loved the most was user upgradability. I hung on to my final 17" MacBook Pro as long as I could after it was withdrawn, upgrading the RAM, then the HDD to an SSD - and then finally removing the DVD for another SSD. The 15" MacBooks have always felt like a step down from the 17", with limited RAM options and not much choice of graphics cards. Essentially there were no significant user upgrade options and there were ongoing issues. I have had three of those: one died in a gin and tonic accident while I was editing in a hotel bar, and the last one - with its troubled keyboard and airport security questions on the battery - never felt like it had enough grunt. The paucity of RAM was really a problem. To get the performance I needed, I had to buy an eGPU.
If Apple had not brought out the 16" MacBook Pro, it's quite possible that I would have moved across to Windows. The 16" MacBook is certainly what the 15 should have been: it has screen real-estate and the sort of grunt that I need, day to day. The negatives are that I would still like 17" screen with a matt option. This matters because often you don't have the luxury of choosing working environments, and the glossy screen on the MacBooks drives drives me up the wall. Its damn expensive, too, as I got the fully loaded version, which, despite the stratospheric price, still doesn't give me any significant user upgrade options and - my biggest gripe - still no 4K screen.
Breathtaking AERO screen
So I have just been given the chance to try the Gigbyte AERO 4k laptop for a few months and run it side-by side-with my MacBook 16". Straight away it reminded me of my MacBook Pro 17". The screen is breathtaking. It's matt with 4k resolution. I realised when I first loaded a clip to play in HDR it really is the best screen I think I've seen on a laptop. The viewing angle is less than with glossy screens but this to be expected. It feels very well built and I should know because I took it around the world twice. It's big (you can't expect anything with a 17" screen to be otherwise) but it's slim and It fitted in my cases without any issues and despite me having upgraded all my accessories to USB-C it was nice to have all the ports back!
I did not run this as a nerdy test but as a more meaningful real world trial, using it on real world projects. The two applications I really wanted to test were Da Vinci Resolve and Cine Tracer, a PreViz application still in development (an amazing piece of software to plan lighting and shots that works in Unreal Engine and and at times uses ray tracing). To test Resolve, I transferred a project that was on the Mac to the PC using a suitably formatted SSD. That took me a while to figure but was easy once I knew how. Both machines have the USB-C ports.
You can really see the difference
I'm not over-familiar with Windows (and I'm sure I'm typical of Mac users contemplating moving across to Windows) but inside the application Resolve felt same - ie completely familiar - except except for having that extra screen real-estate and resolution, which made it so much more usable. When viewing a 4k clip full-screen in 4k, you really can see the difference. This meant that I could check everything properly. I would compare it to when 4k cameras first came out and people were commenting on the image, yet most of the people who committed had no access or never seen 4k. How can you comment if you have not seen the true image? The colours and depth are very good and the machine rips along, I could edit and grade the 4K RAW files without a problem, even adding a third party noise reduction plugin, the final export was faster than the Mac.
Real world ray tracing
Next was Cine Tracer, and wow!
Using ray tracing - which I believe is not possible in real time on a MacBook Pro because of the graphics card - was amazing. The rendering of reflections and lighting was a different level to what I had seen before, especially in 4k. The frame rate was also impressive: when I ran this application on my MacBook Pro the fan stayed on permanently. I really think that Cine Tracer is the future of PreViz, especially with more and more virtual studios and virtual productions happening. This is something Mac Book Pros really need to keep up with to stay a viable production tool.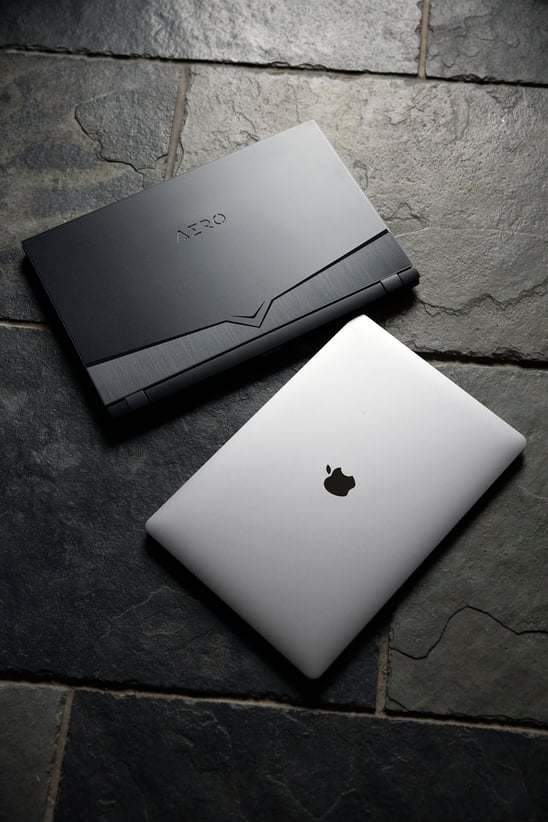 The AERO is a mobile workstation, negating the need for additional peripheral products, it allows for on-the-road editing and grading in a RAW 4k environment. I would quite happily use this laptop as my main machine, and if Apple had not brought the 16" MacBook Pro out when they did, it's quite possible to imagine that I would have jumped ship to Windows - and to this specific machine. And that comes from a person who has only ever used Macs.
Better value for the money
I'm sure the AERO represents much better value for money than the Mac, and with a bit of time on windows - especially because the cross-platform applications look the same - I would be up to speed.
I still love the MacBook design and wish PC designers could take some of it across. The two things that I did not like on the AERO were the track pad not being machine centre - but it is opposite the QWERTY part of the keyboard) and the big power adaptor - but you have to remember this is a portable workstation.
The AERO 4k is probably the best laptop screen I have seen and for the pro-on-the go-the AERO is a genuine and credible workhorse.
AERO 17" RTX 2070 Creative Laptop - With 4K UHD HDR Display (click on link to see exact specification)
£3,298.99
Note that there is currently a special offer for selected Gigabyte AERO laptops featuring Nvidia RTX2060 / RTX2070 and RTX2080 graphics. It's a free three month subscription - worth £227 - to Adobe Creative Cloud
This is a link to the Scan UK Gigabyte Creator Laptop Shop