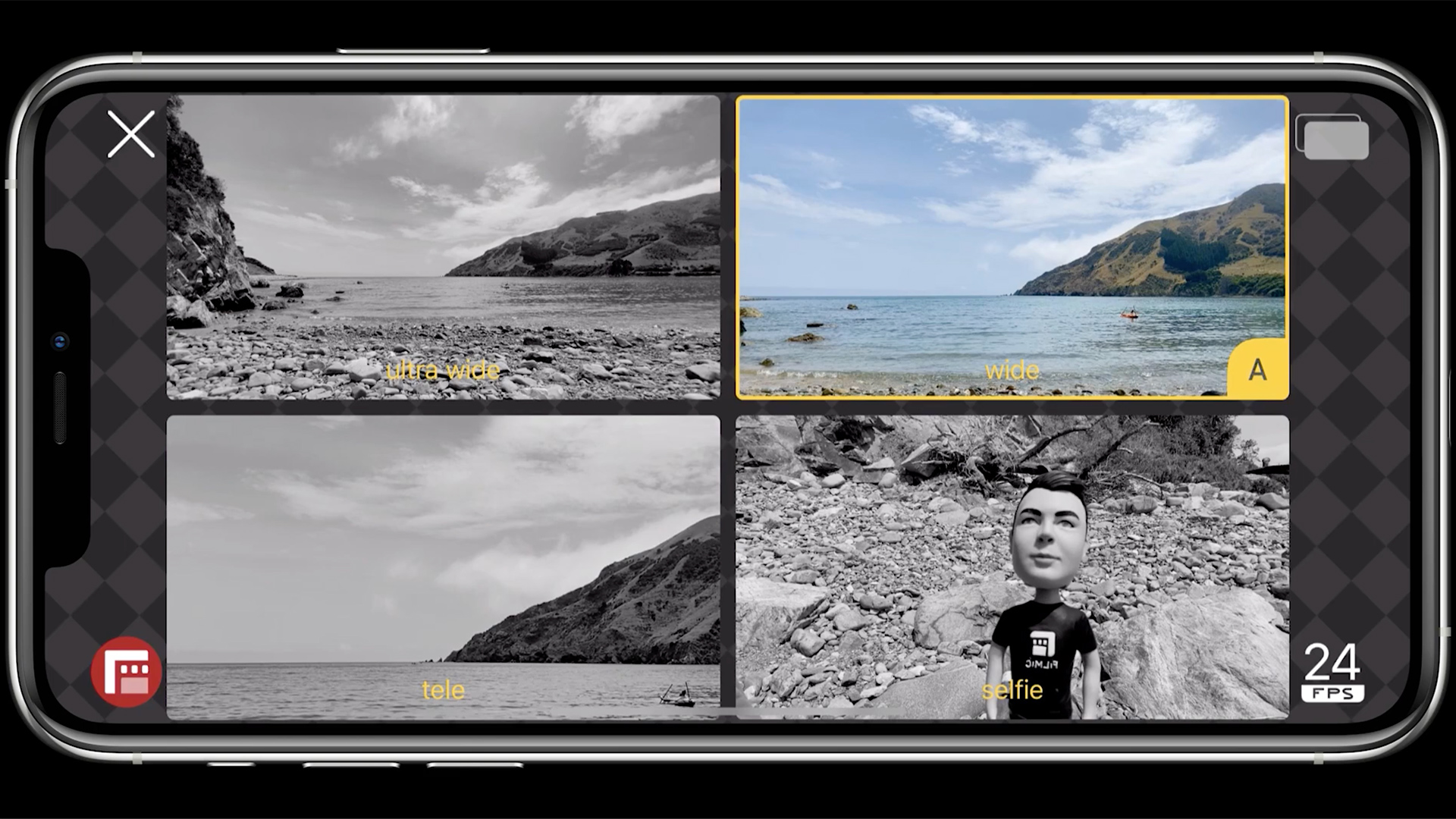 FiLMiC Pro is arguably one of the best cinematography apps for iPhone and Android devices, transforming your phone into a cinema camera. After previewing a multi-camera option during the iPhone 11 keynote, FilMiC Pro has released a new standalone app called DoubleTake, which takes advantage of the multiple cameras iPhone offers.
What is FiLMiC Pro's DoubleTake?
As mentioned above, DoubleTake is a standalone app for iOS that takes advantage of an iPhone 11 Pro's and 11 Pro Max's triple cameras, and the 11's dual cameras, giving filmmakers a true multicam function. It's also available for the popular iPhone XR, the XS and XS Max.
DoubleTake includes a Picture-in-Picture option, both front and rear camera recording, split-screen, and much more.
DoubleTake Features
View all angles available via Camera Visualization, and make changes as needed, including the framing, focus and exposure (with lock options), plus which shot you want to use.
Set up and record different multicam angles at once, such as a wide shot and a medium or close-up shot.
Picture-in-Picture (PiP) option, which can be recorded as separate files (discrete), or as the PiP option. You can also move the PiP around your screen, plus swipe it away, while everything still records.
Interview-style Shot/Reverse Shot will take advantage of the front- and rear-facing cameras, so you can have just one device recording two people talking.
Split-screen option, saved as a single video file. This is also great for interviews.
Frames rates of 24 fps, 25 fps and 30 fps are recorded at 1080p, high bit rate. This the maximum resolution supported by the iPhone for multicam. Perhaps future software or hardware updates will allow higher resolution recording, including 2K and 4K, and higher frame rates, such as 60 fps.
DoubleTake is a pretty good standalone multi-camera app, giving mobile filmmakers more creative options for films, interviews, sports, corporate video, and more. And despite recording at 1080p and up to 30 fps, this iOS app is a good one to add to your arsenal, especially if you're using FiLMiC Pro.
Imagine you're doing some filming with an iPhone 11 Pro with 3 rear cameras and 1 front camera. You have 4 cameras to choose from with DoubleTake, and as seen in the image above, you can frame 4 different angles: An ultra wide, wide, tele and even a selfie. Choose which angles you want to record, and you're all set.
FiLMiC Pro's DoubleTake is available now as a free download on the Apple App Store. Check out filmicpro.com for more information.