NewTek, now part of the Vizrt group, signals its intention not only aggressively develop TriCasters, but to embrace an NDI future with no looking back. Don't worry, though. Two HDMI to NDI converters are included and you can add more.
NewTek's TriCaster Mini was launched in 2014 as a more affordable TriCaster with HDMI I/O and a low price to appeal to a very wide range of video content producers. Since then, a new generation of full size TriCasters has appeared - the TC1 - which is a huge leap from the earlier generations, with 4K support and NDI input and outputs.
NDI is video over IP for everyone
If you don't know about NDI, the chances are that you will come across it very soon. It's a very easy way to send video over a network. It's simple to set up, and very simple to use - all of which might divert you from the fact that it's an extraordinarily capable technology that is now by far the world's most popular form of Video over IP.
NDI delivers the goods. We've hosted live, streamed events using NDI instead of video cables. It's one of the most important developments in this industry for the last ten years.
New NewTek TriCaster Mini 2019
Now, there's a new TriCaster Mini, the TC Mini, and it's radically different: not least because it has absolutely no conventional video I/O.
Ethernet is the new normal
Instead, it has multiple RJ-45 (ie Ethernet) sockets. Strictly, it has virtual I/O, because you can bring in multiple NDI video signals over a single Ethernet connector.
If you've not been following the NDI story, all of this might sound a bit far fetched. But the uses (and users) of NDI are now so widespread that it's reasonable to say that the architecture of the TC Mini is necessary rather than speculative. More of this in a minute, but first, let's have a closer look at the new TriCaster.
The TC Mini ships with no SDI or HDMI. There are 4 Mini Display Ports for connecting external displays, and three of these can be configured as multiviewers.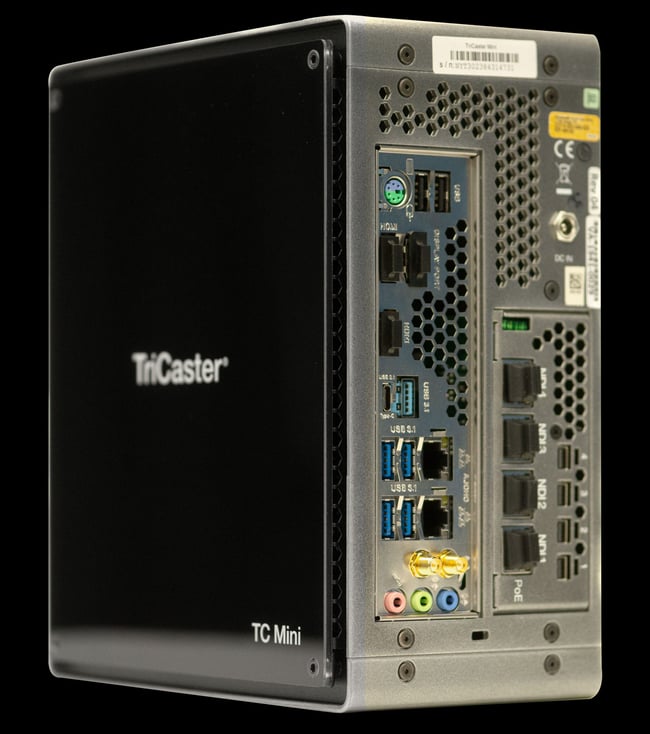 NewTek TC Mini Back three quarters view
There are four RJ45 jacks with Power over Ethernet (POE) that can supply power to external devices over the network cable. This is ideal for PTZ cameras.
There's an additional two Gig E connectors. Using solely Ethernet, you can bring in up to 8 sources and switch them in real time.
The TC Mini is natively 4K
The TC Mini is natively 4K at all normal 4K frame rates. It comes with a 1TB SSD, and virtually every aspect of the product is a big improvement over the previous generation. The new TriCaster is part of the new generation of TriCasters and will therefore be able to benefit from most software updates as they become available.
The fact that the TC Mini has NDI at its core means it can accept a wide range of inputs. If you run the included NDI|HX camera app on your iPhone, you can use it as a video source. You can also bring in computer graphics, Skype and computer games. If your iPhone can support 4K you can use it as a 4K source with the TC Mini.
One of the features of the most recent version of NDI is that it supports recording to storage devices across the network, and this is also supported by the TC Mini. So you can set up recorders for clip playback, replay and archiving. You can even send video sources direct to Premiere.
TC Mini is a dual video streaming encoder
Just like previous and other current TriCasters, the TC Mini supports video streaming. It has two streaming encoders, which can operate simultaneously for streaming to multiple streaming hosts. This option might have seemed niche when TriCasters first appeared, but it's essential now, and, in conjunction with all the video source options over NDI, it's going to lower the barrier to live productions even further.
Just to reiterate: any recent iPhone can be turned into a decent video camera by running NDI over a local WiFi network. But what about "legacy" cameras and devices that don't have an Ethernet port?
Every TC Mini will come with two separate HDMI to NDI converters - and you can buy more of these easily and inexpensively. The same goes for outputs. But you may not want or need to convert from NDI to "legacy" video.
For example, let's say you need one or more program output monitors. Traditionally you'd have to use an HDMI cable connected to a monitor. HDMI cables can be inflexible and they can't run over long distances. With NDI, you take a laptop (or any computer), run an NDI APP on it, connect it to the network, and you can display any source or output, including the program output from the TC Mini.
NewTek TC-Mini-back-panel flat view
Another of the TC Mini's talents is that it supports NDI KVM. (KVM stands for Keyboard, Video, Monitor). What this means is that you can fully control and operate the TC Mini from anywhere on the NDI network. It's incredibly flexible.
Purchasers of the TC Mini get six month's free use of Premium Access - a subscription that opens up some premium features across all TriCasters. One of these is the ability to output multiple "shapes" of video for social media: normal 16:9; square and vertical.
We think the TC Mini is a very important product introduction for several reasons.
A bold move?
When NDI was first announced, it was a bit like having the first telephone on the planet: there was nothing to connect to. Introducing an NDI-only TriCaster then would have been "bold". But now, hundreds of manufacturers are embracing NDI. It's already become a de facto standard. It's the lingua franca of video networks.
So, yes, a physical I/O-free TriCaster is bold. But it's a good move. And with the rise and rise of NDI across the industry, you could reasonably say that it's an important one, too.
The TriCaster Mini is shipping later this month, starting at a price of $8995.