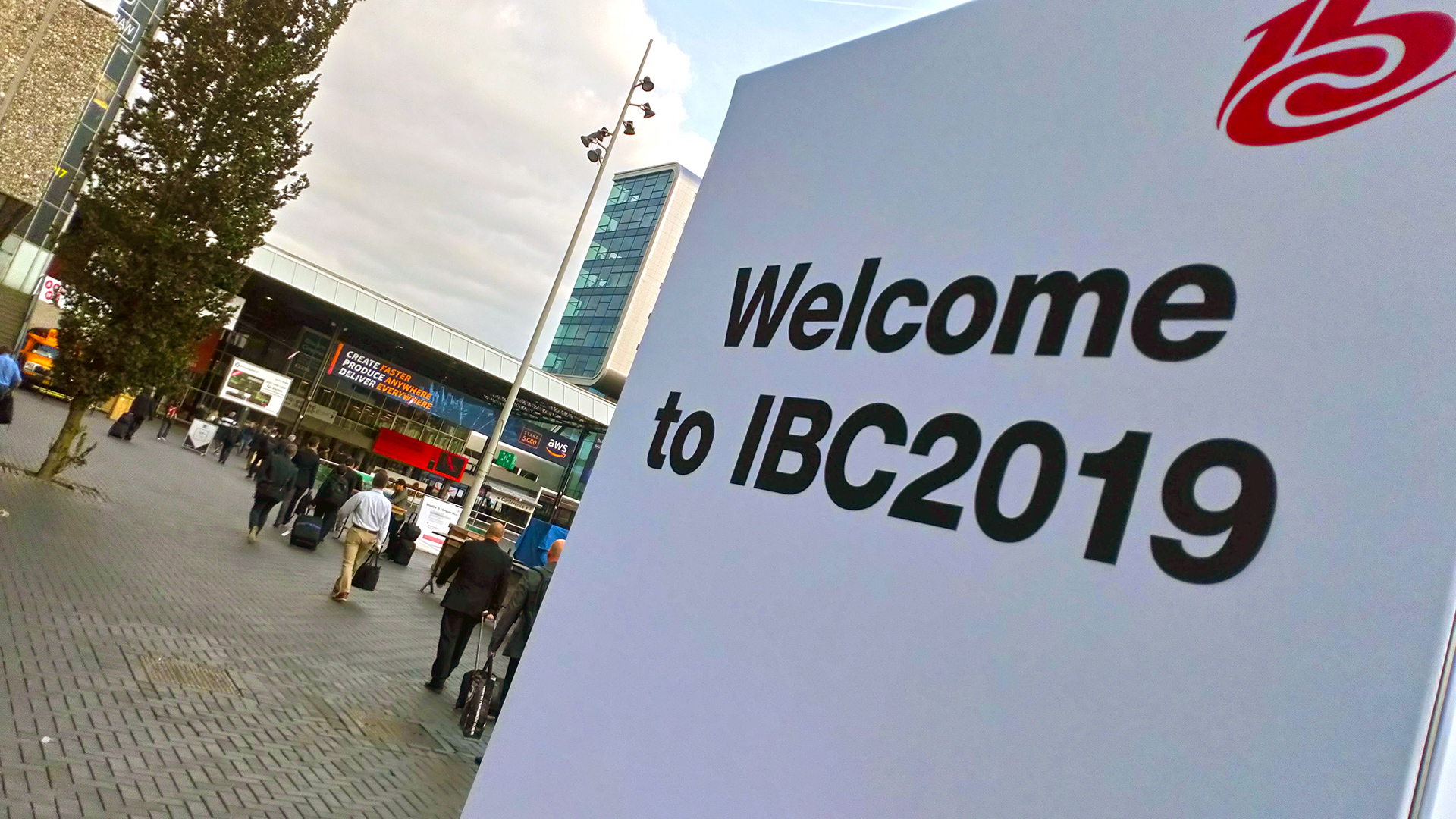 Every year at IBC we make awards to those companies who we think have made significant advances, or that have introduced groundbreaking new technology into the industry. Sometimes the advancements seem subtle, but what they offer is something much more than the sum of their parts. This is our roundup of this years winners of the IBC 2019 RedShark Awards.
Sony - FX9
Sony's FX9 (note - it's not the FS9!) is the next generation of cinema camera from Sony that can also be just as easily configured as documentary tools.
Sony's taken an interesting decision with this camera. Even though the sensor is comfortably 6K (it's a 19 megapixel Exmor R full frame device), the camera's output (including "raw"!) is only 4K. Of course, "only" 4K is exactly what most people are going to be delivering in for a few years, so that's not exactly an issue, but there's more than meets the eye to this technical decision, because those 4K pictures are derived (ie downsampled) from the full sensor.
This makes a lot of sense.
It means that FX9 camera users have many of the advantages of a 6K camera without the overhead of recording all that data - 6K is more than twice the data of 4K (18 megapixels vs 8 megapixels).
This is going to be a very important camera, and it seems like a very well thought out product. Well done to Sony.
Blackmagic - Atem Mini
The new Atem mini gets a prize for merely existing in this size and shape, and at this price. It's an astonishingly capable little switcher, which, via a simple USB connection to a laptop reveals a slew of capabilities that would't look out of place on a full broadcast switcher.
This is a professional product at a consumer price and you have to wonder what more Blackmagic has in store for us in the next year or so!
Panasonic - 10 years of PTZ cameras
Well this is an unusual one. PTZ cameras don't normally hit the headlines. They're not built for that. Instead, they sit, unattended, capturing - these days - extremely high quality video, efficiently, without getting in anyone's way.
And that's the point. PTZ cameras are ideal for capturing real life without the drama and inconvenience of the usual broadcast paraphernalia. More than ever, we're seeing TV programs (and even video podcasts) that are captured by PTZ cameras. Not only has Panasonic been designing and making them for ten years, they now comprise the biggest product category by revenue for the Japanese video company.
Frame.io - Range Based Comments
Frame has a product that literally sells itself. You get an email from someone with a link to a video they're working on, click on the link, watch, comment, return, and then, because it all works so well, you realise that you can't live without it.
Not only that, but the technology is incredible.
We gave them an award at this year's IBC because of a new feature, which, to be honest, doesn't sound like much. But it's huge.
It's Range Based Comments.
It means that instead of writing a comment at a particular frame, you can apply a comment to a range of frames. This is seismic. Why the excitement? Because if video wasn't about a range of frames, then it would be still photography. The very essence of video is bunches of multiple frames. And so this is a breakthrough. Here's an example.
Let's say the camera is panning from across a scene and a bottle of cola sweeps into view. That's likely as not a rights issue. Without range-based comments, you'd have to comment twice: one at the in point and out at the out point. But now you can select all the frames with the offending item and make a single comment.
And I'm sure this will lead very quickly to the ability to throw together sequence based on their text descriptions. I've always said that at one point the metadata will be more important than the content. And you can see this trend in evidence right here.
NewTek - NDI
Now part of the extended Vizrt/NewTek/NDI family of brands, NewTek got this award - again - because of the unstoppable rise of NDI, its free-to-use video over a network system that now has a life of its own among a myriad users and developers. While work continues on standardizing uncompressed video over IP, NewTek has a IP video solution that works now, for virtually everyone.
It's a genuinely groundbreaking product, and now that it's part of the bigger group of companies, it's going to be even more pervasive.
Here's just one example: you may have seen the recent case in the Supreme Court in the UK where the Government was found to have acted unlawfully in suspending the UK Parliament. This was a monumentally important decision and was watched directly (ie by watching the live stream on the Supreme Court's website) by approximately 400,000 people. A total of 2,000,000 people watched that same stream as it was used as a source by the UK's national broadcasters.
The entire courtroom session was facilitated by NDI, with PTZ cameras feeding into a NewTek TriCaster. No pressure then!
Apparently the video installation was completed days before the hearing, using existing fibre cabling, with zero disruption to the workings of the court.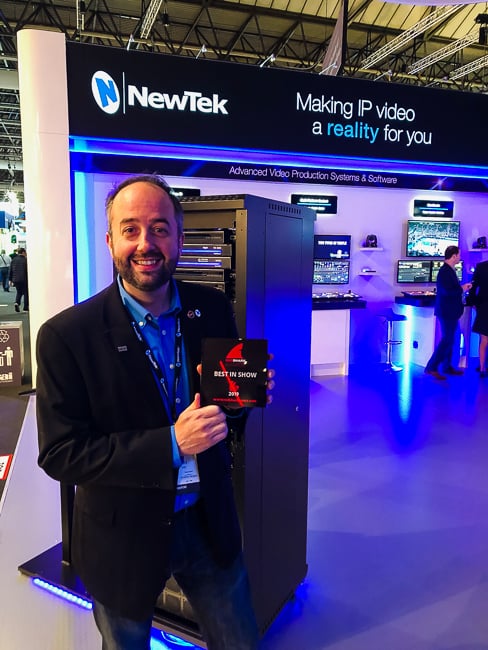 Adobe - Automatic Reframing
Like Frame.io, this award was for a feature that's nestled away inside a menu tree. Which makes its significance even more of a surprise. What's also not obvious (until you think about it) is that AI is at the heart of this.
A lot of companies state - mostly correctly - that they include AI in their products, but this covers a huge spectrum of capabilities. Some barely justify the claim. But there's no doubt with Adobe: not least because the software company has built its own AI engine which they call "Sensei".
It's Sensei that's at least partly responsible for Video Content Aware fill. And it's also invoked in Adobe Premiere's new ability to automatically output a video to a different aspect ratio to the one the project was edited in.
While this might sound niche if you only ever deliver to 16:9, the reality today is that video producers have to cater for multiple aspect ratios when they publish their work. There's square, vertical and everything in between and beyond. Normally, this is a very hands-on process that needs input from someone (or something) that "understands" what's going on in the video.
And that's exactly what seems to be happening with Adobe's Automatic Reframing. It's as if the program knows what's going on. This is much more than a simple matter of identifying faces. It goes way beyond that. I'm told it analyses the direction people's eyes are looking. It follows their feet. It's almost as if it understands intentionality.
Does it work? Yes, definitely. Is it perfect? Well, I'm not sure how you'd define perfection with a job that's clearly going to be impossible at times. But when I saw some of the decisions difficult that algorithm was taking, I found myself agreeing with it most of the time. This is exactly the type of automation that's good. It replaces work, but it's work that no-one ever wanted to do.
Well done to Adobe for making genuine and useful progress with AI.
Editshare QScan
QScan introduced a new feature called Comparative Analysis. In today's world of multi-screen, multi-platform delivery, any show could have dozens of versions (if not more) - UHD, HD, low bit rate, high bit-rate, YouTube, NetFlix, terrestrial - an enormous number of delivery options. Managing those is difficult enough, but if you want to ensure that the content is identical and something has not gone wrong in the encoding process, until now, there was no easy way to do this. Typically with any QC process, you'll analyse the video for errors. But what you won't necessarily know is if there are any differences to the original=, where the timecode could be different, audio layout etc.
The new Comparative Analysis tool lets you analyse any number of video files (and audio) and then compare any measurable parameter side by side - in a very intuitive and visual way. So you may compare 4 files to an original master and check that the audio layout is correct on all of them. Normally, you'd have to inspect them all individually in a manual process.
There's a visual timeline that plots graphs of any parameter, so you can easily see if there are any differences... and them simply clicking on the timeline also shows you the still frame for each file as a visual reference.
It's a great feature that is going to save a load of time for any delivery requirements, as well as reduce errors - which all add up to saving costs.
Asus grading monitors
What's significant about Asus' latest direction of travel is that monitors good enough to grade with have typically cost ten or twenty times the prices of these new displays from the Taiwan based company.
Today's growth in the number of content producers who "do it all" means that there really does need to be a monitoring solution for people that can't afford top end grading equipment. There will always be those that say you can't do grading without high end equipment but I met several colour experts in Amsterdam who vouched for the quality and the usability of these monitors.
To get something significantly better you'd have to pay an awful lot more. This is a significant advance in price-performance and that's why we gave Asus our award.
Sigma Classic Primes
If you're going to invest in a lens with deliberate imperfections, you'd better make sure it's going to do the right job for you. We like the Sigma Classic Primes because they cheerfully abuse the light that passes though them in the most characterful way. They're a mile away from the sort of clinical performance that has given modern digital video cameras a bad name in some quarters.
Why do people still use Marshall amplifiers for their guitars? For that matter, why don't we just take a nutrition pill, instead of going to a fine restaurant? Why are 35 year old analogue synthesizers so popular? And then there's vinyl. It's because character matters. Character engages and delights audiences. It's a way of connecting. And that validates the whole movement towards lenses with a personality.
There's no denying that the images from Sigma's Classic Primes are gorgeous. We love the results. And that's why we gave Sigma an award.
Canon
Canon's EOS C500 II camera should, perhaps, have been given an epic name like "Titan", but push past the nominative incrementalism that is the EOS C500 II and you have a completely new camera, with a full frame, 6K sensor. Importantly, it also records 6K raw internally.
There's no doubt that what you can buy for a given price today is incredible. There's no doubt that Sony's new entrant, the FX9 is formidable. So this wasn't easy. But what swung it for us, to give Canon the Supreme Best In Show award was that the EOS C500 II ticks so many boxes, while producing outstanding HDR raw 6K images, which it records on the camera.
It's also worth noting the commitment that Canon has shown to the camera, with a high budget film film made by Brett Danton and supported by Jaguar Landrover. You don't get global brands like this buying into a completely new camera platform without complete faith in the outcome.
Tags: Production