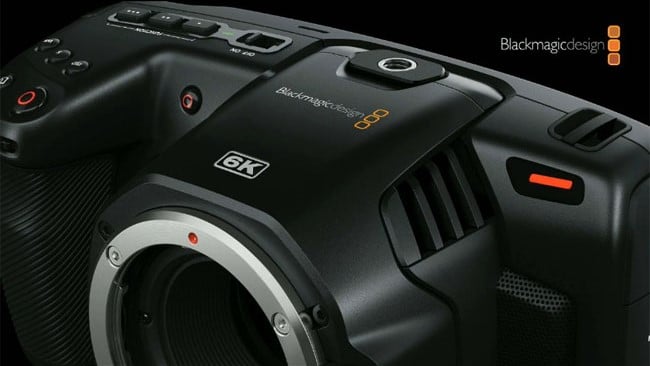 Hugely significant new EF-mount 6K camera and more...
Update: Read our full lowdown on the new BMPCC 6K here!
Refresh the page every few minutes to see the latest updates. Times are in UK time. Latest updates first. Scroll down to see earlier posts
09:10 DS
AAaaaaand that's it! Watch out for our full report in an hour or so. Thanks for watching!
09:06 PR
Their software has traditionally been very reliable; I don't remember a major SNAFU
09:04 PR
Surprisingly small difference between CPU and GPU
09:02 DS
This is a remarkable advance. The price/performance of the camera - and with Blackmagic RAW - is extraordinary. Grant is showing Resolve scrubbing effortlessly though 6K material from the new camera.
08:58 PR
It's said a lot, but what's available to independent film is now massively in excess of what people considered a high end tool ten years ago.
Remember - full details coming in a comprehensive article shortly after the liveblog.
08:54 DS
For anyone with an existing P4K backorder they will be offered the opportunity to switch to the P6K.
Product is in stock immediately!
08:51 PR
Recent Ursa Mini purchasers, don't be depressed; there's a noise-resolution tradeoff. As regards upscaling. There's a point at which almost no conventional viewing position reveal the resolution; much beyond 4K and we're in "doesn't matter" territory. What it gives you is oversampling for better colour, lower noise and reframing.
08:50: DS BMPCC6K!
08:46
Here it is: It's an EF version of the Pocket Cinema Camera! It's a 6K camera!
PR: I wonder if it's just a bigger slice of the same silicon so they match visually.
08:45 DS
He's running through all the features in the BMPCC4K. Just wondering what's coming up next
PR
08:43 DS
BMPCC4K - Grant apologises for hold-ups in delivery.
08:42 PR
I'd like to see a version of that on a PCIe card. Call me grandpa.
08:41 DS
08:38 DS
It's Thunderbolt 3
08:36 DS
Ultra Studio 4K Mini. Half Rack Width
08:34 PR
In terms of engineering, they're putting some of their competitors to shame in terms of speed and... for want of a better word... sensibility of features. This has changed so much. But I don't honestly see a lot of shortage of people willing to get paid £300 an hour grading Marvel movies.
08:33 DS
Audio - Fairlight audio page in Resolve now supports 192Khz audio sample rates. Not bad for an NLE!
08:32 PR
I think all of this is a hint to people who've never needed it that we all need to rediscover timecode.Someone should do a smartphone app that talks to others wirelessly to sync up shooting. You could end up with huge crowdsourced multicamera shoots.
08:29 DS
There's a Sync Window
08:28 DS
I have a feeling this is going to be a long presentation. But it's all good... OK - now we've got face detection. It's not going to lead to perfect edits, but it's cool!
08:26 PR
It's a small detail but I like the fact that the overwrite does an insert rather than an assemble, if you see what I mean.
08:24 PR
Some of these are things that would risk feeling slightly counterintuitive, but it's also the sort of thing that people would become real ninjas at.
08:21 PR
What he's talking about here is jam sync. That's a feature we'd like to see on Ursa Mini, for conventional dual system sound. But certainly, for live events it's really handy.You could actually use this to do music videos as well, by recording the audio timecode to the cameras. I wonder if it'd be possible to combine this with an EDL from a live cut, so this could be used to trim a live cut with iso'd cameras.
BTW - The assumption that long shots are boring is...... Dubious!
08:20 PR
You could actually use this to do music videos as well, by recording the audio timecode to the cameras.
0818 DS
Some really deep timecode stuff here for syncing multiple clips together. It's quite impressive.
08:17 PR
What he's talking about here is jam sync.That's a feature we'd like to see on Ursa Mini, for conventional dual system sound. But certainly, for live events it's really handy.
08:14 PR
This stuff is all very much oriented toward super-high-speed getting stuff out to social media, and so forth.It's for producing those edited highlights for sports and so on.
Timecode is much overlooked these days.
DS
A Boring Edit detector. We'll just leave it at that.
09:12 DS
Quite a lot of changes to the hardware keyboard. Function keys have a lot more, er, functions
08:10 PR
Not to gush too much, but I think Grant's background in post is pretty clear in the engineering on that jog/shuttle.
08:07 PR
This is leveraging the fact that Resolve is based on what seems to be a pretty quick core.Perhaps I'm too used to other things, but I'm constantly struck by how fast this thing looks.And that thing in the rack behind him that looks like an early 90s Sony tape deck is the wonderful RS422 controller they showed at NAB.
08:04 DS
They've fixed the audio glitch. He's showing us the UI for Resolve 16. The source tape feature has been added to every folder where you are. So you can see a continuous clip of all your stuff and just scroll through it.
08:00 DS
And here's Grant. First up it's Resolve. And there's a glitch - there is a double audio glitch with the stream. There's the Grant, and then there's Grant delayed by about five seconds. It's almost unintelligible.
07:58 DS
The music has just started. It's coming up to 05:00 AM in Australia. Nice!
07:54PM DS
We're speculating the most about the camera announcements. To be honest, it could be 8K, 6K or just another varient of the Ursa Mini. Or something else. Maybe an update to the BMPCC4K? Maybe a BMPCC6K? And then there's full frame. We're about to find out.
07:52PM DS
Come back here soon for live coverage of Blackmagic's announcements. At this point, we have no idea what we're going to see, but what we do know is that IBC, the massive European show for the film and broadcast industry in Amsterdam, is around five weeks away. And the trend over the last couple of years has been for the big announcements to be made before the show rather than at it.
I'll be commenting on the stream (which you can see live yourselves here). If you'd like to take part, please leave comments below, or on our twitter page: @redsharknews. If we see any great comments, we'll include them in the liveblog.
Phil Rhodes, RedShark's Technical Editor is with me making comments as we go through the presentation. On past form, this could take an hour or more. Expect the smaller announcements towards the start and the biggies towards the end - but this one could be all different.