The Lumix S1 is one very talked about camera, and for good reason. Here's our in-depth look at it in the first of a two part review.
The Panasonic S1 is one of the most recent additions to the mirrorless camera world. At 24.2MP it's a more video and low light focussed stablemate to the higher resolution, more stills focussed, S1R with its 47.3MP chip.
First impressions
The Lumix S1 is a full frame hybrid stills/video mirrorless system, and it was supplied with a 24-105mm f/4 lens. Despite a lot of emphasis today being placed on lighter weight and portability, the S1 by contrast is suitably weighty when equipped with glass. It is every bit a professionally aimed piece of kit. With angular lines, the textured metal chassis has an air of toughness about it. The lack of a pop up flash is another giveaway that this is not a camera aimed at amateurs.
The controls are neatly laid out and clear to see, with the usual rotary selection dials and mini joystick for navigating menus as well as operating the general functionality of the camera.
Controls and dials are clearly laid out and easy to reach
On the top is a clear LCD showing all important settings and information such as battery life, shutter and aperture, as well as the exposure balance. To the right of this is an illumination button, which when pressed backlights the information display as well as illuminating some of the more important buttons on the back face of the camera as well.
There are two card slots, one for XQD cards, and one for less pricey SD cards. It's good to have a choice, but if you are spending this much on a camera the price of an XQD card or two is hardly going to be an issue for you. The choice of XQD instead of, say, CFast 2 as a primary storage system is a curious one given that it's a registered trademark of Sony. XQD cards do seem to be more readily available however.
The battery is where things get more interesting. It's big. Open up the battery compartment and you find that the battery is almost the full height of the camera in size. Called a DMW-BLJ31 it comes in at 3050mAh and 23Wh. Batteries are not normally something that pique the interest, but in this case it is reassuring that Panasonic has seen fit to power the S1 with a battery that is truly up to the job at hand without having to resort to a battery grip.
On the left hand side of the body are two rubber flaps, which protect one 3.5mm mic in, a 3.5mm headphone jack, a USB-C port, and a full size HDMI out. There's also a separate remote interface just below the shooting mode dial.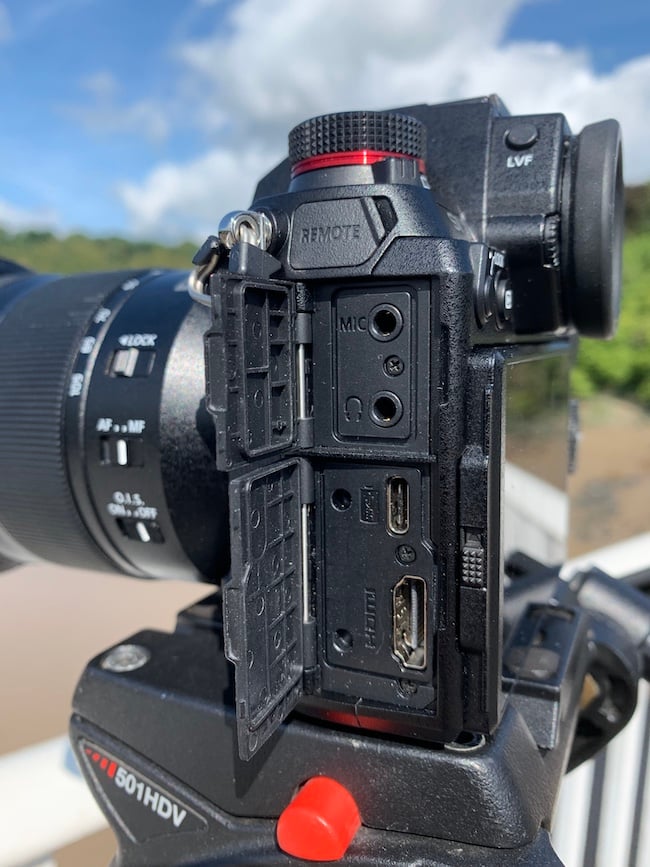 The various ports on the Lumix S1 are protected by flexible rubber flaps
At the front just below the lens is an innocuous looking switch labelled 1 and 2. This is in fact a nifty little selection switch that allows you to select quickly between settings of your choice. For example you could have V-log set up to setting 1 and Vivid set to 2. Or you could choose between picture quality, AF mode and shutter type. In all you can choose from 20 different functions to assign to it.
The rear of the camera is home to a large 3.2" LCD, which can be tilted 90 degrees up or down for low angle or high angle shooting. Releasing a tiny tab allows the screen to be flipped out to the right by around 60 degrees (at a guess).
The mechanical shutter system on the camera is further testament to the ruggedness of the unit, having been designed for up to 400k activations, and a very useful flash sync speed of 1/320th of a second.
Finally, the S1 is full weather sealed, and so with lenses that are similarly designed, the S1 should be ready to take on pretty much anything the environment can throw at it.
The shooting mode dial on the Lumix S1
Ergonomics
The S1 fits very well in the hand, and balances fairly well. It's comfortable to hold, and for mine at least the main finger grip was well shaped to allow me a solid purchase. I could reach most essential controls from this without having to loosen my grip.
The menu system on the S1 is clear and it is fairly easy and quick to find important settings. Whilst no camera manufacturer has yet to come close to the excellent menus found on BMD video cameras, the system used on the Lumix S1 is one of the better ones I have come across.
Stills use
Firing up the S1, it turns on and is ready to go instantly. One of the first things that struck me upon using it was just how good the OLED viewfinder is. I think hands down it is the best one I have encountered yet. It is big, bright and with a refresh rate of up to 120fps it is the closest you'll get to an optical viewfinder in electronic form. The refresh rate can be set to lower in the menus. For example you might want it set lower if you are shooting video and want a more accurate representation of what you are filming.
The rear LCD is also very bright and easy to see, and can be viewed even in sunlight and has a similar refresh rate. For stills, though, you'll be most likely to use the viewfinder.
That said, I tested out the camera at a martial arts club and the flip out LCD came in very handy for getting some high angle shots that would otherwise not have been possible.
The tiltable rear LCD can also flip to the right hand side as well for more versatile angling
One area that does need some improving is the autofocus system. It is very, very quick when it works. It can be set to the usual expected settings such as the points system, centre etc. But the S1 can also be set to recognise both human faces, bodies (live ones I hope!), and animals. The only thing I found was that it was a bit hit and miss as to when it hit the mark, particularly when the camera was set to continuous focus mode. I missed a few shots because it decided to focus on the background instead of the humans that were right in front of it. Another thing I found was that the shutter button is very sensitive indeed. This isn't necessarily a negative, but could cause you to fire off a few shots accidentally if you aren't careful!
Burst shooting is very fast with up to 9fps possible when the focus is fixed and 6fps with continuous focus. There is also the option to shoot at 30fps in the 6K photo mode, so sports are pretty well covered.
One function that is of great interest is the high resolution mode. This effectively allows the S1 to take a 96MP still (the S1R goes up to a whopping 187MP). It works by using the in body IS system to microscopically shift the sensor and stitches together eight images to make the finished picture.
The difference in detail is pretty staggering, although there are limitations. Your subject matter needs to be pretty static, although there are two modes to cope with motion. For instance even in a landscape shot you might have moving grass or water, so you will need to enable Mode 2 to help suppress any movement artefacts. Shutter speed in high resolution mode is limited to a maximum of 1/8000 sec and a maximum ISO of 3200. Needless to say that this is a mode you will need a tripod for.
For landscape shots the benefits are obvious, particularly if you want to blow the image up to a very large size for wall display for instance. The difference in detail can be seen below in a 100% crop.
A 100% crop of high resolution mode (left) vs standard resolution (right). The differences are pretty stark!
For some stills examples I have included some here, and I'll be adding more. I have included the untouched photo and a basic CC edit, as well as a couple of examples of high resolution mode compared to the standard resolution. All can be downloaded at the original resolution.
It's worth me mentioning at this point the 24-105mm f/4 lens that the camera was supplied with. This is available as part of a package for the camera, and I have to say, it is an incredibly versatile piece of glass. True, it is f/4, but this is constant throughout the focal length range, and therefore is really quite impressive. It is certainly the type of glass you could leave on the camera for most situations.
For most people the 24.2MP of the S1 will be more than enough for general stills use, and the results from the S1 in terms of colour rendition and dynamic range are impressive. The noise structure at higher ISO settings has a nice organic look to it, too.
At an RRP of $3,400 with the 24-105 f/4 lens, the Lumix S1 is not cheap as a stills camera. It is unashamedly a professional imaging device. But if you can afford it it will reward you in spades. However, the S1 is only pricey if you think in terms of purely stills. As a hybrid camera it is capable of much, much more. Next time around I'll look at the much vaunted video modes with the brand new Vlog firmware, low light performance, and the greatly undermentioned high speed video mode.