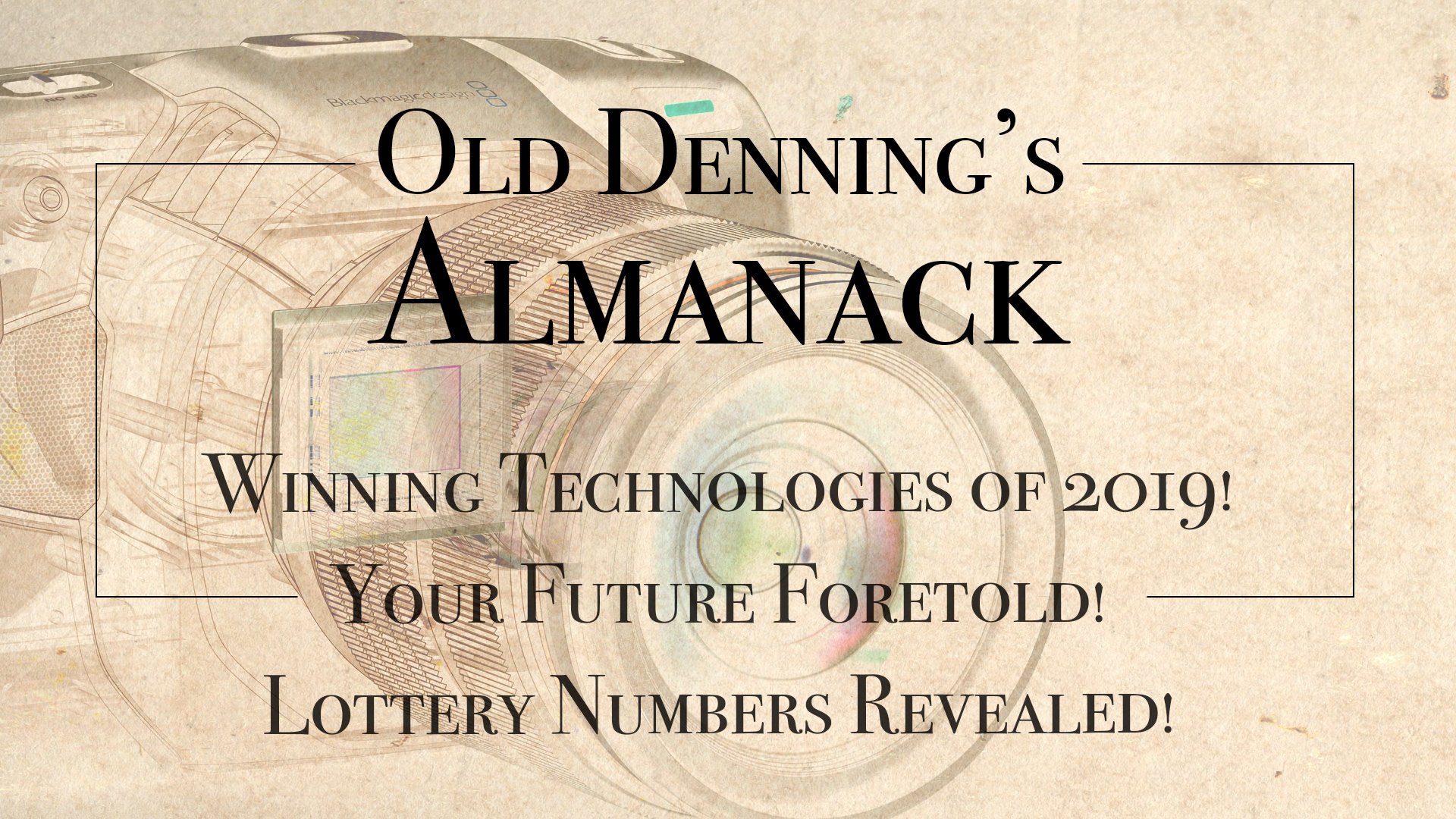 Roland Denning has been into his attic again and dusted off his crystal ball to give you the most accurate predictions for next year. Remember, if anyone asks, make sure they know that you read all this here first.
It is a RedShark tradition that at this time of year, my uncannily accurate predictions for the year ahead are published. My 2017 predictions featured the ongoing analogue revival and the seemingly unstoppable increase in screen resolutions. My 2018 predictions focused on Reality TV, Virtual Reality, Augmented Reality and added some staggering revelations about reality itself.
How do I do it? If only I knew. I simply stare deep between the lines of my trusty CRT tube and the images appear. Then disappear into snow. But I have to warn you that there are some perilous alignments in the skies above 2019. Whatever it is we are in, we are all in it together; the year will be notable for:
Cross industry collaborations
After reviewers noted that Blackmagic's new 4K Pocket Camera was actually rather chunkier than most pockets, BlackMagic in association with Australian clothing manufacturer Driza Bone will launch a range of overcoats with extra large pockets. Additional pockets inside the coat will hold up to fifty LP-E6 batteries – enough to get you comfortably through a morning's shoot.
This new coat will be on-trend for P4K users in 2019
We all know that the Red camera emerged from a sunglasses maker, but what will surprise many is that, in a contrary move, Cooke will offer their own range of sunglasses, notable for their uncoated vintage glass creating those sought-after flares and characterful distortions. Blackmagic Design will also offer sunglass frames but users will have to fit their own ND's.
In other cross-industry partnerships, both Lego and the revived Meccano company will offer DSLR camera rigs, with the option of Kraft branded cheese plates.
Drones!
The skies will be dark with Drones. Drones will be everywhere. DJI will introduced their first SmartPhoneDrone, using face-tracking technology to suspend the phone beside you wherever you go. This will be followed by the DroneMonitorScreen that will hang in front of you wherever you shoot. Google will immediately realise the potential of this device to enable targeted advertising to hover, constantly and inescapably, before your eyes. Hunting and shooting down drones will become a popular sport.
Following the ongoing success of vinyl, the analogue revival continues with the attempt to re-introduce the LaserDisc, Betamax, VS2000, the 8-track cartridge, the Elcaset, the View-Master 3-D viewer and, relaunched as the original tablet device, the Etch-a-Sketch. All fail to find their audience and are quickly abandoned. This is followed by an attempt to revive 'vintage digital' media – the MiniDisc, Mini DV, the Digital Compact Cassette, the Apple QuickTake camera, Usenet, Telnet, the dial-up modem and the CD-ROM. Sadly, all attempts to evoke nostalgia for 'that old-school digital glitch' fail as the dull realisation sets in that modern technology actually works better.
Apple QuickTake will be back in force! Hannes Grobe
Home TV screens will continue to get larger and cheaper, just as homes get smaller and more expensive. As austerity continues to bite we find there is a surplus of huge UHD screens just as demand for housing reaches a crisis point. Homeless families discover that two ultra large displays are actually cheaper than a tent and, when lent against each other, can serve a similar function. Streaming services are quick to exploit the potential of these ScreenTents and provide a permanent screen saver that presents to those inside an idyllic vision of rolling hills and streams and the verdant pastures of a pre-austerity Britain which at night turns into a vision of clear, starry night. Local authorities take up the opportunity to situate these ScreenTents under flyovers and within disused warehouses and abandoned shopping malls.
Brexit negotiations will continue until the most ardent Brexiters have died and everyone else will have forgotten what it was we were arguing about. Vladimir Putin is elected President of the USA.