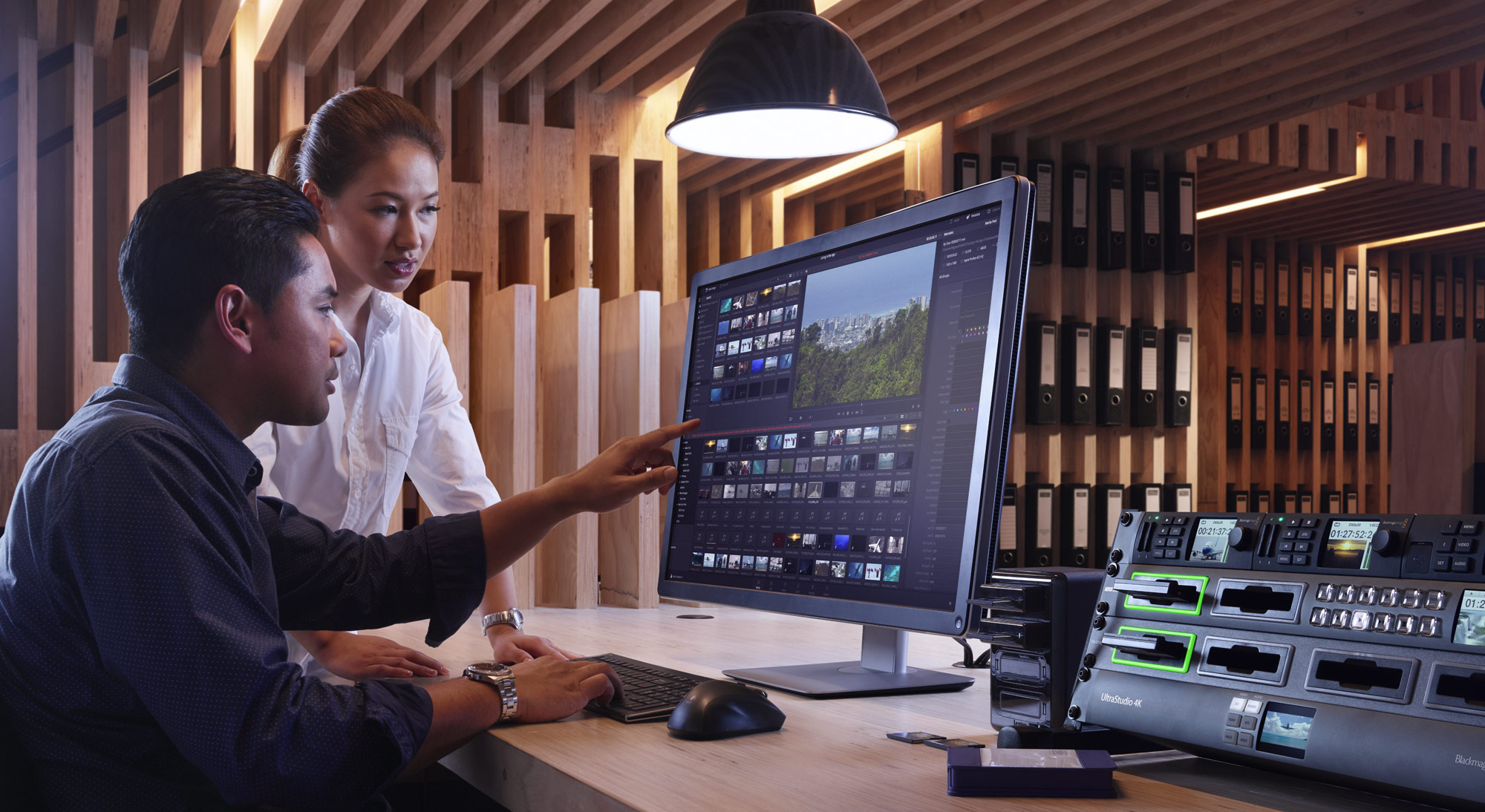 Blackmagic Design updates continue unabated with a huge update to DaVinci Resolve, Camera utility, and the new Audio Monitor 12G.
DaVinci Resolve 15 was already a big update to the renowned software, and today Blackmagic Design has announced a further iterative version, 15.2 with a large number of additions, improvements, and bug fixes. Some of the changes, on paper at least, are quite small, but should greatly enhance convenience and ease of use. The list is fairly long, but the highlights include:-
Improved Edit performance and responsiveness due to higher frame rate timeline redrawing
A completely redesigned keyboard customisation interface.
New active window highlighting.
Easy timecode entry.
New ACES transform, gamut limiter, beauty and blanking fill ResolveFX plugins.
Duplicate clip detection.
Clips in the bin now display usage indicators for the current timeline.
Timeline cleanup function.
Timelines and compound clips can be loaded into the source viewer and then inserted into the current timeline in their decomposed state.
Clips can be marked in a source timeline and then be edited directly into a new active timeline.
Overall there are 30 new features. The new Blanking Fill FX plugin is particularly interesting for documentary makers who might need to include mobile phone footage, possibly taken in portrait mode. Blanking Fill automatically fills the remaining letterbox or pillerbox areas with defocused video. The new Beauty plugin is designed, as the name suggests, to beautify skin and other surfaces.
Fairlight Audio
Fairlight has also received updates including a new multi-band compressor, a stereo fixer, the ability to modify transitions that were created on the Edit page, timecode navigation, a soft clipper FX and a lot more besides.
For the full list of features can be read on BMD's official press release and demonstrated in the video below.
Camera Utility
BMD's Camera Utility has been updated to version 6.0. Thankfully the company has now made the Desktop Video and Ultrascope facilities into separate apps, so these are no longer installed alongside the Camera Utility.
Most of the improvements to the utility are for the URSA Mini Pro, including improvements to the ISO range, improved in-camera playback, new status displays for off-speed modes and better timecode support amongst others.
The URSA viewfinder and URSA Studio Viewfinder now supports Generation 4 colour science and includes a 4.6K Film to Extended Video LUT. Anamorphic frame guides also now features.
Blackmagic Audio Monitor 12G
Interestingly amongst the new announcements comes a new piece of hardware, the Audio Monitor 12G. As the name indicates it caters for 12G-SDI in (and loop through), as well as featuring HDMI output, XLR and AES/EBU inputs, a class D amplifier, dual suboofers, extended range speakers, as well as an LCD and audio meters than display VU, PPM and loudness scales.
Blackmagic Design claims that the speakers on the new device are loud enough to hear in noisy production environments. The Audio Monitor 12G will be available for $1195.