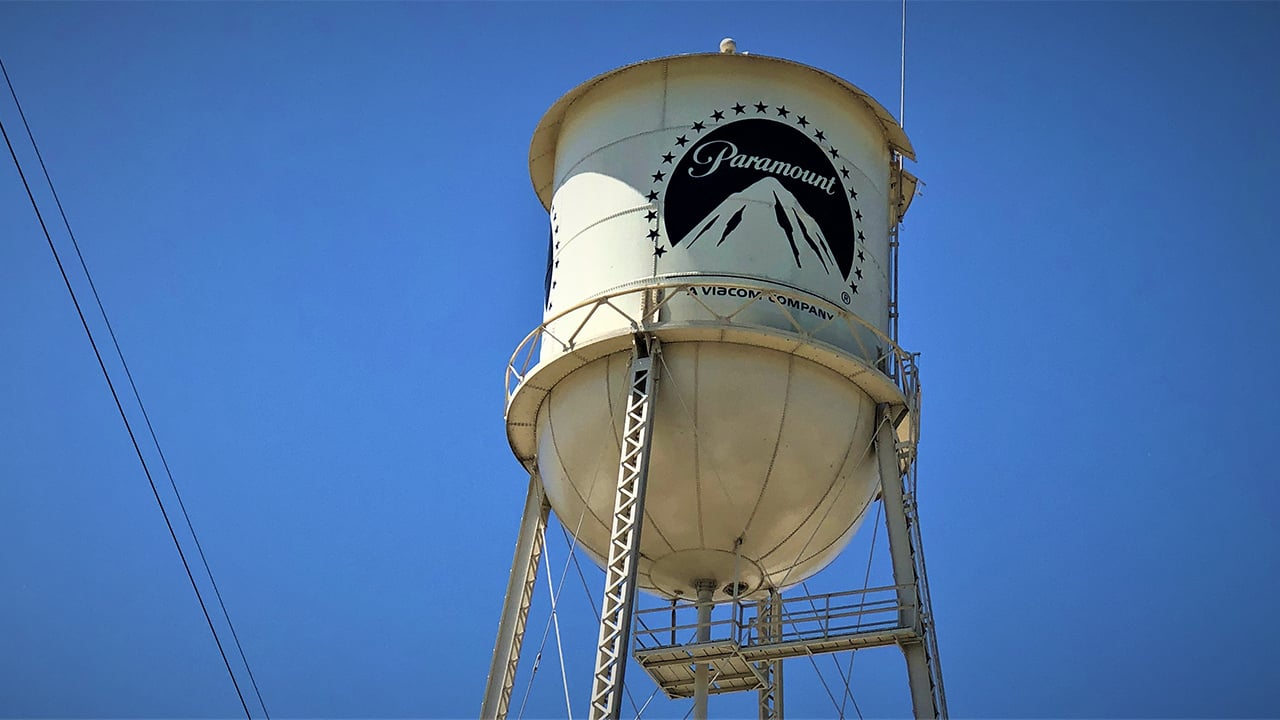 Cinegear is proving to be one of the go-to events of the year. Here's why you should be putting it firmly into your diary!
If you have any Facebook or Twitter friends who've been to Cinegear, the chances are that they'll have said something like "Had a blast meeting old and new friends at this brilliant show".
What is it about this show that leads to such a positive vibe?
There's no one thing, except, perhaps, for the sun. It's in California, and it's outdoors. Even though it can get uncomfortably hot, there's no way you can be miserable when you're surrounded by great people, awesome kit, and the streets of New York City.
Wait, what?
Yes, New York.
Sherry Lansing Theatre at Cinegear
Paramount Studios
The show takes place at the Paramount Studio Lot: a sprawling set of streets, buildings and sound stages in Hollywood. A large part of the facility is a permanent New York set. There are no skyscrapers but lots of older buildings that have a retro but still very real feel to them. At the very least it's unique, and I would say that it's quite magical. There's nowhere else on Earth quite like it. Not even New York!
And because it's far less "corporate" than traditional mega-shows in places like Vegas and Amsterdam, that makes people more open, more willing to discuss equipment, techniques and even new ventures.
Just because it has a more rustic feel to it doesn't mean that it's short of the latest technology. In fact you're more likely to get a good hands-on experience with equipment at this show than any other.
There's a fascinating mix of "mainstream" - by which I mean well-known cinema cameras - and the utterly obscure and wonderful. It doesn't matter: everyone's here, getting the same exposure.
Bas and Mart Goosens - RedShark Film Crew
Highlights?
For me - and this isn't a cop-out - it was just being there, with our film crew (sporting an 8K RED HELIUM rig) all having an absolute blast.
Stuff we saw and liked included all the superb cinematography cameras that are out there now, all great and all different in important ways. The full frame thing was definitely a theme, not just for cameras but lens manufacturers (notable in this respect were Panavision with its astonishingly different but incredibly useful 100mm Ultra Vista lens and Zeiss with their new Supreme Primes).
Fujinon lenses
The cameras themselves were all there: Sony's Venice, RED's newly consolidated Weapon-level range, now known simply as GEMINI, HELIUM and MONSTRO, Canon's C700FF and Panasonic's Varicam range.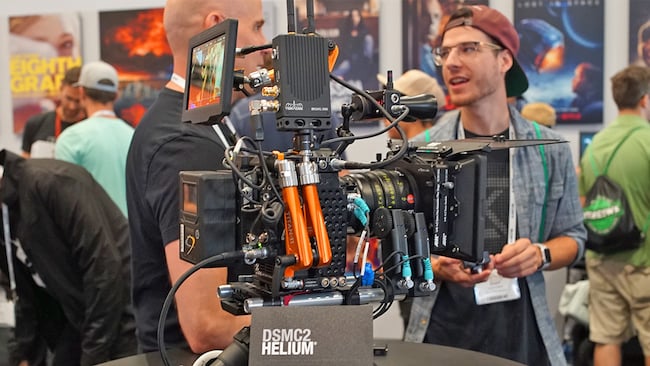 RED HELIUM DSMC 2 with Leica lens
Storage was there too. We saw Kingston for the first time, not to mention G-Technology - I had a fascinating discussion with G-Technology's Bobby Lombardi about the way the future is inventing itself.
Peter Crithary and Avatar's Jon Landau with Sony Venice with separable sensor block
Sony
While there wasn't much new technology being shown or announced for the first time, that's not surprising, because this is a "people" show. And true to this, one of the biggest surprises came from one of the biggest people in the industry. At the Sony press conference, attended by Jon Landau (Producer of Titanic and Avatar), James Cameron appeared in a specially made video to announce that the four Avatar sequels are to be shot with the Venice camera, with other Sony devices.
Working with Sony, Cameron has made a 3D rig consisting of two Venice cameras with separable sensor blocks. These make 6K hand-held 3D feasible and utterly usable for the upcoming films. (No, 3D isn't dead: it just needs to be made properly!)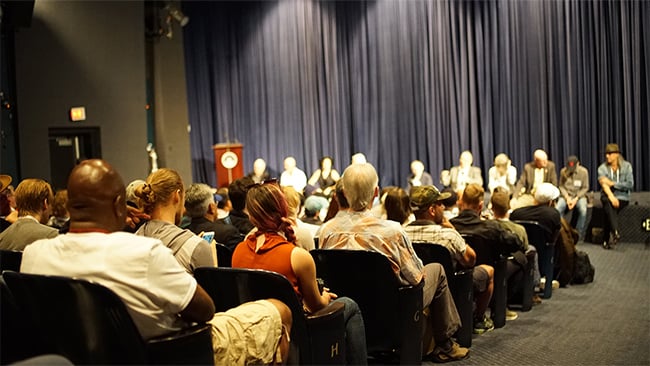 Packed audience for presentation
Finally, the presentations and sessions alone are easily enough reason alone to come to next year's Cinegear. Get there early though - they're popular, because they're very, very good.
Highlights were Netflix - Getting the best out of your indie budget; Future of Cinematography; RED's "behind the scenes" with Christopher Probst ASC and his new short film Epoch; Raw Capture workshop; S35 vs Full Frame, and the ASC's Dialogue with Cinematographers that featured 12 of the top ASC cinematographers including 2018 Academy Award nominee (the first woman DOP to be nominated) Rachel Morrison.
Cinegear is supported by the ASC and we were able to go to its clubhouse - a wonderful repository of film artifacts and memorabilia. It left us feeling that if you're motivated to be a filmmaker, there's probably no better place to be!
So that's Cinegear for 2018. We loved it. Next year's show is 31st May to 3rd June in Los Angeles. [Update: Treat this date with caution. It appears on a few websites but we're suspicious because the dates are exactly the same as this year, which seems unlikely. We're trying to find out!]
We produced a series of videos from the show, which you can view below in our Cinegear playlist!