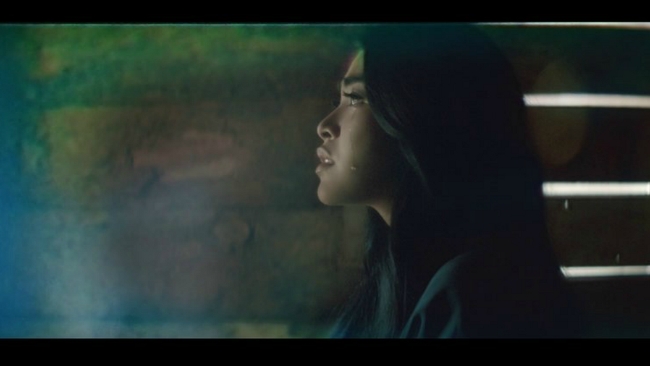 DP Linus Sandgren put vintage lenses on the Arri Alexa for Ice Age, the new video for Trent Reznor's How to Destroy Angels.
I have to admit, when I think of Trent Reznor, I'm overcome with feelings of nostalgia. Granted, I wasn't the biggest Nine Inch Nails fan, but certain songs transport me back to my high school days, circling the parking lot in a beat up Audi 5000, as hard beats and questionable lyrics blasted through crackling speakers.
Soviet Glass
Interestingly, it was perhaps a similar sentimentality that led Linus Sandgren, the Director of Photography for the hot new video Ice Age (from Trent Reznor's post-NIN group How to Destroy Angels), to make a rustic lens choice when gearing up. With veteran commercial and feature Director John Hillcoat, the pair chose Soviet-era glass to make the moody video. "John Hillcoat really appreciates cinematography," said Sandgren, "and he liked the idea of shooting on those very imperfect LOMO lenses that have their own, unique characteristics."
The video was captured on an anamorphic 2.35 lens, the full, squeezed images dumped to SXS cards in the ProRes 4:3 aspect, and then finished as a 2.35 image letterboxed in a 16:9 HD frame. "It was a very good combination with the ALEXA because these lenses don't open up very wide at all, but you can shoot with the ALEXA at [EI] 1600 without it looking 'grainy' at all," said Sandgren.
In camera
"I like to get it right in the camera, and not depend on post production too much." Sandgren's shooting philosophy, of course, requires a lot of forethought and careful planning, as evidenced by his work on the recent Gus Van Sant feature Promised Land. "In our research, we found books from the photographer Eve Arnold and other photojournalists in the '70s and '80s," he noted.
Sandgren achieved this look by pulling the stock a stop, leaving contrast in the midtones, dimming the highlights, and softening the blacks. "You could see the highlights but they didn't blow out and the blacks weren't crushed at all. So we were able to get really close to the look of the pictures in the books that we liked so much." But, he still needed a way to pack as much detail into the frame as possible. "We were looking for a way to capture all that fine detail that helps give those images the sense of people's environment. We looked into 65mm but it turned out not to be practical. That's when I tried something that I don't believe anyone has done before."
A first time for everything
In addition, Sandgren used a special set of Hawk anamorphic lenses, sporting an unusual 1.3x enlargement, as contrasted with the standard 2x. "[The lenses] only go to 1.3x so that if you're shooting to a native 16x9 frame, say with an ALEXA, the result is a 2.35 frame. Well, we shot 35mm full 4-perf, using ARRI LT and ST bodies and we used those Hawk lenses. That let us shoot the full frame but for a final result of a 1.85 frame. But that way, we used just about every millimeter of the film. The resolution is much greater than shooting regular 1.85.
"Whenever possible," Sandgren concluded, "I always think cinematography is better when you get the look you're after organically." Whether discussing the organic or nostalgic, there's a desire to peel away layers of detachment and reconnect with something real, an ideal, remembrance, or emotion with the power to transform occurrence into experience. With that said, I'm going to put on Nine Inch Nails' Closer and scream at the walls.
Tags: Production