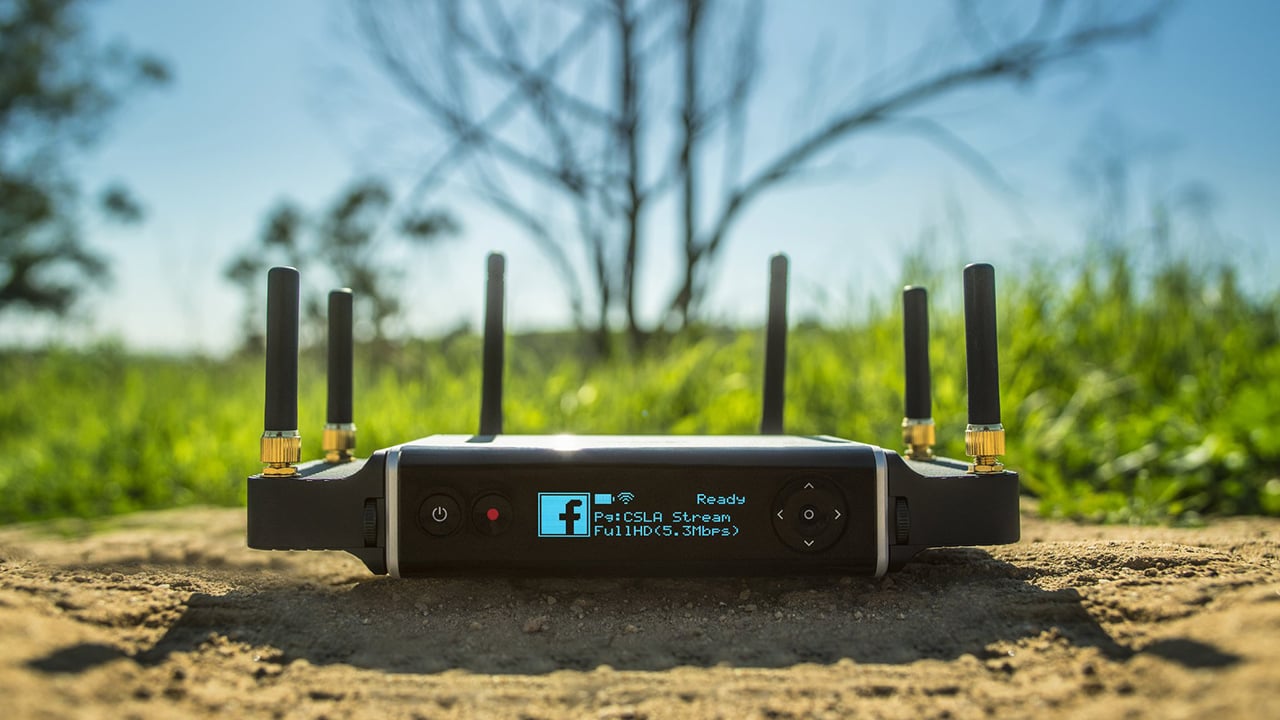 Anyone wanting to live broadcast HD quality to Facebook or YouTube now has another option in the shape of VidiU Go, a new version of Teradek's camera-back encoder but this one uses HEVC or AVC compression.
AVC, otherwise known as H.264, is a very widely accepted coding standard for video. Its successor HEVC, also known as H.265, can halve the required bitrate.
You mount the unit on your camcorder and stream to the internet via HDMI and SDI ports or stream via mobile networks (3G / 4G / 4G LTE) which the unit will locate, select which is providing the best bandwidth at that particular time and manage the signal automatically.
The Go, which costs $1490 (£1050), includes two USB ports designed for Teradek's new 'Node for VidiU Go' modems, the very same high performance 3G / 4G / LTE modems found in the company's higher end professional systems. The Node modem costs an additional £250.
Additionally, the Go can add even more bonded bandwidth via its gigabit Ethernet port and built-in dual-band WiFi.
Sharelink and Core
The product can also be paired with Teradek's Sharelink and Core platforms which provide remote encoder configuration and HEVC / AVC transcoding (Core only). Most importantly, Sharelink and Core offer multi-platform delivery, allowing you to stream to any and all of your favorite streaming platforms at the same time.
Power to the unit is via external Li-Ion batteries attached via USB-C port. Like the VidiU and VidiU Pro, the Go is compatible with Teradek's iOS video production suite, Live:Air Action. This offers a number of professional overlays and actions that are typically found on traditional hardware switchers, and can also pull in feeds from multiple cameras wirelessly (provided other Teradek encoders are used).
With the VidiU app for iOS you can also configure and monitor live streams, as well as generate graphics and lower thirds overlaid on top.
This is far from the only portable HEVC encoding module for live streaming announced at NAB. TVU Networks equipment which includes the MLink/MLink 4K encoding solution, a mobile transmitter app and the TVU Grid live video switching and distribution system are also relaunched featuring HEVC.
Dejero's new Core software, which runs on all its transmitters and receivers, adds HEVC support to the latest version of mobile transmitter EnGo, while Aviwest claims the latest version of its PRO3 video uplink system delivers 30 percent savings in data costs compared with other HEVC solutions around.
For more information visit the Teradek website.