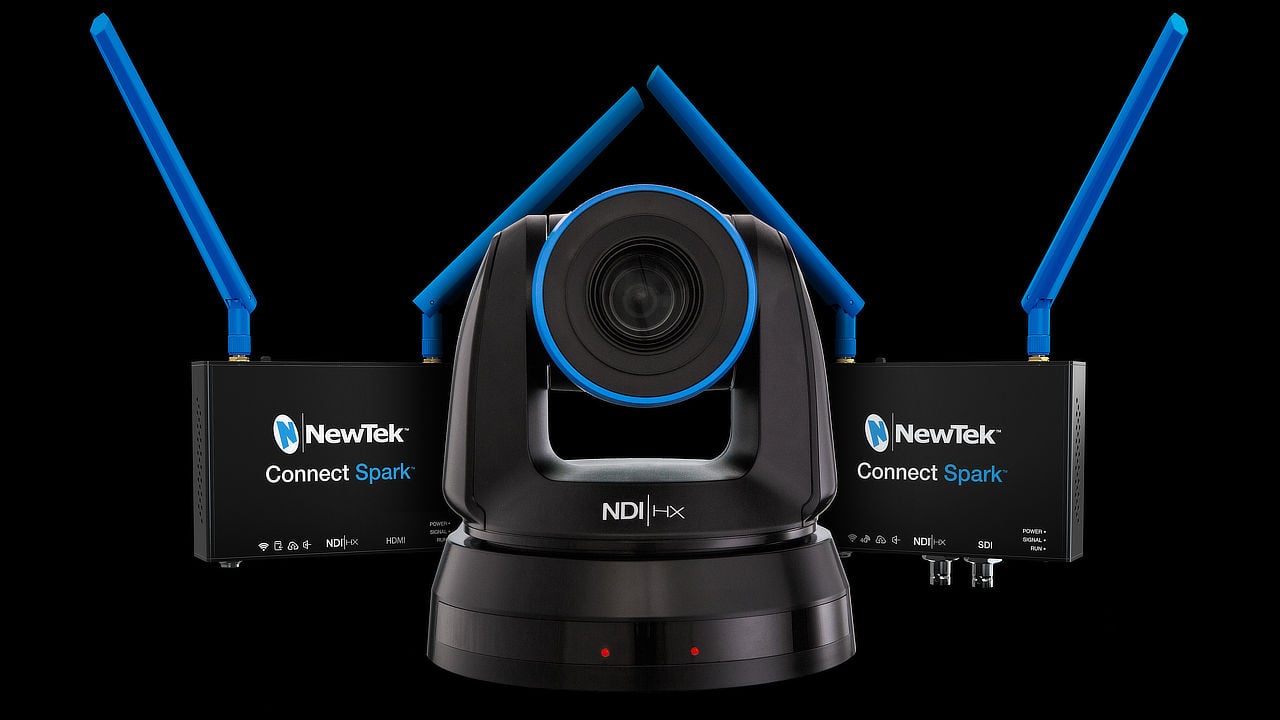 NewTek has announced some interesting new features for its Connect Spark converters and the NewTek NDI PTZ camera.
Both devices are designed to deliver video to a computer and/or an IP network using NDI. Connect Spark converts either SDI or HDMI signals into NDI sources to be shared over a standard Ethernet network, either wired or wirelessly. It delivers video to popular desktop video applications including Google Hangouts, GoToMeeting, Skype, Skype for Business, WebEx, Zoom, and others. The NewTek PTZ NDI camera is NewTek's PTZ camera to deliver video, audio, tally, PTZ control and power over a single Ethernet cable.
Both devices work with existing software applications that support NDI, including CombiTech VidBlaster, Livestream Studio, OBS, Splitmedia Labs XSplit, Streamstar, StudioCoast vMix, Telestream Gameshow, Telestream Wirecast, NewTek TriCaster, etc.
The newest version of Connect Spark includes multi-camera virtual PTZ capability, allowing users to determine areas of interest within the entire video frame, zoom in, save those areas as presets and transition between them smoothly.
NewTek's Connect Spark and NDI PTZ camera now support multicast mode, where you can assign the same source – one Connect Spark NDI source or PTZ camera output – to multiple destinations that can be viewed without setting up multiple point-to-point connections, saving network bandwidth in the process. This functionality works with all NDI applications that support PTZ without any change and you can easily turn it on via the Connect Spark's configuration web page.
Also new is the ability to find Connect Spark devices on other networks via IP address, connect to them and add them to the list of visible sources using NDI Access Manager, a free application available from NewTek. If you supply an external LTC timecode reference, you can now embed timecode in the Connect Spark video signal and synchronise with other NDI video signals. The time code is stamped on the video frames via the audio input with automatic detection of all settings. Any NDI-enabled application can then access the time code information to enable precision syncing of multiple NDI streams.
Connect Spark is also a wireless video recorder. It supports either a Micro SD card or will record to any USB drive connected to one of the USB ports. This gives users the ability to ISO-record all of their cameras in a production for fixes in post production or to provide backups for other recordings.
Existing and new Connect Spark and NewTek NDI PTZ camera users can download the latest NDI/HX driver and firmware upgrade to take advantage of all the new features and enhancements for both products. The upgrade is free.
And, as an aside, the Panasonic NDI-enabled cameras we first wrote about here are now available at the following pricings: AW-HN38 ($2,500), AW-HN40 ($3,450 HDMI, $4,150 SDI), AW-UN70 ($6,150), and AW-HN130 ($9,200).