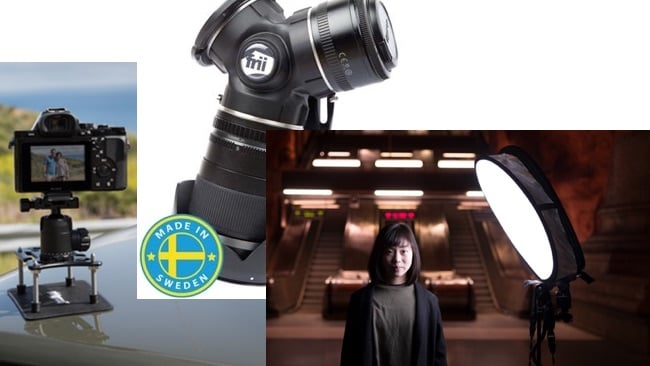 Every so often, we take a look at which gear is getting ready to peak over the horizon and there's no better place to find new tech for shooting film and video than sites like Kickstarter and its ilk. So what's grabbing our attention this time around?
1. Arsenal, the intelligent camera assistant
Fully funded and still with 21 days to go, Arsenal becomes your DSLR or mirrorless intelligent assistant, focusing on the technical aspects of a shot and freeing you to concentrate on photo composition. We're not going to say too much more about it because we have a more in-depth piece coming up, but essentially it uses the same advanced machine learning algorithms used by self-driving cars to examine thousands of images online and then compares that metadata to your camera's ambient surroundings to (hopefully) make sure you get the perfect shot every time. It also can automate the process of bracketing for high dynamic range photography, taking multiple exposures and then merging them into a single RAW or JPG image on your phone with no post processing required.
Arsenal will ship by January 2018, for around $150.
Having to lug around lenses can be a royal hassle, especially when you're shooting in the bush and need to change lenses to grab a shot. This is where TriLens comes in handy. The TriLens mounts to your belt, giving you instant access to up to three lenses at a second's notice. It has a rotating y-shaped lens housing that enables you to store your lenses, and all you need to do is simply reach down, unscrew the lens, make your change and put the previous lens in its place. With a counter-balancing swivel, the TriLens always sends the heaviest lens to the bottom to keep the centre of gravity intact and ease the weight distribution on the shooter's hip. Ideal for wedding photo/videographers and documentarians looking to ease their gear footprint while shooting on location.
Supports Canon, Nikon and Sony eMount lenses. Cost from $86.
Keeping with our ultra-portable theme this month, the Platypod Tripod Base is a well-designed mounting clip that can turn just about anything in the wild into a camera mount. Designed to be put on a belt clip or in your backpack, the Platypod enables a shooter to mount the base plate to a tree (with the included velcro strap or a belt) that can slide into the clips for a secure mount, or driven into the ground of soft mount with it's four spike feet. The feet can also act to secure the camera platform on an uneven surface such as a rock face or even a window sill. Works with any tripod ball mount. Made out of carbon fibre, it's durable, light, and can go with you anywhere.
Price around $50.
4. Sundisc Ultra Portable Softbox/Reflector
Another ultra-mobile product designed with the runner and gunner in mind, the $70 Sundisc merges the reflector and softbox into one product that can reflect ambient light or soften the light you bring with you by diffusing your speed light flash or portable LED light. If you want to change the colour temperature on your subject, all you need to do is unzip the Sundisc, reverse it, and remount it. The Sundisc is about 60cm wide but can fold down to less than 22cm to fit in your camera bag or backpack. It also comes with a collapsible tripod that holds it in place.
That's it for this time around. If you come across a super-cool piece of crowdfunded camera gear you think we'd like, drop us a note about it!
Tags: Production