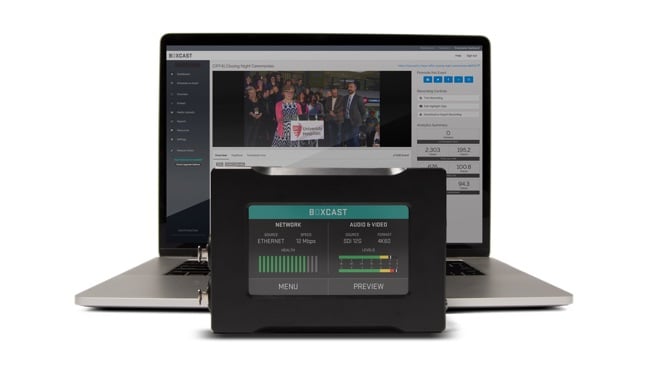 BoxCast unveiled the latest in its lineup of BoxCast Platform products at NAB, the 4K BoxCaster Pro.
As with most of their products, BoxCast's BoxCaster Pro is billed as being aimed at organisations of any size with any level of technical know-how, looking for a simple and reliable solution to stream ultra-high quality 4K live events.
Making the BoxCaster Pro work is straightforward. Input video from any 12G-SDI or HDMI 2.0 camera and audio through balanced XLR inputs. The live stream can be monitored directly. It's also possible to connect to downstream video infrastructure with the BoxCaster Pro's 4.3" touchscreen or with video passthrough.
Building on the tech-heavy BoxCast Platform, the BoxCaster Pro encodes up to 4K60HDR in HEVC, meaning superior transcoded video quality with a relatively low network bandwidth requirement. The platform itself adds value to the mix, as it is capable of quite a bit. It can handle video encoding, cloud transcoding, delivery and monetization.
Pricing for the BoxCaster Pro is currently $990 plus a streaming subscription, which starts at $99 a month, going up depending on what streaming requirements are needed.
Headline characteristics are that it's 4K, 60fps / HDR, supports AVC/h.264 and HEVC/h.265 encoding, has a load of inputs and features a 4.3" touchscreen for confidence monitoring and simple configuration. Shipping date is this summer.
Tags: Production