In our latest look at crowd funded camera gear, George Shaw finds some pretty great accessories that can help grab that cinematic image on a low budget. And, since it's all 100% funded already, you can buy it now.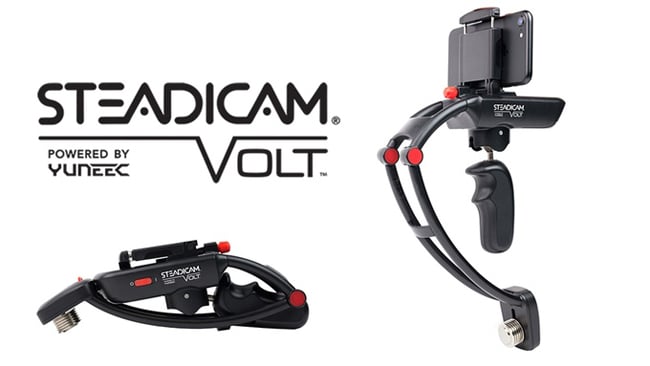 The first is the Tiffen Steadicam Volt Smartphone Stabilizer. While Mobile filmmakers have been able to get that Steadicam look for a while now, Tiffen has updated and refined its consumer grade stabilizer adding sensors and motors to keep the Volt balanced and ready to capture the smoothest image from your smartphone. The Volt made a huge splash at CES this year, garnering the 2017 CES Innovation Award, and it prompted so many pre-orders on its Kickstarter campaign, that Tiffen raised over $500,000, over five times their goal.
The Volt works with an iOS or Android app, along with Blueooth connections to keep the Steadicam balanced and tuned with precision, and its haptic control can simulate the inertia you expect to see in a smooth motion shot. There's also dual operating modes for novice and experienced users. While the campaign is still running, users can pick one up for under $150.
Having a soft rubber-like band to protect your lenses isn't something you'd expect to find on Kickstarter, but BandIt is a device that meets the need to gain a better grip on your glass, and keep it protected at the same time. The soft, elastic band is wide enough to enable a comfortable grip while adjusting focus and zoom rings that have had their rubber grips loosened or damaged over time. It's rifled interior and extruded ridges on the outside means that your lens barrel will maintain a tight, reactive grip, while the shooter is able to grasp it gently. A bit pricey at around $29 a piece, though.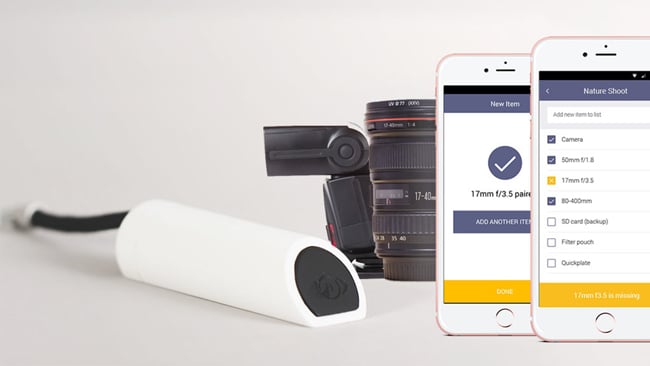 One of my personal favourites, the Gear Eye Camera Gear Management system works with an RSS reader that can pick up the electronic signal given off by the RSS gear tag you affix to any camera gear. Capable of keeping track of up to 50 different pieces of equipment, the system, and it's accompanying app, can inventory, organise and even track a piece of gear that goes missing. And the RSS gear tag itself has a small footprint after bring adhered to your device.
How it works is simple. You keep the RSS reader in your bag, and then use the app to inventory it every time you open it. It will confirm what's there, and what's missing. Then you can follow its locator to find the missing piece. Or, you can pre-program custom kits that will enable you to grab what you need and leave what you don't behind. Gear Eye makes it easy, and having raised over ten times the goal of the campaign, shooters agree. Gear Eye will retail for $220 when it comes to market this summer.
Virtual reality was all the rage at CES last month, and one VR device in general caught both our eyes. Dubbed as the world's first 3D 360 degree Virtual Reality camera, the Two Eyes VR 360 keeps its four stereoscopic camera lenses exactly the same distance apart as the human eye, to give its 3D virtual image a more natural display. And since it also shoots in 4K, the resolution promises to be sharper than most cameras in the category. It's also capable of shooting in standard single eye mode like the Ricoh Theta S or Samsung Gear VR, as well as shooting in traditional red/blue 3D. And it fits in your pocket for those on the go.
Campaign price is as low as $239. It promises to ship by August of 2017.
Mokacam is known for its ultra small cameras, and the Alpha is no exception. This tiny square camera claims to be the smallest 4K camera in the world, and it's only slightly larger than a postage stamp. It's able to shoot 4K video at 30 frames per second, or up to 120 frames per second in Full HD. There's also GPS tagging, image stabilization, and an HDMI port with preview and playback options. And it has a unique dial control to cycle through it's features while you're on the go. You can also get an optional rotatable LCD screen and Backup battery.
Early bird backers can get Alpha on indiegogo for as low at $99 and it should ship by May 2017.
Lastly comes the Insta360 Air VR Clip on camera for your smartphone. With juxtaposed 210° fish-eye lenses that capture 2K stills and 2K video, or 3K with selected Android smartphones like the Samsung Galaxy S7, the Insta360 Air can also take advantage of the latest live streaming trend. But the Insta360 Air takes things to the next level by doing so in the round with 360° video that is stitched together on the fly streamed live in 1080p HD.
The Insta360 Air VR can shoot in four different modes including Flat, Sphere, VR and Little Planet, and can also double as a 360 Webcam on your laptop. The app also lets you share an immersive experience to social media platforms including Facebook, Twitter, YouTube, Messenger and WhatsApp. And for around $100 on IndieGogo, The Insta360 Air VR is a steal. It comes omes in four colors, Matte Black, Rose Pink, White and Silver, and Rich Gold and will be shipping by March.