Occasionally we like to dip our toes into the occasionally murky waters of the crowd-funding websites and, with the usual proviso that everything we talk about has already been 100% backed, here's a selection of the latest gadgets and gizmos.
Understandably, there are a serious amount of projects out in crowdfunding-land gunning for the actioncam market. The 360 GO is one of the front runners and memorably conflates the name of the biggest manufacturer in the field with a description of what it does: take 360-degree videos at 4K and 30fps. It features an 800 million pixel CMOS Sensor which also takes 16MP stills, a 220˚ fisheye super wide angle lens, with F2.0 aperture and 1.1mm effective focal length. It's waterproof up to a depth of 30m, and one of its main draws is cost: pricing looks expensive until you realise it's measured in Hong Kong dollars and is a shade over US $100.
GoPro investors meanwhile might like the AER, a fairly simple device that lets you capture aerial shots with your GoPro in a pleasingly analogue fashion. It's a foam dart essentially, whose instructions read: screw open, insert GoPro, throw. Whether that makes it worth €49 is a bit of an open question, but certainly the team have captured some entertaining-looking test shots with it so far and it has been impressively over-subscribed.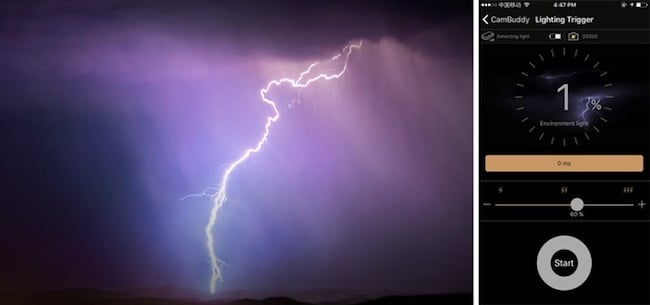 Also over-achieving massively is the CamBuddy Pro, a WiFi-enabled DSLR remote with live-view, time-lapse, and four built-in triggering sensors (sound, lightning, laser, and radio). In concert with the free Joopic app, the $149 hotshot mounted device promised to give users WiFi-based remote control from up to 100 feet away. Other features include the ability to browse and transfer pictures/videos instantly from camera to smartphone, the creation of time-lapse photography with the built-in intervalometer, auto-focus, and more. Then there is its capability to control up to 128 cameras to capture bullet time images. Expect it to ship and be somewhat popular (it had us at the lightning trigger) in January.
This is a bit of a fecund market at the moment. MIOPS MOBILE has a lot of the same sort of functionality, and brings some new stuff to the table such as six different cable release modes and Bluetooth. There's also a cool-looking Scenario Mode which allows you to combine all of the various shooting modes, plus other options like trigger delay, to create the scenario of your dreams, which sounds like a great way of wasting lots of time to us. Estimated delivery is May 2017.
The Phochron XA Film Camera Shutter Speed Tester looks a useful device, a quick and accurate handheld camera shutter speed tester that displays both numerical timing and a scope-like waveform. As developer, Eric Bergstrom, admits it is aimed at a fairly specialised market, as you need access to both sides of the shutter to get it to work, making it useless with modern DSLRS. For those happily surfing the film zeitgeist though, shutter speeds as fast as 1/8000th can be detected and even the duration of flash pulses can be analysed.
The CROZ DIY digital camera is tapping into the same sort of vintage feel. It is a very simple digital point and shot camera that comes in kit form, albeit lovingly packaged, beautifully designed, and with a selection of exchangeable wooden frames. Its spec isn't going to set the world alight — a 5MP camera records images onto a bog-standard SD card — but at $150 it steers a nice line between science project and vintage sensibilities.
Plenty of products have looked to extend the iPhone's functionality and make it function more like a camera, but Pictar takes the impressive step of trying to make the iSlab look like a camera as well. Essentially it's a SLR body that you slot the phone into, and provides a decent amount of SLR functionality with it. That includes a shutter button with half-press mode (yay! using an iPhone camera with gloves!) a thumb-operated zoom ring which also quickly switches between front and back cameras, an exposure compensation wheel, another wheel that can be mapped to various iPhone camera operations, 1/4" tripod socket, and, of course, that attention-grabbing anti-slip grip. It completed funding back in May so expect to see it out and about soon in time for the holiday gift frenzy at around $100.
Lastly, the Spiderlight camera holster pledges to end camera carrying misery by letting you clip your camera to your belt and carry it directly on your hip.It provides a connection for any tripod quick-release plate, does not block mirrorless camera battery doors, and in the video can make you look pleasingly like a quick-on-the-draw gunslinger. Pricing starts at $75 and delivery is expected before Christmas.
Tags: Production