Helium first broke cover on July 5th in a Facebook post from company President, Jarred Land. This is the story of its progress from there to the October announcement of both the Epic-W and the Weapon 8K.
July 11, 2016
8K is here, now, for everyone! Read about RED's radical new "Helium" S-35 8K sensor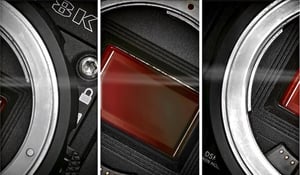 In a startling revelation on Facebook in the wee hours of Tuesday, July 5th, RED President, Jarred Land, teased for the first time pictures of a RED Weapon outfitted with "Helium", the company's brand new 8K Super 35 sensor.
It was the filmmaking equivalent of a microphone drop. In one simple online post, RED had just declared to the world, and to the cinema community, that it now had two 8K Sensors: one a VistaVision sized Dragon Sensor (that is the heart of the new Panavision DXL camera), and the other this top secret Super 35 Helium 8K sensor (that later posts on Facebook revealed was powering a custom Weapon camera for director Michael Bay - nicknamed :Bayhem").
Renowned RED expert and RedShark contributor Nick Morrison ran through the detail of what we knew, some of the genuinely stunning implications, and where it was to take us next.
July 15, 2016
8K will absolutely be the new standard for filmmaking
We e
xamined some of the implications of that in a piece that looked at the 4K path to the mass market and extrapolated that out to a potential roadmap for the introduction of 8K. "The fact that we're sitting here talking about the actual arrival of 8K in commercial products says it all," we concluded.
July 30, 2016
Surprise RED Weapon 8K Helium S35 Camera sells out within ten minutes!
Those paying close attention to the REDUser forum and with $59,000 sitting around not doing much, found themselves suddenly able to order a limited edition white Helium Weapon 8K s35 with "No deposits, no reservations, and no waiting," according to Land. What's more they would ship the day after. He promised that the window would be small, and so it was: the camera sells out within 10 minutes.
August 1, 2016
What can we tell from the first RED Helium 8K footage?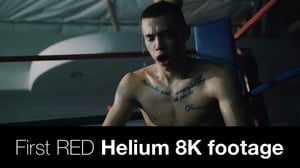 The first footage appeared quickly, though not from a camera bought by anyone but from a unit lent by Land to a 19-year old filmmaker called Jonny Mass. "Insofar as you can tell from a YouTube video, any fears that cramming 35 megapixels into an S35 sensor might result in a noisy picture with limited dynamic range appear to be groundless," we wrote. "The opposite would appear to be the case, with very good detail under what appears to be quite difficult lighting conditions."
August 4, 2016
So, how did they make that 8K film in 24 hours?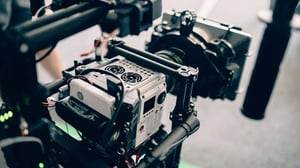 Interest in the film, called The Underdog, was rife. One of the tools that the production used to get it all completed in such a short space of time was a LUT library from LUTIFY.ME, who had a really interesting and detailed story on the undertaking.
August 9, 2016
First glance at RED Helium 8K ungraded footage
More stills were released from the making of The Underdog and meant that we get our first look at ungraded footage from the Helium S-35 8K. Along with everyone else, we quite liked the look of what we saw.
September 29, 2016
RED provides a masterclass in good customer service
There's a bit of a gap in the coverage here as we, and the rest of the industry, turned our collective attention to all things IBC. Impressively, RED had not forgotten its customers, however, and RedShark correspondent Rakesh Malik detailed his long wait for a Scarlet-W and how RED was, rather coolly, switching people into the Epic-W list with a very deep discount as a sweetener.
October 1, 2016
Want to see what the RED Helium can do? Here's some footage…
Mark Toia, something of a legend amongst the RED community, was among one of the first people to get their hands on a Helium-powered Weapon and the resulting 6:06 of what he shot with it highlighted just how good some of the images coming off of the Helium S35 8K are. Lots of people, including us, were rather impressed with what we saw.
October 11, 2016
RED launches not one, but two 8K cameras
The wait was finally over earlier this week as RED announced not one, but two cameras powered by the Helium sensor: the $29,500 RED Epic-W and the latest $49,500 8K Weapon. Well, we say the wait, but in reality that is a remarkably short gestation period for any camera, let alone one that represents such a jump in specification as this one. Three months and six days after news of Helium first leaked out on social media, RED users could order the cameras immediately with a mere 7-10 days lead time.
The rest of the story, as the saying goes, is up to you.
Tags: Production