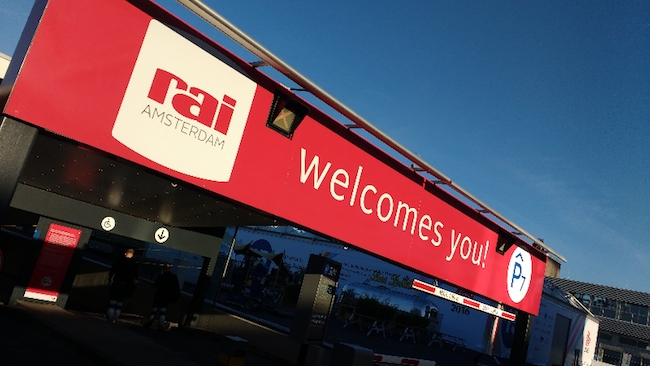 Phil Rhodes reports from the centre of the RAI and finds the show so far to be one more of evolution than revolution.
Over the last few years, we've seen more than a couple of manufacturers return to some well-established approaches. Even Blackmagic, a spectacularly prolific creator of new products, has discovered perhaps the most successful of its already successful cameras is a design that refers most directly to the shoulder-mounted approach of long tradition. Canon, too, has cracked, forsaken the rather odd layout of the original movie cameras and produced an entry in its cinema line which facilitates much the same sort of approach.
There's an argument – a strong one – that the C700 is a good few months, perhaps even twelve months, later than it really should have been, but the new layout (if not the feature set) is certainly historical in inspiration. Add Cooke's return to its classic Speed Panchro series and it'd be easy to get the impression that the art and science of moviemaking, as exhibited at IBC 2016, is a cheerfully and determinedly traditionalist field.
There are all kinds of things going on that people might like to think were representative of significant innovation, and on a technical level it's undeniable that things such as video-over-IP is going to require a lot of people to write a lot of embedded systems software over the next decade. AJA, whose press conference was held yesterday, announced several products in the field, mainly concerning their core converter and I/O product lines. This is all good and worthy work, although it doesn't really change the way television is produced or consumed other than by making it somewhat easier and possibly, in time, cheaper to do.
NewTek's frankly lower-cost approach makes a lot possible using staggeringly everyday network infrastructure, but again, it's a new implementation of a standard approach to the production of live TV. Fantastic, of course — Tricaster does an incredible amount and they keep expanding it — but the results, in the ideal case, just look like any other live TV production.
Talking to a few people about things which really do improve the viewer experience, it becomes clear that the grindingly sluggish process of HDR standardisation is at best being maintained. If there's a competition between the approaches based on perceptual quantization (HDR10 or Vision) and the simpler though undeniably less-effective hybrid log-gamma popularised by broadcasters, it's possible that PQ is winning.
Unfortunately, at the moment, and based on casual conversation with the likes of SGO and SmallHD, it seems that the standard approach is to implement everything and let the user choose a workflow. This isn't ideal, representing a duplication of effort, but there is an upside: SGO's Mistika film-finishing suite is as easy to modify as any piece of software, and SmallHD's monitors are, like everything else, firmware-driven devices. More of SmallHD, by the way, on Monday.
Based on a single day of intense exhibitor-visiting, IBC2016 seems to be shaping up broadly as anticipated, and that's no criticism. A constant environment of sweeping change is hard work for everyone. A process of gradual improvement – Kaizen, in Japanese – is just as representative of hard work from manufacturers, just as useful, and a lot less disrup