Sony announced a new version of one of our best reviewed cameras of last year, plus a point-and-shoot, both featuring 4K recording.
The DSLR revolution meant huge numbers of hobbyists, fledgling filmmakers and freelance shooters flocked to interchangeable lens cameras from the small-ENG form factor cameras which had dominated previously. Interchangeable lens DSLR cameras definitely have their merits, but choice can bring its own headaches. Lenses are costly additions to your kit, often costing more than the body of the camera you're mounting to, especially when fitting to a DSLR. Beyond the financial consideration, there's the idea that what you gain in freedom, you may lose in convenience. With an interchangeable lens camera, lens choice (or simply remembering to bring the right lens along) becomes an absolutely crucial element to every production outing.
Fixed-lens cameras eliminate the conundrum of lens choice. External wide and fisheye adapters notwithstanding, you know that when you grab your fixed lens camera, the built-in zoom likely covers a healthy range and you have what you need to get the shot (camera-wise, that is).
One of our favorite cameras of last year, the fixed-lens Sony RX10, fitted the bill as a wonderful little grab-and-go camera. Bigger than what would be termed 'pocket-sized' yet still quite diminutive, the RX10 standout feature was its sharp, bright 8.8-78.3mm (20-200mm equivalent) f/2.8 Zeiss lens. Our Editor-in-Chief, David Shapton, was so impressed with the camera that he declared, "you can get professional results from [RX10], both as a still camera and a video device...it's hard to see why you wouldn't buy one to keep with you at all times."
Sony just announced a new version of the RX10, dubbed the RX10 II, which adds the one feature that was missing from last year's model: namely, 4K-UHD video recording. According to Sony, the RX10 II utilizes "full pixel binning to ensure that all the finer details of 4K video are captured with minimal moire and 'jaggies'," i.e. aliasing. The camera records 4K internally to a properly-spec'd SD card at 100 Mbps in the XAVC S codec. Record time is limited to 29:59 minutes, similar to the record time for many DSLRs. The camera's sensor, which Sony touts as the "world's first 1.0 type stacked Exmore RS CMOS," has a DRAM chip attached. Sensor and DRAM work in tandem for image processing, enabling a 5-times faster readout of image data, which is what makes 4K recording on this camera possible, along with other features like a high-speed anti-distortion shutter, which may minimize rolling shutter effect over the last generation, and up to 960 fps slo-mo recording (likely at the lowest resolution setting).
For some, even the RX10 II might be too much camera. For those that literally want a camera that will fit in your pocket or small, clutch purse, Sony's just-announced RX100 IV could be an ideal purchase.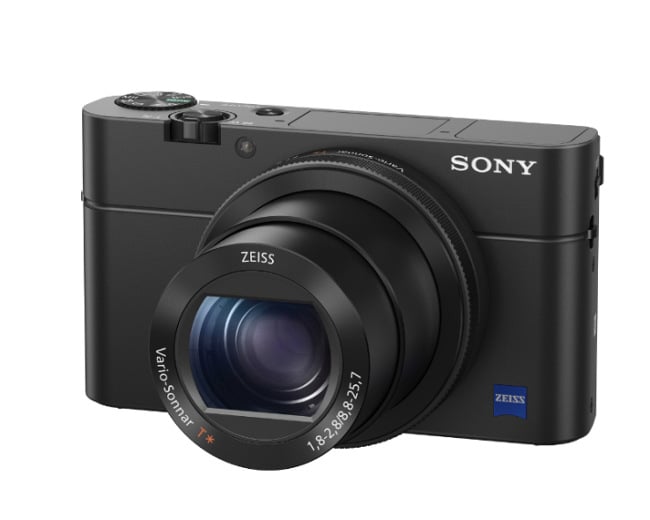 The included lens only covers the standard zoom range of 24-70mm (35mm equivalent), although it is brighter at the wide end (f1.8-f2.8) than the RX 10 II. Like its bigger brother, the RX100 IV sports the new 1-inch Exmore RS CMOS sensor, has super slo-mo capabilities and is a 4K shooter, but if you're interested in this sort of camera, please take note: the 4K record time is limited to 4:59 minutes. For those in the market for a point-and-shoot 4K camera, you may also want to check out the Panasonic LX100, which is very similar in specs to the RX100 IV, but has a 4K record time of 15 minutes. Of course, the RX100 IV isn't out yet, so we can't do the type of comparison between the cameras to give you a definitive recommendation on which you should buy.
Pre-orders for both the RX10 II and the RX100 IV start on June 17th; the RX10 II will retail for around $1300 and the RX100 IV for around $1000. These prices may seem a bit on the high side, but in the case of the RX 10 II, you could argue that a 20-200mm equivalent Zeiss lens at a constant f2.8 might be worth $1300 alone and for this deal, you get a 4K camera attached. And when you take into account Canon's own palm-sized fixed lens 4K shooter, the more professionally equipped XC10, costs $2500, then you begin to see the value that Sony's putting out.
For more information on the Sony RX10 II and RX100 IV cameras, please check out the full press release on Page Two!
Full press release
Sony's RX100 IV and RX10 II Cameras Bring Professional Imaging Experience to Acclaimed Cyber-shot RX Series
New Compact RX100 IV and High-Zoom RX10 II Models Boast World's First Stacked 1.0 type CMOS sensor with a DRAM memory chip, 40x Super Slow Motion Capture, 4K Video Shooting, High-speed Anti-Distortion Shutter and more
NEW YORK, Jun. 10, 2015 – Sony – a worldwide leader in digital imaging and the world's largest image sensor manufacturer1 – has today announced two of the most advanced, versatile Cyber-shot cameras ever to come to market, the compact RX100 IV (model DSC-RX100M4) and high-zoom RX10 II (model DSC-RX10M2) cameras.
The two new models both feature the world's first 1.0 type stacked Exmor RS CMOS sensor2 with advanced signal processing and an attached DRAM memory chip. The high speed signal processing and DRAM memory chip work together to enable more than 5x faster readout of image data3 and are responsible for a variety of standout features that have previously been available in only a select few professional-level video cameras. These impressive capabilities include 40x super slow motion video capture at up to 960 fps4,5, an ultra-fast Anti-Distortion Shutter with a maximum speed of 1/32000 second, high resolution 4K movie shooting6 and more.
"Utilizing Sony's decades of expertise in digital imaging, we've made it possible for everyday customers to enjoy a professional imaging experience with the new RX100 IV and RX10 II cameras. With the power of the world's first 1.0-type Stacked CMOS sensor packed into a compact, portable body, these new cameras bring the excitement and creativity of high frame rate shooting, 4K recording and a variety of other pro-quality features to a whole new audience." said Kimio Maki, Senior General Manager of Digital Imaging Business Group for Sony Corporation.
Kelly Davis, Vice President of Digital Imaging for Sony North America, added "The new RX100 IV and RX10 II models make a strong statement for Sony, as they break through all existing boundaries of compact cameras and will allow professionals, hobbyists and enthusiasts to capture images and video that they never before thought were possible."
tUp to 40x Super Slow Motion Shooting
A first for Sony consumer cameras, the new RX100 IV and RX10 II both have the ability to record super slow-motion video at up to 40x slower than the standard rate, allowing users to capture and replay fleeting moments of action with incredible detail, resolution and clarity.
Prior to shooting, users will have the ability to choose among 960fps, 480fps and 240 fps frame rates and among 60p, 30p and 24p playback formats4,5 to optimize the recording to fit the speed of the moving subject, with the option to use the movie record button as a 'start trigger' to begin recording once button is pressed or 'end trigger' to record footage up until the button is pressed. The 'end trigger' mode lets shooting begin 2 to 4 seconds before the movie button is pressed, enabling shooters to capture the decisive moment with much more consistency and accuracy. For reference, two seconds of movie footage shot at 960 fps and 24p would take about 80 seconds to play back.
High Speed Shutter, High Speed Shooting
The impressive speed and power of the 1.0 type stacked Exmor RS CMOS sensor with an attached DRAM chip allows the new RX100 IV and RX10 II to perform exceptionally well while capturing fast-moving subjects. Specifically, it's fast processing capability results in continuous speeds at up to 16 fps on the RX100 IV and up to 14 fps on the RX10 II for an extended period of time.
Additionally, the ultra-fast readout of the image sensor is responsible for the high speed Anti-Distortion Shutter (maximum speed of 1/32000 second), which allow the new cameras to capture sharp, crystal clear images with a wide open aperture at brightness levels up to EV197. It also minimizes the "rolling shutter" effect commonly experienced with fast moving subjects. This allows photographers and videographers to capture beautiful content with sharply focused subjects and defocused backgrounds under some of the most difficult, bright lighting conditions.
High Precision Direct 4K Movie Recording
The new RX100 IV and RX10 II models are the first Cyber-shot cameras to offer the advantages of 4K (QFHD 3840×2160) movie recording6. The cameras utilize full pixel readout without pixel binning to ensure that all the finer details of 4K video are captured with minimal moire and 'jaggies'. These high-quality results are achieved through use of the XAVC S codec, which records video at a high data rate of 100 Mbps during 4K recording and 50 Mbps during full HD shooting6.
The capacity for shooting 4K differs slightly on each of the two cameras, as the more professionally styled RX10 II can shoot 4K video at extended lengths (up to 29 minutes in the US), while the more casual, pocket-friendly RX100 IV can shoot 4K clips at up to about 5 minutes in length. Additional professional caliber video features on both of the new cameras include Picture Profile, S-Log2/S-Gamut, and more.
Both cameras also have advanced dual video recording functionality, allowing shooters to capture 16.8 MP still images during 4K video recording in any of 11 different composition patterns simply by pressing the shutter button.
Versatility in Design, High Speed AF
The new RX100 IV maintains the compact, pocket-sized design of the RX100 family, and has a ZEISS® Vario-Sonnar T* 24-70mm (35mm equivalent) F1.8-F2.8 lens, while the new RX10 II maintains the same body design as the original RX10 and has a ZEISS® Vario-Sonnar T* 24-200mm (35mm equivalent) F2.8 lens.
Each of the cameras is equipped with a new high-contrast XGA OLED Tru-Finder™ with approximately 2.35 million dots of resolution, ensuring true-to-life image preview and playback functionality. The RX100 IV maintains the convenient retractable EVF with ZEISS® T* coating from the RX100 III model that debuted last year.
Both of the two new models feature an upgraded Fast Intelligent AF system that enables high-speed, high-precision contrast detection of a moving subject in as little as 0.09 seconds8. Sony's proprietary AF algorithm allows them to recognize and lock-in on a subject with a simple half-press of the shutter button at a much more efficient rate compared to previous models. The new cameras are also Wi-Fi® and NFC™ compatible and can access Sony's growing range of PlayMemories Camera Applications. Learn more at www.sony.net/pmca.
Aesthetically, both of the new models feature a variety of customizable controls and buttons to fit any shooter's style. The RX10 II adds dust and moisture resistance as well.
There is also a new stylish soft carrying case for, model LCS-RXG, that has been introduced. Made of quality natural leather and available in brown and black colors, it is an ideal complement to the sleek designs of all the RX100 series cameras including the new RX100 IV model.
Pricing and Availability
The new Sony Cyber-shot RX100 IV (model DSC-RX100M4) compact and RX10 II (model DSC-RX10M2) high-zoom camera will be available this July for about $1000 and $1300, respectively. Pre-sales for each model will begin on June 17th.
The new cameras and all compatible accessories will be sold at a www.store.sony.com and variety of Sony authorized dealers nationwide.
A variety of exclusive stories and exciting new content shot with the new RX cameras and other high-end Sony imaging products can be found at www.sony.com/alpha, Sony's new community site built to educate, inspire and showcase all fans and customers of Sony imaging products.
The new content will also be posted directly at global sites www.youtube.com/c/imagingbySony and www.sony.net/product/di_photo_gallery for a full preview of video and still images shot with the new Sony Cyber-shot RX models.
For access to all of the latest Sony camera news on twitter, follow #SonyCamera.
Tags: Production