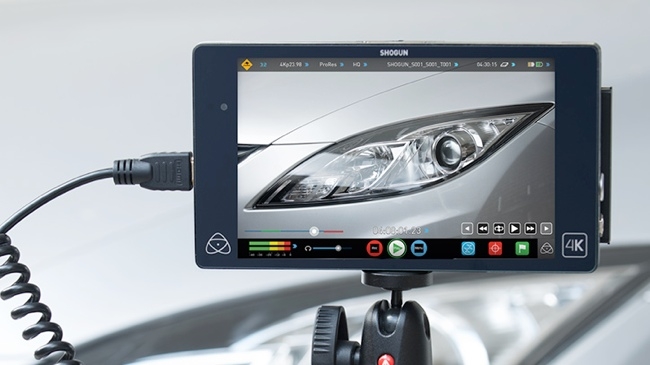 We were going to do a fairly comprehensive review of the combination of the Atomos Shogun and the Sony A7S. But when our friend Stefan Czech showed us his own review - we felt we couldn't improve on this. So here it is:
We're excited to have our Shogun, and we've been trying it out for a few days, but while we were planning our review, we spoke to Stefan Czech about his own epic effort. Rather than wait for our review, we thought we'd bring you his, because it's here, now.
We asked Stefan why he thought the Shogun was such an important product:
" Well, Since the Atomos Sogun was introduced at NAB 2014, thousands of filmmakers worldwide have been waiting for it so badly. The reason? Sony's A7S needs a 4K HDMI recorder, because without one, it's limited to 1080p recording. The addition of the Shogun means that it's a fully-fledged 4K camera.

And for GH4 users - ProRes recording brings solid 10 bit 4:2:2 performance, as well as a 7.1" IPS screen with video tools like waveform, vectorscope, 1:1 pixel view, focus zoom, peaking, zebra, false colour and "blue only".

Now it's time to Rock and Roll with the Shogun now shipping.

I've often collaborated with Atomos and have been able to make a comprehensive review of an early version of the Shogun."
Stefan also shows how the new Atomos recorder will benefit users of the Sony A7S, Panasonic GH4, Canon C100 and 5D Mk III
He thinks it is likely that more new 4K cameras will be released without internal recording. Atomos, the makers of the Shogun, will, of course, be delighted to hear this!
We will be testing various aspects of the Shogun over the next few weeks, but, for now, this is about the best and most detailed overview we've seen.
(The video is quite long - about 40 mins - so you may want to bookmark this and come back later!)
When you've watched this, here's a demo reel of material captured by Stefan with the Shogun