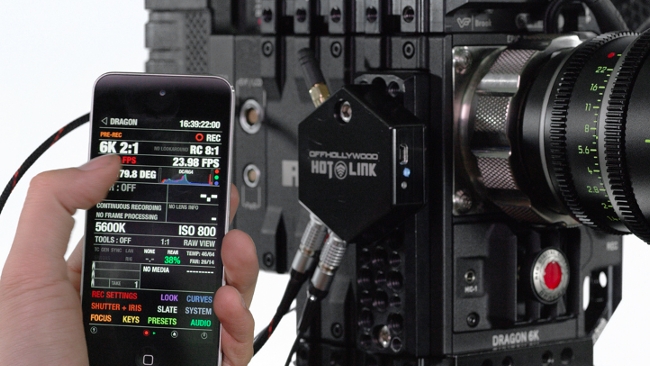 New York-based rental house OFFHOLLYWOOD, with the cooperation of RED cameras, has entered the accessories business, teasing three new products, with more to follow at IBC 2014.
Forget the Holidays - it appears that the period leading up to IBC 2014 is the real season for surprises. Leading East Coast rental house OFFHOLLYWOOD is once again expanding its operations. While it has already spun-off a production company of the same name, it has diversified further, starting an accessories business featuring products designed in-house.
The official announcement happened on the RedUser Forum, courtesy of RED CEO Jarred Land. These are the three accessories that represent OFFHOLLYWOOD's foray into the accessories business:
HotLink: Wi-Fi control of any Red DMSC camera with any device that supports the REDLINK camera control protocol
HotTap: a P-Tap splitter with 2-pin LEMO power input
HotBox RS: Power distro & run stop box desinged for rental houses
In the words of RED CEO Land:
The HotBox and HotLink take advantage of the RCP protocol we released at NAB for wireless camera control, and when paired with the mighty FOOLCONTROL app, it is insanely cool.
The Hot Tap is a P-Tap splitter that gives you 4 wonderfull P-Taps so you can now blow up 4 of your devices all at the same time instead of just blowing up one.
Kidding aside, these new products from OFFHOLLYWOOD look to be wonderful additions to any RED shooters preferred kit - and IBC promises even more product announcements from these guys, so keep checking back!
Here's a link to the OFFHOLLYWOOD store, where these accesories are available for purchase. And check out video teaser of the HOTLINK below and the full press release on Page Two!
Full Press Release
OFFHOLLYWOOD Launches Digital Cinema Camera Accessory Products at IBC 2014
Gotham based technology focused camera equipment rental house enters launches original products at IBC 2014
New York, NY (September 9th, 2014) " OFFHOLLYWOOD, a camera equipment rental and production services boutique based in New York which focuses on emerging technologies, in announcing it™s entry into camera accessory development and manufacturing with three initial products at IBC, the HOTLINK, HOTBOX R/S and the HOTTAP. The products can be seen in RED Digital Cinemas booth at the IBC show.
The HOTLINK is the first third party hardware device to facilitate wifi control of RED™s DSMC Digital Cinema camera systems, leveraging the REDLINK Command Protocol - an open development platform for camera control and meta-data integration announced by RED at NAB earlier this year.
The HOTBOX R/S was designed for rental houses to solve power distribution and run/stop camera triggering issues when working with RED DSMC camera systems, ARRI Alexa & Amira cameras and SONY F5 and F55s.
The HOTLINK is a reinvented P-Tap power distribution splitter for powering camera accessories with the common, industry standard P-Tap power cables. The HOTLINK adds an internal resettable fuse and directional current protection on it™s 2-pin LEMO power input to protect the camera and attached accessories.
"Since we started OFFHOLLYWOOD in 2003, we have been alpha/beta testers and early adopters, providing feedback and ideas to leading technology companies in the content creation space. Moving our company into development and manufacture of original camera accessory products is an exciting evolution for us and we believe we are uniquely positioned to provide compelling solutions to support productions with the rapid changes unfolding in our industry," said Mark L. Pederson, CEO of OFFHOLLYWOOD.
"Technology is going to continue to evolve and radically empower content creators - and we are extremely excited to stay on the edge of that change and develop and produce new tools and accessories for digit cinema, television and interactive. First the lab moved to the set with the advent of on-set and near set dailies - and now the lab is moving into the camera and into your pocket. Having full wifi control of the camera and meta-data on a RAW digital cinema cameras with an iOS device is an incredibly powerful proposition. New applications such as FOOLCONTROL iOS are now setting the bar. Once you experience iris and lens control, exposure monitoring, slating and access of any and all settings on the camera from 50+ feet away - no wires - just the touch of your fingers on an iOS device you carry in your pocket - it™s pretty hard to not start working and thinking differently."
About OFFHOLLYWOOD
Since 2003 OFFHOLLYWOOD has been driven by fanatical passion for new technologies that evolve the processes of acquisition, workflow and delivery for cinema, television and interactive content. With the pioneering spirit of early adopters and innovators, the company has provided equipment, technicians and support to productions in over 10 different countries around the world and has supported numerous high profile shows such as Steven Soderbergh's THE KNICK, now showing on Cinemax.
Our unparalleled expertise in 4K, 3D, Virtual Reality, meta-data integrations, specialized tools and equipment gives us the ability to support and/or execute the most technically complex and challenging projects. For more information, please see our website www.offhollywoodny.com
Tags: Production