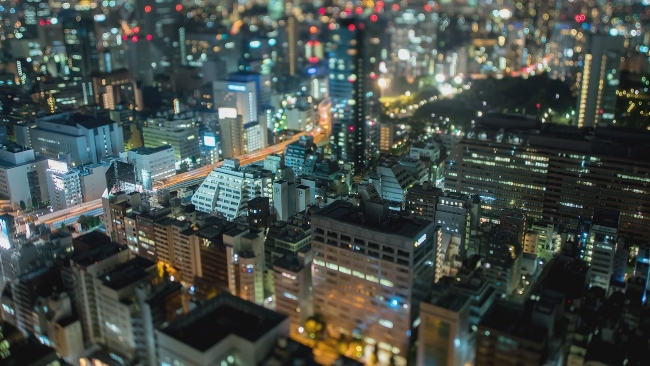 Two of the hottest cameras on the market combine forces in a tilt-shift video from the WTC Building's observatory in Tokyo. Plus, a bonus Tokyo tilt-shift shot with Sony A7s and NEX-6 cameras.
Vimeo user and timelapse photographer darwinfish105 is a prolific chronicler of present-day Tokyo. He recently dropped another video, featuring the Sony A7s and the Panasonic GH4. And, it's a tilt-shift video!
Tilt refresher
Typically, the lens plane is parallel to the film / sensor plane. The lens plane of a tilt lens can be angled, meaning the focus plane travels along the z-axis and objects at different distances will be in focus; conversely, objects at the same distance may or may not be in focus, according to the tilt angle. Tilt photography is used a lot for products shot in macro (food photography comes to mind), but when shooting tilt-video at considerable distance from your subjects (at low FPS video or as a timelapse photos shot with an intervalometer), the result is a high-speed, miniaturized world.
Tilt, not shift
According to darwinfish, he used ARAX tilt adapters, as opposed to 'tilt-shift' lenses or adapters. Shift lenses are used primarily in architectural photography and anywhere clean vertical lines are needed, to avoid the 'falling building effect' that occurs because the focal center of a large object and its extremities are different distances relative to the camera. Shift lenses correct the falling building effect by displacing the lens plane along the x or y axis, while remaining parallel to the film or sensor plane.
The use lenses with shift-capability could have helped a few shots in darwinfish's video, but all-in-all, it's wonderful eye candy and great use of two red-hot, competing cameras.
Check out the video below (mostly A7s; GH4 1:13-1:39, 3:11-end). And don't miss a bonus Tokyo tilt-shift vid on Page Two!
Bonus Tokyo Tilt-Shift Video