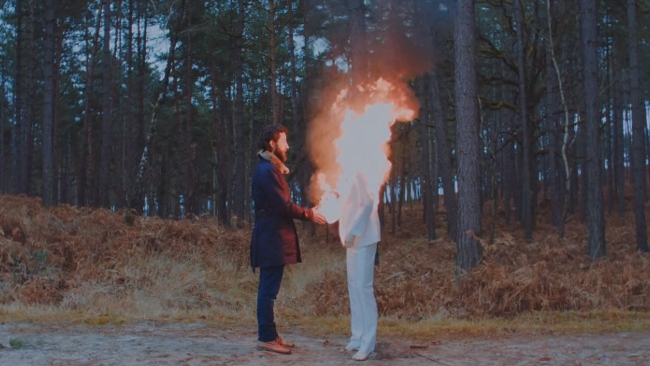 Yet again, filmmakers prove that you don't need a huge budget to make something remarkable. In this case, all Nicolas Garnier and Sebastien Le Gallo needed were a Blackmagic Cinema Camera, some post trickery, and very still actors.
Ever since the MTV first planted it's flag on the moon, music videos have been the testing ground for innovative fillmakers and experimental techniques. They started as fairly low-budget endeavors, but as the popularity of music videos grew, they soon rivaled, and at times, surpassed the per-minute production costs of the Hollywoood blockbusters of the day. Madonna's Express Yourself video, directed by David Fincher, cost a whopping $5 million to produce...in 1989.
Music video budget bubble goes POP!
Of course, the party couldn't last forever. The music industry suffered a near-collapse in the wake of iPods and music-file sharing services devaluing the product. Granted, this is a huge topic and there's definitely room for debate, but it's indisputable that today's music labels simply can't afford to shell out the same budgets as in years past. And if it's true for the majors, it's doubly true for small, indie publishers.

Much like what occurred at the infancy of music videos, filmmakers must rely on their skill and creativity to stretch those dwindling dollars for three-to-four minutes of visually and emotionally compelling work. However, since music videos are now in a more mature state as an art form, these filmmakers must struggle to innovate and set their creations apart from the vast catalog of videos that came before them.
Budget? We don't need no stinkin' budget.
When filmmaking duo Nicolas Garnier and Sebastien Le Gallo set out to make the music video for electro-folk singer Ulrich Forman's single I Got You, they were presented an all-too-familiar dilemma: there was no budget (or rather, the label wasn't kicking in to the pot). Instead of getting discouraged, they used the limitation as an opportunity to put some of their cinematic experiments into practice. Here's how the duo described the situation, from a recent Directors Notes article:
Ulrich Forman is an old friend of ours, we've directed a few music video for him in the past. The label didn't give us any money for this one, so we were completely free to do what we wanted.
Last summer our friend Roger bought a Blackmagic 2.5K (Cinema Camera), and we had fun with it – we tried to fake the "bullet-time" effect by shooting immobile people and stabilizing the shots in After Effects. We played with the time-lapse option of the camera and high shutter angles to improve the effect. We really liked the result, it was something between bullet-time and stop-motion with a quirky wobbling due to AE's warp stabilizer… It reminded us the 90s music videos that we loved as teenagers. A couple of month later, Ulrich asked us to direct his new music video and we knew we wanted to use that visual effect. We imagined Faustian themed scenes and the contrast between the "Mr Nice Guy" appearance of the character and his ruined inner world.
BMCC holds its own.
With all the talk over the barrage of new 4K cameras at every price point, does 2012's Blackmagic 2.5k Cinema Camera still deliver? Garnier and Le Gallo say "yes," but it never hurts to pair the camera with some high quality Zeiss Super Speed T/1.3 primes: "I just adore how these lenses render color, and together with the camera's 13 stops of dynamic range, the cinematic quality of the footage is really beautiful; very sharp with subtle details and color."
All hands on deck.
As anyone who has started a project that's high on ambition and low on funds will tell you, it takes a concerted effort to achieve that rarefied 'sum is greater than the parts'-ideal. And that often entails borrowing what you can from friends and wearing multiple hats:
We borrowed Roger's camera and his S16 Zeiss super speed set and started filming. We also bought an old Kinoptik 5.7mm for the super wide angle shots. Ulrich closely collaborate with us. He was not only our talent but also our producer, and sometimes our location manager, costume designer, prop master… We shot the video with what was at hand: the "crane" shot in the stairs was done with the camera hanging on a rope. When the oranges and milk bottle spring out of his shopping bag, everything was tied with wire or hanged with nylon threads. We later cleaned everything in post-production.
Fix, err, Make it in...
Cleaning wasn't all that occurred in post. Given the highly-experimental nature of the video, it made sense for Garnier and Le Gallo to shoot much more than was actually needed, and to stabilize all footage in After Effects, before deciding which of the many takes actually appeared in the video. According to the filmmakers, "(Our editor) was mad at us because he'd never dealt with such a large amount of material!" While 'fix it in post' has become a cliched taboo in film circles, some projects call for post as the place to really shape the piece, like documentaries and reality television. But when you're shooting on a shoestring, sometimes it's best to shoot as much as you can (especially if getting pick-up shots would be difficult or impossible) which puts more onus on post as the place where these stories are made.
Watch the ideo over the page
Express Yourself.
The end-result is one of the more interesting videos I've seen in a while. It's a testament to what can be achieved with a lot of hard work and imagination, and very little money. And it might, just possibly, lead to a $5 million dollar budget, a pop star, and a pointy bra. Dare to dream!
Watch the video below and let us know what you think in the comments.
Tags: Production