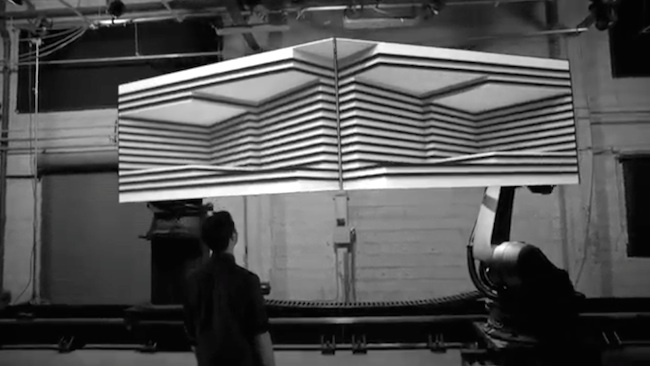 For the amazing art, that's why. San Francisco's Bot & Dolly is one of those classic companies that can only really exist in California, a design and engineering studio that specialises in automation, robotics, and filmmaking. And when you put all that together the results it produces are stunning.
Certainly its latest five-minute long film The Box comfortably fits into the stunning category, especially when you realise that it has all been done in-camera, which in fact moves it a noth on to 'awesome' in our book. Essentially it melds the projection mapping of 3D graphics together with some extremely nifty precision robot choreography and an actor to produce a short that the company states is both "artistic statement and technical demonstration."
Bot & Dolly used two high-resolution projectors, two 2D monitors, and three industrial robots (two on camera, one holding it) that were all synchronised and controlled by the company's own proprietary software working alongside Autodesk's Maya to produce 'The Box'. The effort was well worth it too.
Explains the company: "At the core of our technology is an integrated software/hardware platform that provides precise and expressive control of 6-axis industrial robots. On top of this core platform we provide industry-specific toolsets such as IRIS to support the creative process, from prototype to production."
To date, Bot & Dolly's tools have been used in feature films, national television ads, Las Vegas shows, and large-scale art installations, so they're not doing badly with it all. And just to reiterate one more time: this was all done in-camera.
Videos after the break

Making of Box: