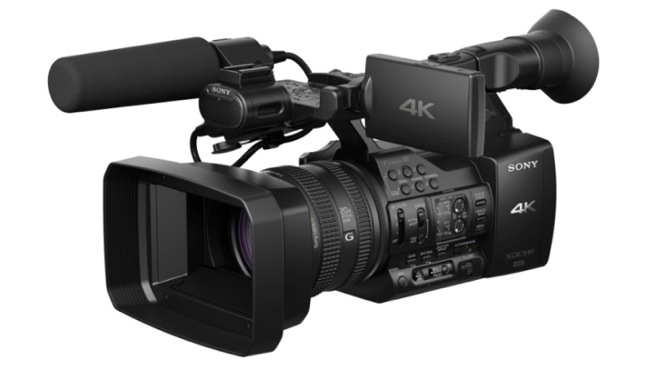 Today's a pivotal moment in the history of digital video cameras. It's like the day that the first VHS camcorder came out. It's like the start of DV. And it's like the time they announced the first HDV camera. Today's the start of the 4K Prosumer camcorder revolution. Today's the day that Sony's announced its first consumer and prosumer 4K camcorders.
And they're pretty powerful devices, with one of them, the PXW-Z100, capable of recording video at 600 Mbits/second.
The two devices are very similar and share the same sensor and lens. The differences are in the codecs. The consumer-oriented FDR-AX1E will use XAVC-S - a 4K evolution of the AVC consumer forma and closely related to the professional XAVC. The professional PXW-Z100, the newest member of the XDCAM family, will use XAVC, making its media compatible with Sony's high-end F55 camera.
Full 4K
The PXW-Z100 can record full 4K images at 4096 x 2160, and the FDR-AX1E records at UHD resolution, 3840 x 2160.
Notably, both cameras can record 4K at 50p, and the PXW-Z100 can record at 60p as well.
And, in another first, both devices will support HDMI 2.0 (with a firmware upgrade), able to playback 4K video at 50p and 60p, in the case of the PXW-Z100. That's 8 times the data rate of HD!
This is a big announcement. It's clear that Sony's put a lot of thought not just into the design of these cameras but to their market positioning and their place in the Sony ecosystem. There's an air of quiet confidence about this release. It's groundbreaking and yet there's a sense that this is now mature technology (especially with the inclusion of HDMI 2.0!).
Pricing was not announced today but will be at the IBC show in Amsterdam next week.
On Friday morning this week, we'll have an exclusive interview with Sony about the new cameras as part of our IBC Preview show. Watch out for the Friday newsletter or check the site at around 10:AM on Friday.
If you have any questions about the new cameras, ask them in the comments and we'll put them to Sony at IBC. We will have a follow-up IBC show around 21st September.
Press releases in full after the break.
Sony adds 4K* consumer camcorder to its Handycam® portfolio
New FDR-AX1E allows fresh creative expression with four times the resolution of Full HD
Shoot 4K Ultra HD images with

Exmor R™ CMOS sensor, professional image processor and high-quality G Lens™ with 20x optical zoom and SteadyShot

Stores 4K video in efficient new XAVC S format, with relay recording with dual XQD media card slots

Enjoy 4K videos with one-cable HDMI connection to your BRAVIA TV

Extensive manual controls for pro-style operation plus XLR audio connectors
* '4K' refers to 3840 x 2160 pixels resolution throughout this press release
Today Sony unveils its first 4K consumer camcorder, the new Handycam® FDR-AX1E. Now video enthusiasts can capture 4K content for expressive, powerful imaging with incomparable levels of clarity and exquisite colour in every scene.
Four times the detail of Full HD
The FDR-AX1E camcorder records 4K and HD movies in the XAVC S format, using MPEG-4 AVC/H.264 Long GOP for video and Linear PCM for audio compression, while saving files in an MP4 wrapper. The XAVC-S format allows longer recording times, storing almost two hours of 4K video on a 64GB XQD memory card, making 4K recording easier and more convenient. Switching to Full HD recording can store almost 3 hours of 1920x1080 50p footage on a single card. For further compatibility with existing consumer devices, AVCHD format is planned to be updated by the middle of 2014.
The FDR-AX1E camcorder features a 4K image sensor that is essential to the stunning image quality it can achieve. The 1/2.3-type Exmor R™ CMOS sensor captures true 4K resolution (3840x2160) images, containing four times the picture detail of Full HD, and has the output speed required by the massive 4K 50 fps data stream. The powerful image processor, identical to those found in professional 4K camcorders, rapidly processes signals transmitted from the CMOS sensor and finalizes images in real time at 50p.
Pristine imagery is also assured by the high quality Sony G Lens™ which redefines what an aspheric lens and special low-dispersion glass combination can reproduce. The G Lens is specially tuned to capture qualities of definition and colour that put this groundbreaking Handycam® camcorder in a class of its own. In addition, the lens offers a broad zoom range from wide-angle to 20x optical (31.5-630mm 35mm equivalent); while Optical SteadyShot keeps footage crisp and stable, even at telephoto mode.
Creative controls and pro-style ergonomics
The FDR-AX1E camcorder offers several functions to enhance users' creativity, including three ND filters to adjust the amount of light entering the image sensor from the lens. Four settings: Off (Clear), 1/4 filter, 1/16 filter and 1/64 filter - give users the ability to modify light conditions, while maintaining desired shutter angle and aperture even on bright sunny days. Five paint functions (white balance, gamma, detail, skin detail and matrix) can be combined and altered to create expressive movie styling and cinematic looks.
Matching its impressive 4K picture quality, the camcorder features two external pro-style XLR connectors to complement its high-performance internal microphone for premium sound. These XLR jacks allow the addition of stereo microphones to capture balanced audio synchronized to the video for clearer ambient sounds and dialogue, which can be mixed with recordings made using the internal mic.
For ease of use during shooting, the FDR-AX1E is designed with two strategically placed start/stop buttons and a zoom lever on the handle for convenient access from low angles. Dedicated controls are also provided for auto/manual focus, and seven custom buttons can be reassigned to user's preferred function. Assigned functions for on-the-fly adjustments include Marker, Zebra, Peaking, Focus Magnifier, Auto Exposure Level, SteadyShot, Colour Bars and Rec Lamp.
Equipped with two media card slots, the FDR-AX1E uses XQD™ memory cards for smooth, high-speed reading and writing of 4K video. As featured on Sony professional camcorders, relay shooting seamlessly switches recording between two media cards so there's no need to worry about running out of storage mid-scene. Video makers can even 'hot swap' cards, removing a full card from one of the camcorder's two slots and slipping in fresh storage while shooting continues uninterrupted.
Ultimate 4K viewing experience
Playing back 4K content captured on the FDR-AX1E is simple - just connect the camcorder to a compatible 4K TV with the single HDMI cable. Sony BRAVIA TVs specially brings out the full quality of 4K/50p recordings, with TRILUMINOS Display to deliver an even more vibrant palette of rich colours that are closer than ever to real life.
For those without a 4K TV, the FDR-AX1E can output 1920x1080 images to a Full HD TV, by simply changing the output settings on the camcorder. There's a growing choice of 4K-capable editing software packages makes it easy to 'trim' HD images from original footage with huge amounts of picture detail.
HDMI 2.0 – a new industry standard
The FDR-AX1E will offer support for the brand-new HDMI Version 2.0 specification, with an easy firmware update via the Internet.
Newly released by the HDMI Forum, the HDMI 2.0 industry standard offers an option to transmit 4K/50p signal using a single HDMI cable. With this HDMI 2.0 update, the FDR-AX1E will be able to output 4K/50p images not only to 4K BRAVIA, but to other HDMI 2.0 compatible TVs and devices.
New ultra-fast XQD™ N Series memory cards for 4K shooting
Sony also introduces a new range of ultra-fast XQD™ N Series memory cards that are ideal for 4K shooting with the Handycam® FDR-AX1E.
Available from October this year, the new cards offer a read speed of 120 MB/sec and 80 MB/sec write speed on the QD-N64 (64GB version) and 60 MB/sec on the QD-N32 (32GB version). Ultra-fast transfer speeds are enabled by a newly-developed intelligent controller and optimised high-speed flash memory.
The new Handycam® FDR-AX1E 4K consumer camcorder by Sony is available in Europe from [DATE]. For a complete 4K experience, the camcorder comes supplied as a special bundle with Vegas™ Pro 12 Edit software and a 32GB XQD™ media card included in the box at no extra cost.
Basingstoke, UK, Sept. 4, 2013: Sony today announced the PXW-Z100, a professional 4K handheld XDCAM camcorder featuring a 1/2.33" Exmor R CMOS sensor. The sensor has total of 16 million pixels and is able to acquire stunning 4K content (4096x2160) at 50p or 60p. The camcorder marks Sony's latest step in expanding the 4K world to everyone, from high-end cinema to corporate and event productions.
The PXW-Z100, together with the fixed 4K-compatible high-performance G Lens, weighs less than 3kg. It uses the XAVC recording format first used in the PMW-F55 CineAlta camera. As with the F55, 4K (4096 x 2160, 50p or 60p, 4:2:2, Intra-frame, 10-bit recording in MXF file format) is possible at a high-bit rate of 500Mbps or 600Mbps. QFHD (3840x2160) and HD (1920x1080) resolutions can also be selected, both of which are compatible with most 4K TV's.
Since the PXW-Z100 is based on the same shooting ergonomics as a conventional handheld professional camcorder, it is possible to record 4K content without extra equipment. In addition, during editing, downscaling from 4K to HD provides new possibilities for HD content production. "This incredible new camcorder is capable of capturing stunning 4K content, making 4K acquisition accessible to a wider range of professional users than ever before," said Bill Drummond, Strategic Marketing Manager Entry Level Production. "Corporate and Event camera operators can deliver 4K today for distribution via an emerging number of 4K platforms including online, digital signage and large venue projection applications, and will be able take advantage of the greater flexibility in post-production that 4K acquisition offers when delivering in HD". The PXW-Z100 will be available from November and comes packaged with a two year PrimeSupport contract via authorised Sony Professional Solutions Specialist dealers.
Sony has also announced the new FDR-AX1 Handycam at IFA 2013. The FDR-AX1 has a similar specification to the PXW-Z100 but is only capable of QFHD (3840 x 2160) recording with the XAVC S format. The FDR-AX1 uses 4:2:0, Long GOP and MP4 file format.
Key features
1. 4K (4096x2160) 50p or 60p shooting
The camcorder provides extremely high sensitivity due to the back-illuminated Exmor R CMOS sensor. With 8 million effective pixels, the 1/2.33" sensor captures 4K images at 50p or 60p. The inbuilt high-performance G Lens offers maximum shooting flexibility, including a wide angle of 29.5mm (equivalent to 35mm) and 20x powerful optical zoom.
2. XAVC recording format at 4K 50p/60p, 4:2:2 10-bit at 500/600Mbps, HD at up to 223Mbps
The PXW-Z100 uses Sony's XAVC recording format first employed in the PMW-F55 CineAlta 4K camera. MPEG-4 AVC/H.264 compression is used for HD (1920x1080), QFHD (3840x2016) and 4K (4096×2160) content. Image sampling is 4:2:2 10-bit, with an intra-frame system that compresses each frame individually at a maximum bit rate of 500Mbps or 600Mbps during 4K 50p or 60p recording respectively and 223Mbps during HD 50p or 60p recording. The XAVC format is ideal for those looking to implement a high-quality, secure and worry-free workflow.
A non-chargeable firmware update is planned for the middle of 2014 to support the Long GOP mode for extended 4K recording time and to add support for AVCHD recording.
3. XQD Memory Card recording
The XQD Memory Card is a new standard of solid state memory, which was recently defined by several industry leading companies. XQD uses the ultra-fast PCI Express interface and Sony's unique camera processor to enable stable video recording at 500Mbps or 600Mbps. The PXW-Z100 features two XQD Memory Card slots. Multiple cards can be used in various ways, such as for relay recording. When the first card becomes full, recording continues on the second card without a break.
* The use of new S Series XQD cards (QD-S32E or QD-S64E which supports 180MB/s transfer speed) is recommended.
4. HDMI interface for 4K output and 3G HD-SDI interface for HD output
The HDMI interface on the PXW-Z100 can output 4K as a 50p/60p signal. When the PXW-Z100 is connected to a Sony 4K-compatible BRAVIA TV, the recorded 4K image can be displayed in 4K 50p/60p quality. A future firmware upgrade is planned to provide compatibility with the new HDMI 2.0 standard and enable 4K 50p/60p output to a wider range of devices. Other features include a 3G HD-SDI interface that supports output up to HD 60p. It also supports HD output during 4K recording.
5. Paint function for more creative freedom
The PXW-Z100's paint function enables multiple image parameters to be adjusted including gamma curve, black level, skin detail and colour. The range of settings is similar to those available in the PMW-F55. Together with other setting options, parameter settings can be recorded as a camera profile onto a memory card. The recorded camera profile can then be used to set the same parameters in another PXW-Z100 to enable the matching of quality and image tones when using a multi-camera setup.
6. Remote control with WiFi
Focus, zoom, aperture settings and 'record start/stop' can be remote controlled using the browser function of a smartphone or tablet.