Digital Anarchy's Transcriptive is an intuitive transcription plugin for Adobe Premiere Pro CC, that filmmakers and producers use regularly. And now the company has announced a special prepaid minutes plan that can cut the cost up to 50%, which is great for filmmakers and video producers on a budget.
As the demand for video transcription for interviews and captioning continues to grow in popularity, Transcriptive makes it easy by using AI to transcribe footage with 97% accuracy. This is all done within Premiere Pro, and you can search for specific parts of transcribed footage as easily as using Google. From there, you can create a transcript for editing a news story or documentary, or create captions for the video.
Transcription software and plugins, including Transcriptive, normally pre-charge by a specific block of time. You purchase a set amount of minutes or hours for the transcription service, which translates to the length of footage that will be transcribed.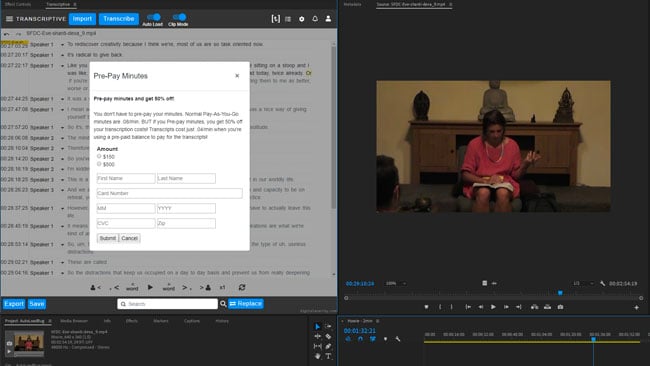 But what if you're part of a small production company, or an independent filmmaker on a budget? That's where Transcriptive's new prepaid minutes plan comes in. Those indie filmmakers, editors and small companies will be able to purchase a 62.5 hour block for $150 USD, or 4 cents a minute. That's 50% off when pre-paying.
For larger companies, or those that require even more hours of transcription time, Digital Anarchy charges $500 USD for 208 hours of Transcriptive service. Both options can be purchased online at transcriptive.com or within the Transcriptive panel in Premiere Pro.
The initial cost of the Transcriptive plugin is $299, or $149 for the upgrade from an older version. You can learn more on the Transcriptive website.