HitFilm Pro was recently updated to version 12 with a whole host of changes and improvements. We take it through its paces and find possibly the most powerful NLE you might not have heard of.
HitFilm Pro by FXhome is one of those NLE's that has perhaps gone under the radar somewhat for many users. When faced with the question of which NLE to get on any Internet forum or social media group these days, and the common replies are incredibly predictable. Resolve, FCP X, Premiere. Occasionally others are mentioned, but HitFilm Pro continues to fly under the mainstream radar, despite having many millions of users around the world.
Available in an alternative free version, HitFilm Pro is the fully fledged paid for variation at $299, and it has recently been updated to version 12 in a big overhaul. It's interface has received a facelift, and it now makes much more use of your computer's GPU. I am completely new to HitFilm, so I was intrigued as to what it was like to use versus what I know and love.
When you first boot up HitFilm Pro 12, you are greeted with a grid of videos from the FXhome YouTube channel offering all sorts of tutorials for compositing and how to get the best out of the company's products. It isn't the most business like welcome to the software in terms of day-to-day editing, as you'd expect most professionals to just get on with things. But with all that said, if you are new to the software these could come in quite handy, and they are updated regularly with hints and tips to recreate the latest 'must do' effects. Personally I think it's a great idea, although it could provoke intense procrastination!
There is an incredible amount of depth to a NLE such as this, and so I do not have the space in this review to go through every nuance and detail, but I will try to give you a general overview and my thoughts on its overall performance and value.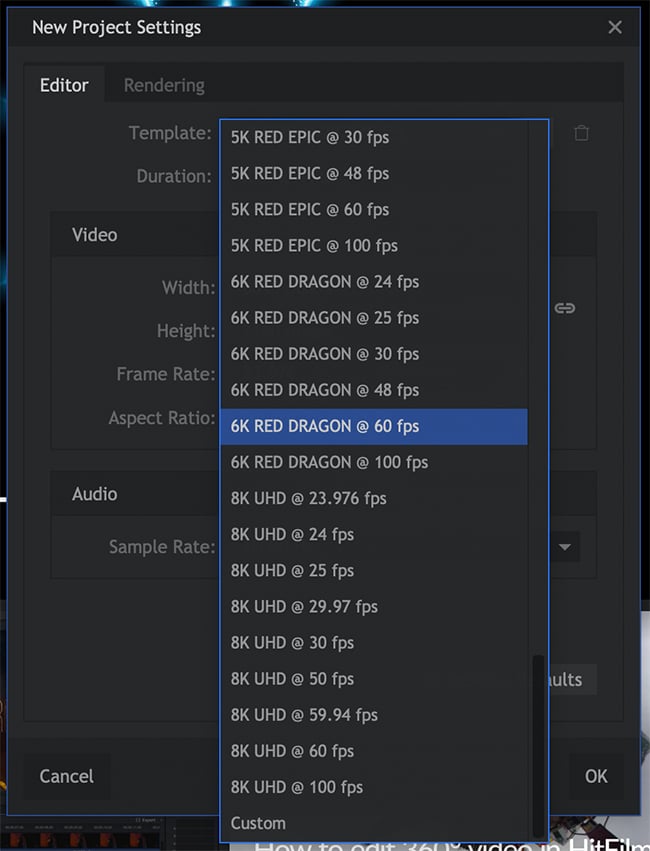 The comprehensive project resolution options
Setup options
The setup options for HitFilm Pro are quite comprehensive, and show the software's ambition. Here you can setup aspects such as the number of undo levels, default templates, whether to save the screen layout alongside projects etc. But there are also more in depth settings such as controlling precisely what effects and adjustments each of the playback quality settings will show. You can also specify the default bit-depth you want projects to work in, from 8-bit integer all the way up to 32-bit floating point linear colour.
Keyboard shortcuts can also be set up. And users of other NLEs will want to delve in here and change the mapping to their preference. For future versions of the software it would be nice if the programmers included some preset options for users coming from FCP or Resolve etc to make things easier.
Start a new project and you are presented with a good number of preset resolutions and frame rates. These include 6K RED presets, as well as going all the way up to 8K at 100fps, meaning that the software well and truly has the future in mind.
The workspace that presents itself on starting a project is the "Editing" workspace. There are a few preset workspaces available, which include editing, 360 degree video editing, colourist, compositing, and organising.
On that last workspace, this is where HitFilm does show some of its limitations when it comes to long form and deep professional editing work. Clips can be renamed and placed into folders/bins, and their properties viewed, but there is no option for inputting or organising via metadata, or for instance the excellent key wording of FCP X. However, what you can do is rename the clips to whatever naming convention you choose, then use the search function. This works very quickly, and on a letter by letter basis, so you don't necessarily have to type the full name of a clip for it to bring it up as a result. But unfortunately you can't specify to order by, for instance, frame rate, and you can't create sub-clips from an in-out selection if you needed to extract multiple interview segments for example.
Clips can be colour coded to identify easily on the timeline
Editing
One of the biggest improvements to HitFilm 12 is the interface responsiveness. It is a vast improvement over the previous version. On some machines you will need to adjust the preview and still frame quality and resolution to get the best performance, but this is most definitely a big step in the right direction. All the usual options are here, such as ripple delete and edit, slipping, rolling, slicing etc. One thing to note is that even if the quality settings might stress you machine, for example if it is a laptop, key holds are not buffered. In other words, if you hold down a key to move frame by frame through the timeline and then let go, the scrubbing marker will stop, and not just carry on as it has been known to do in other NLEs.
One thing I would like to see implemented in the main settings is to be able to automatically fit footage to the frame. When using 4K footage in a 1080p timeline you need to manually tell the editor to resize it, which with a lot of footage could become time consuming. You can assign a keyboard shortcut for this, but it would be nice to see it done automatically.
Another curiosity is snapping. This will snap clips on the timeline, but it doesn't appear to snap the timeline marker when dragged with the mouse. You can use a keyboard shortcut to jump to the end point of a clip however. It must be noted that some of my comments could be taken as criticisms, but I do need to stress that I understand that different NLE's work in different ways and that this is simply something I need to get used to. On the other I know that FXhome are incredibly open to suggestions from users, so it might be nice to have this ability as an option.
The interface itself is of the dark variety, which is of course becoming the norm these days. Everything is laid out clearly, and is easy to see, and very easy to use and navigate through.
One option available to you is to colour code clips. These colours can be given names in the setup menu, so you could for instance have interview clips set to the colour yellow, which would enable you to see them quickly at a glance on a long timeline.
Playback on my MacBook Pro isn't as snappy as, say Resolve or FCP, however the playback quality settings can be tuned to suit the machine you are working on, and it is a vast improvement over the previous versions of the software.
This is the basic colour wheel colour correction within HitFilm Pro. But this is only the start, because there are correction tools for every conceivable occasion available from the Effects menu
Specialities
Each and every NLE tends to have something it is really good at. With FCP X it is really fast short form editing, Premiere is a reliable workhorse NLE for traditionalists, Resolve is unmatched for colour grading at its price. With HitFilm Pro it is SFX and compositing.
We are all used to NLE software coming with a ton of presets for transitions and basic effects, most of which we never use because they simply look naff, or cheap. The question of quite why cube and page curl transitions still come as part of pretty much every NLE is worthy of an article in itself. But with HitFilm Pro there is a treasure trove of really high quality effects, filters and transitions.
For example there is a light leak transition built in. Yes, it is becoming overused now, but it is infinitely preferable for a stylised video compared to a rotating 3D cube! Boris Mocha comes free with the software, which enables 3D movement matching and planar tracking and more as part of the software. This is the sort of stuff you would have to pay hundreds for on its own.
Boris Continuum Complete also comes as part of the software, allowing complex titles and object extrusions. Particle effects, too, can be accessed from HitFilm Pro's effects selections, allowing everything from flying concrete and brickwork from bullet hits, to space shockwave explosions to be inserted right into the timeline or as part of a comp.
HitFilm Pro is also compatible with OFX plugins such as FilmConvert, in addition to the software's already pretty comprehensive colour correction abilities. The full list of effects available within the software is long, but despite this there are surprisingly few of them that would not be at some point very useful. Something that makes a refreshing change, and perhaps comes from FXhome's more direct engagement with end users.
Other highlights include footage repair with very fast and comprehensively tunable noise reduction and grain removal, lens distortion removal, stabilisation, lens flares, 3D volumetric light rays, puppet tool for natural deformation animation, cinematic looks, LUT import, particle simulator, 3D camera projection (for easy converting of 2D photos to a 3D scene for a modern twist on the Ken Burns effect), full audio mixer, 3d model import. The list goes on! And that's before we get to temporal tools, sci fi effects, distortion effects (such as heat and fluid caustics). One of the most interesting is "Doppler Shift" which allows you to attach audio to a 3D object and have the software realistically adjust the sound automatically as the object moves towards or away from the camera. And even then I've only just covered the tip of the iceberg.
Conclusions
HitFilm Pro is not without limitations. For instance it won't take raw files, and the current version doesn't currently like H.265. But this would be to miss the point. HitFilm Pro is similar in some ways to Vegas in that it is a comprehensive piece of software that is straightforward for novices to begin with, but has a really quite staggering amount of power available under the hood if you want it. And if its lots of plugins and effects you want right off the bat, HitFilm Pro is definitely worth a look.
Would I switch to it as my NLE of choice? Perhaps not. I am very well embedded with FCP X and Resolve. However, with that said there are a huge number of effects and compositional abilities that those two NLE's lack, but which I could perform right from within HitFilm Pro without needing to purchase any extra plugins. But for anyone starting out and wants an affordable NLE that works on both PC and Mac, and represents incredible value for the money, it makes sense to investigate HitFilm Pro as a priority port of call, especially if you are an SFX fan or an aspiring SFX/VFX artist.
For more information visit the FXhome website.
Tags: Post & VFX