FCP X's new app integration abilities are a pretty big deal. One of the first to take advantage of them is Frame.io, and it looks to be very comprehensive indeed.
There has always been one aspect of FCP X that has held it back as a modern post production workhorse: third party integration. For a long time now rival NLEs like Premiere Pro have been able to integrate directly with online review services, which allow clients to make comments and highlight areas of a video to suggest modifications or to offer an opinion on the edit.
Today this has all changed with the release of Final Cut Pro X 10.4.4, which now allows full third party integration. Frame.io is one of the first companies to take advantage of the new functionality, and quite comprehensive it is too.
Once set up the Frame.io FCP X app allows you to work with the service just as you normally would - without having to leave the NLE. You can upload clips, renders, and timelines, which is all well and good, but the detail of what can be done with these would appear to be hugely impressive.
You can upload all your dailies to Frame.io in the full resolution original video format, and then the service will automatically create proxies in the cloud that can be viewed by anyone. So for example you might want to share a clip to someone who is going to create an animated title. The relevant clip can be uploaded straight to Frame.io where the animator can download a proxy, create the title, and then upload it to the Frame.io project. You can then drag the newly created title straight from the Frame.io window straight into your timeline. Clearly this takes collaborative working within FCP X to a new level.
All comments and graphical highlights can be viewed right on the FCP X timeline
Installation of the app requires that you have the macOS menubar app installed. Then once you have installed the FCP X plugin you need to use the menubar app to install the export presets into FCP X. Once this is all done you are ready to rock.
The big strength of the new app is how it deals with client comments and infomation highlighting. At any given time you can see where in the timeline your client is looking at the video, as well as seeing them type in realtime. Any comments, including marked graphical highlights can be dragged onto the FCP X timeline as a compound clip. Each author of those comments is automatically split into a role, so you can isolate specific peoples' suggestions. Additionally by clicking on the timeline sync button the playhead within FCP X is matched precisely to the same position within the Frame.io file and vice versa.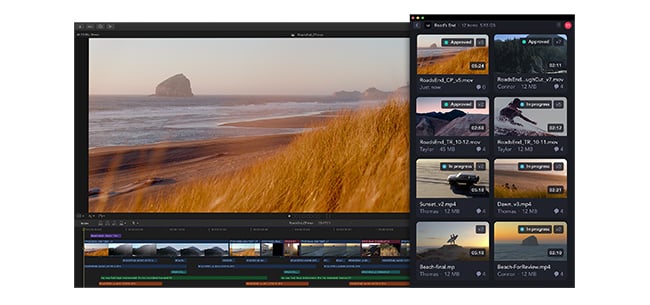 See which clips have been approved
In my brief testing this all works seamlessly and smoothly, and as a Frame.io user myself this is just what I've been long waiting for.
This is a pretty big advance for those who currently use - or want to use - collaborative services within their workflows. For a full rundown of how all these features work in practice, take a look at Frame.io's tutorial video below, and visit their site for more information.