The latest version of Final Cut Pro X adds a whole load of new features into the software, plus opens it up so that developers can seamlessly integrate extensions into it.
All in all, this, the 28th and 10.4.4 update of Final Cut Pro X since its initial release, is probably going to go down as a bit of a landmark one in the NLE's long history. Third-party plugins and special effects have long been a feature of the FCP X landscape, but this is the first time that Apple has allowed developers to integrate what it likes to call 'workflow extensions' so tightly into the FCP engine.
The result is software that matches the look of the FCP X interface and allows users to sync playback between extensions and timeline, add clip markers and more. And while the concept is hardly revolutionary and well-established in competition NLEs, the rather overdue appearance of a new button to the top left of the FCP X GUI that houses the extensions is no less welcome as a result.
The first extensions out of the gate are for CatDV, Frame.io, and Shutterstock, and do very much what you would expect; give access to the services from within the FCP X interface. It's a good three to launch with and more are expected to be made available fairly swiftly as Apple tries ever harder to court the pro video market it (almost) lost.
Elsewhere in the software, batch sharing allows a user to export multiple clips or projects in one step, while a new Comparison Viewer window lets editors view reference images while colour grading to ensure a consistent look across their project. There's a floating timecode window (below) that displays color-coded clip names, roles, project timecode and source timecode in a customisable, resizable display; high-quality video noise reduction aims to minimise artefacts in low light or archival footage; and there's also improved marquee selection to play with.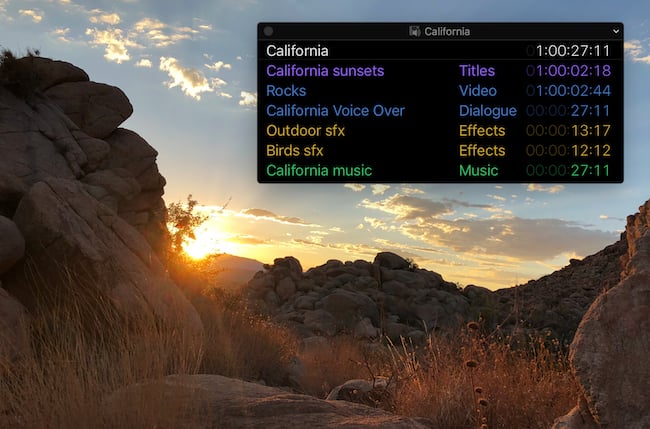 There's also Motion 5.4.2 and Compressor 4.4.2 to talk about.
Motion adds a comprehensive set of color grading tools to its armoury to allow users to fine-tune the look of titles and motion graphics, including color wheels, color curves, hue/saturation curves and custom LUTs. New filters include a customizable comic effect that turns any image or video into a comic book illustration, which you can confidently see get done to death over the next few months, and a tiny planet filter that transforms 360-degree video into spherical animations and already feels rather retro.
Compressor 4.4.2, meanwhile, moves to a new 64-bit engine while also maintaining support for 32-bit codecs. It also adds support for SRT closed captions.
The Final Cut Pro 10.4.4, Motion 5.4.2 and Compressor 4.4.2 updates are free; new pricing is $299 for FCP X and $49 for the other two.