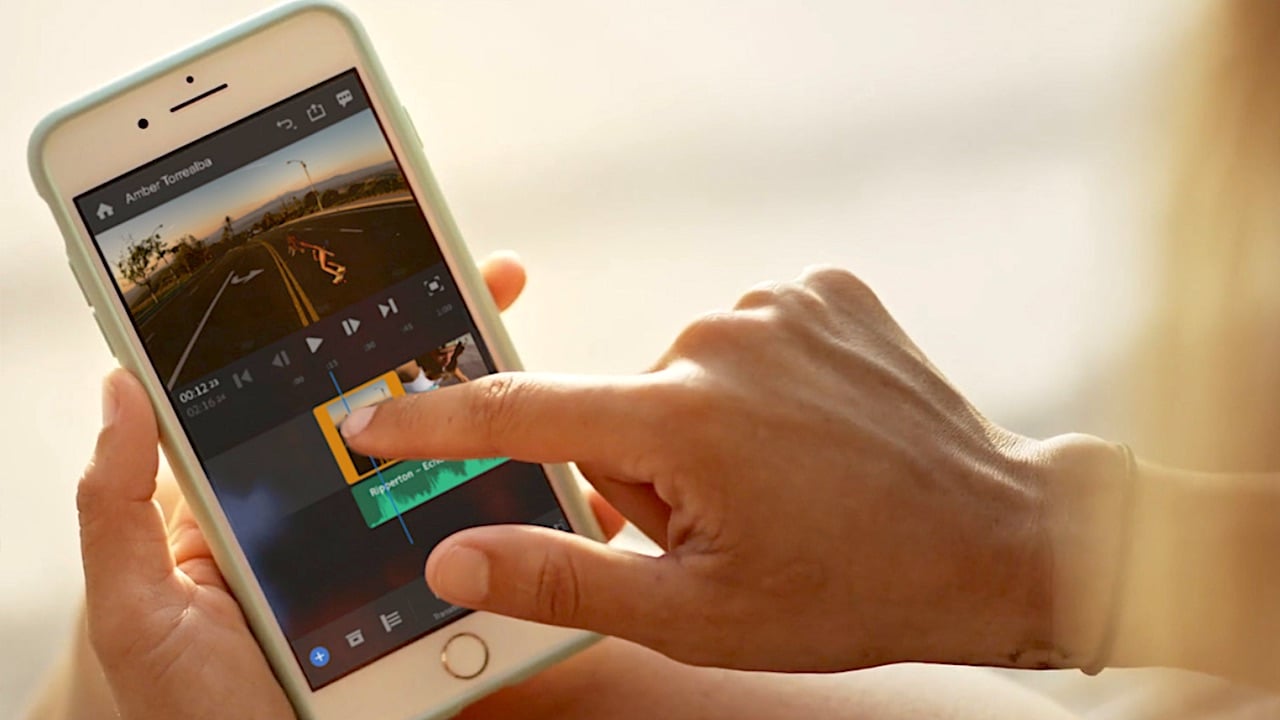 After months of previews of Adobe's device independent and cloud based acquisition/production platform codenamed Project Rush, Adobe has finally announced the product at the beginning of the Adobe Max conference.
Now officially titled Adobe Premiere Rush CC, the product is available for download immediately.
I had the opportunity of previewing an almost-finished product and with the release announcement, can now share a few observations.
Premiere Rush CC allows acquisition of video on your mobile device - in this case I was shown both iPhone and iPad capture. Files can be stored on your local device with an option to sync to Creative Cloud. This means that after creating a project on an iPhone, for example, that project will be available to edit on your Windows or Mac CC-subscribed computer. Of course, you can also edit your sequence on your mobile device. The greater screen real estate of the demo iPad provided a much easier edit than the iPhone demo, but the experience on both is fast tactile editing and trimming.
In addition to captured and cloud-stored video, users can import any video, audio or images that reside on their specific device. While not functional in the pre-release demo, Adobe reps touted title templates created in Premiere Pro as well as the ability to create and save templates.
Colour correction and audio
There is strong leverage of Adobe technologies in post-production features of Rush CC editing. Color correction uses the Lumetri engine and not only are there pre-sets, it is also possible to create pre-sets to apply to other footage. If you choose not to use templates, all versions have color sliders and other paremeter adjustments. Audio sweetening makes use of Adobe Sensei technology and can detect, for example, whether voice or music is the featured component of the clip. There are then automatic or manual adjustments for the track.
Obviously any video editing app needs transitions and there are numerous transition options. Other editing options include a Transform tab with position, scaling, rotation and crop.
Finished video can then be delivered to YouTube, Instagram, Facebook or Adobe Behance. It is also possible to export an .mp4 file to use with non supported platforms. And to reiterate the universality of Rush, you can export from any device.
Premiere Rush CC will be included in the complete CC monthly subscription or can be licensed separately for $9.99 per month. Users who have the complete CC package, the Premiere Pro single app plan or a student plan will benefit from the 100 Gb of on-line storage that comes as a part of these subscription plans.
Mobile acquisition and editing isn't new. Certainly that was a premise of iMovie and a host of other video capture and editing apps. What Premiere Rush CC brings to the table is a complete production, post production and delivery mechanism with a backbone of Adobe audio and image enhancement technologies. Adobe is wise in de-bundling Rush CC from the complete Creative Cloud Suite since a large percentage of Premiere Rush CC users would be both price conscious as well as put off by applications they may rarely if ever use.
This is the age of the on-line content creator. Premiere Rush CC will prove to be a significant tool for this large creative community and will surely lead to higher quality content across on-line platforms.