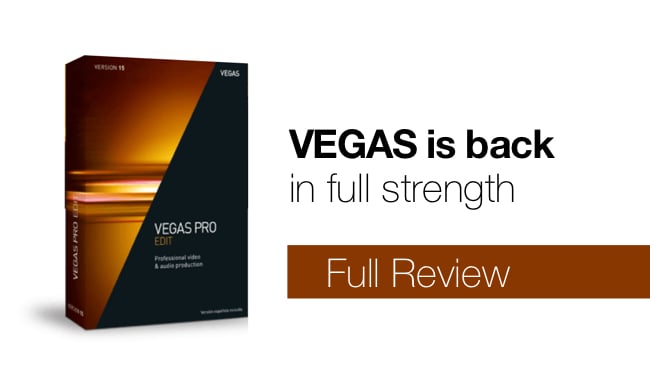 RedShark Review: What happens in Vegas stays in Vegas. With the popular editing software sold to Magix Software, many were in doubt as to its long term future. Now the company has shown its hand in what promises to be a major overhaul. Dave Smith from Australian Video Camera takes a closer look at this eagerly awaited upgrade.
Vegas Pro 15 is a major upgrade of the non-linear editing program I have used professionally for more than 15 years. I rely on Vegas Pro on a daily basis because it remains the fastest way to get from an idea to a finished video. This is the second version of Vegas Pro to come from the Magix stable and I was very keen to see how the team at Magix had handled the numerous requests and suggestions from users on the Forum.
New user interface
Vegas has always had a different look to most other NLEs on the market, which partly reflects the fact that it has always relied on the underlying Windows architecture. This is a strong selling point because it means you're working within a very familiar paradigm with a very straightforward learning curve. Most other NLEs operate on a model essentially derived from the old days of tape-to-tape editing. Premiere started out on the Mac, then was ported across to the PC, then back to the Mac as Final Cut. Edius operates in a similar way, as does Avid. Each of the many NLEs on the market, including Pinnacle Studio, Corel Video Studio, Magix Video Pro X and so on each have their own distinctive user interface. This means that although the overall aim is the same, the tools required are specific to each NLE and you'll have to search them out in order to gain familiarity.
The changes to the Vegas Pro interface are apparent as soon as you open the program. The interface is much darker although it retains the colourful icons. Once I started using Vegas Pro 15 it became very clear that although the interface is more streamlined and visually simpler, all my familiar tools are precisely where I'd expect them to be. This is excellent news because many experienced Vegas users on the Forum were very worried that Magix might radically alter the GUI and basically mess up what had always been one of Vegas's strengths. This is emphatically not the case. The new GUI has been designed with a great deal of thought and care. Each clip on the timeline now has its own header featuring the name of the clip – actually the active take when multiple takes are present – plus the familiar Pan-Crop and FX buttons and a new button offering control of Playback Rate, Freeze Frame at Cursor, Selectively Paste event attributes and the ability to edit the visible button set. Having these buttons available at the top of each clip is a clever idea and will be a great time saver.
But what's happened to the video track header? It is very clean and simple but almost all of the previous buttons and controls seem to be missing – there's not even a scribble strip to label the track. Or is there? I discovered that if I double click on the top left of the track header the scribble strip appears, just as before. All of the previous controls are also present but they're now accessed via a new button at the very top left of the header, just above the track number. Here you'll find all of your old pals and, yes, there's an option here to edit the visible button set, so if you prefer to see more of the buttons on the header just check their boxes and there they are, just as in earlier versions.
This flexibility is great because it means you can customize the interface to suit precisely how you work and one clear feature of Vegas Pro is that it offers you so many different ways to approach your editing. For example, I rarely use the trimmer to select clips. I find it faster and easier to do all my trimming on the timeline and so I rarely even have the trimmer pane open.
Similarly, in longer projects I typically lay all my video along the timeline, then work through it selecting similar types of shots, such as interviews, scenics, aerials and so on. I bump each of these types up to a new track and label the track appropriately. Then I can quickly scan through all of the interviews, or all of the scenics, or easily locate things that happened at a specific time. Clips I want are copied and pasted into a second instance of vegas which becomes my project file. It's a decidedly unusual approach but I've found that it really keeps everything well organised and easily accessible. Other people will undoubtedly rely on the media manager to stay organised but in Vegas you can work whichever way you like and that's a fantastic freedom.
Overall I really like the new darker interface and especially the fact that you can choose from four background colour options: Dark, Medium, Light and White. I have one tiny reservation which is the way icons change colour when highlighted: they simply acquire a black background. Especially when using the dark colour scheme, it is not really that clear which icons are selected. It is something I can get used to but when I look back to VP14 I think selected icons were much easier to distinguish. It's just a minor quibble but something the designers might have a look at.
Audio has always been one of Vegas Pro's great strengths and remains the case in Vegas Pro 15. Being able to expand the height of any audio track to the full height of your screen and to edit down to the sub-sample level is brilliant and unmatched in any other NLE. This is not really surprising, given that Vegas started out as a dedicated multi-track audio workstation developed by Sonic Foundry.
Hidden gems
As Project Head Gary Rebholz emphasised when we spoke on the phone, the aesthetics of the interface are one thing, and certainly the first thing you notice, but what goes unseen is the huge amount of work that has gone into rebuilding the underlying video engine. This work is long overdue and very necessary, given the continuing evolution of video codecs and the increasing demands of ever-larger video formats. Ultra HD 4K video is now commonplace – even though rarely broadcast on the networks – and is found in everything from my smartphone to my GoPro to my Mavic Pro drone. 5K is appearing and 8K and even 16K are coming over the horizon. Quite how the internet will cope with this exponential increase in required bandwidth is unclear, as will be the benefit of all those cat videos in whisker perfect 8K. But some advances are unstoppable, even if inexplicable.
A significant feature of Vegas Pro 15 is the ability to upscale HD or SD video clips for Ultra HD delivery. This is achieved via three modules, Smart Zoom, Smart Scale and Smart Adaptive Deinterlacing. You choose whichever is appropriate for your footage and simply apply the plugin as required. Having this capacity built in is a great feature.
Updated support is now available for Blackmagic Design, Red and AJA hardware. These updates presumably represent a vast amount of work and you could write a separate book on all of these features. Suffice to say that Magix is putting that effort in so that the best high end hardware is properly supported. Big tick!
Many other small but useful additions include the addition of a resample mode dropdown list in the video tab within Project Properties. Nick Hope, the hardworking guru on the Vegas Pro Forum, recommends keeping resample off unless there's a special reason for it. Apparently this can improve playback performance, especially with processor intensive formats.
Support is provided for the relatively new HEVC/H265 video files, as is native support for Apple ProRes 422 files which means you no longer require Quicktime to be installed on your computer.
Performance
Playback performance is excellent with Full HD video returning 25fps at BEST>FULL preview quality. The same performance was also achieved with 4K video from my Samsung Galaxy S5 smartphone.
If Ultra HD poses any playback issues, you can always set the option to automatically create video proxies for Ultra HD media. This takes a little extra time when you start a new project but the lower resolution proxy files will guarantee smooth playback when in Draft or Preview quality. When in Good or Best quality the original Ultra HD files will automatically be used. Rendering automatically uses the Ultra HD files. So the use of proxies is completely transparent after the initial building and allows for the best editing experience, especially on older computers. That said, my video computer is definitely ageing (as am I!) but still delivers 25fps at BEST>FULL preview quality with Ultra HD clips which is impressive.
In this regard, here's a very positive anecdote about Magix and their responsiveness to tech issues. I discovered that playback of my Mavic Pro 4K drone footage was very slow in VP15. Whereas I could get perfect 25fps playback at BEST>FULL preview quality in both VP13 and 14, VP15 wasn't able to give more than about 2 fps at PREVIEW>HALF. I reported this to Magix and received detailed and specific assistance within hours. In a recent telephone hookup, Gary Rebholz assured me the issue will definitely be solved soon and that it reflects the enormity of the task of rebuilding the inner workings of VP15. I mention this not as a criticism but quite the opposite: it is extremely important for professionals to have access to timely, useful tech support. The transition to Magix has seen a great and welcome improvement in tech support and the team are to be congratulated for making this a priority.
Conclusion
Vegas Pro is a brilliant professional editing suite and with the arrival of Version 15 it has been given a cut and polish like a beloved sports car. The upgraded interface is clean and logical and yet all of the familiar tools are right where you've come to expect them. The option is there to customise which tools appear on either track or clip headers so you can reduce clutter if required. I am impressed with the thoughtful way the GUI has been upgraded to retain the efficiency of Vegas while improving the look.
Changes to the internal workings are, as you would expect, not apparent, but the huge amount of work that has gone into this upgrade will ensure that Vegas Pro can handle all of the new, high end video formats and hardware. For long-time users such as me it's a joy to see my old pal looking great and working better than ever.
Price wise Vegas 15 Edit costs US$399, Vegas Pro 15 is US$599, while Vegas Pro 15 Suite retails at $799. For more information vist www.vegascreativesoftware.com.
With thanks to Australian Videocamera for letting us use this review.
Tags: Post & VFX