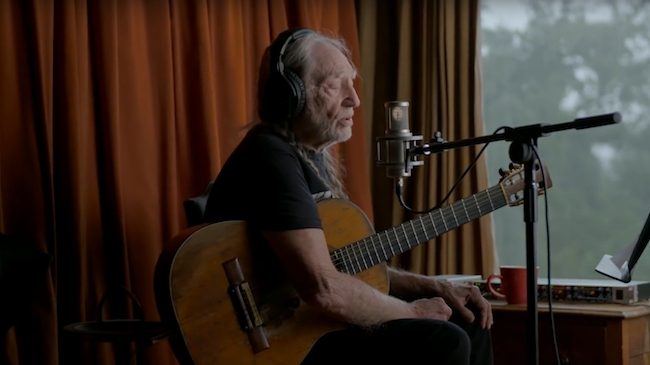 RedShark Replay: Craig Marshall wonders why this particular clip of Willie Nelson singing Gershwin's 'Summertime' looks and sounds quite so good.
In our Lightworks/DaVinci editing and grading suite, we employ Sony's 2014 flagship 55" X9005B 4K TV as a 'client' monitor where we have it positioned at eye height on a mobile cart with castor wheels at each corner and driven SDI from a 12G Decklink SDI 4K Pro card installed in our Resolve PC workstation. Although we currently use BMD's 6G SDI to 4K HDMI converter positioned right at the set to keep the HDMI cable as short as possible, we plan to replace this converter with the new 12G Teranex model which will run 4K video at up to 60p and as the Teranex device features 3D Luts 'on board', we should be able to offer a more precise monitor calibration.
The TV's HDMI 2.0 #4 input allows us to monitor both the Lightworks or Resolve timelines at 10bit 4:4:4 via the SDI 4K Pro Decklink card which also provides hardware down scaling from 4K to HD so we were able to retain our existing calibrated 24" HD reference monitor when working at 4K resolutions.
Sony's 2014 X9005B range of 4K TVs were the only series to include their 'Magnetic Fluid' speakers integrated into both the 55" and 65" models as well as the huge (and hugely expensive) 79" model. Three speakers are positioned either side of the screen and within the rather deep, wedge shaped design. For their 2015 flagship 4K TVs, Sony dropped the speakers from all but the 79" model, probably to appeal to those consumers who felt a thin screen was more appealing than good native sound. To my ear though, the sound from the X9005B's integrated Tweeters, Woofers and Sub-woofers is quite extraordinary and certainly not what you would normally expect, even from a high end consumer TV.
Consequently, I recently configured our 55" model to connect to the internet via WiFi where a number of apps became available to view streaming content. (The current 2016 4K flagship TVs from Sony as well as several other popular brands are now fully Android) I stored both Vimeo and Youtube into my personal menu so I have recently been able to view streaming content on what is probably one of the better calibrated displays around and under our controlled, almost 'cinema' viewing conditions.
Now, here's the thing: most highly compressed 8-bit, 4:2:0 internet streaming, up-rezzed to 4K on a big, well calibrated 55" 4K screen, positioned at approximately 1.5 metres viewing distance generally looks, well, quite appalling really. However, I reckon it remains a pretty good way to monitor your own uploaded content compared with others. In other words, if your own HD and 4K material looks pretty good on YouTube up close on a big screen, then you probably have all of the workflow boxes successfully ticked.
This is what I thought until I accidentally tripped over a clip of US country singer Willie Nelson singing the George Gershwin standard: 'Summertime'. Now I'm not normally a fan of country music but the streaming picture quality on this clip to my eye on our 55" 4K monitor is absolutely astounding, as is the sound quality.
Somehow, the producers of this material (and their accompanying promotional video for the album: 'Willie Nelson Sings Gershwin') have managed to nail the streaming content workflow absolutely 100% and I suspect that the studio microphone which features very prominently in nearly every shot has a lot to do with the sound quality but as always, there are a heck of a lot of steps between controlled studio sound and picture acquisition and the 4K Consumer TV sitting in my edit suite.
Now, if RedShark readers are able to shed some light on the cameras, lenses, codecs, microphones, workflow and of course, the talented people who produced this result and describe them in our Comments section below, I'm sure there will be many like me who will be fascinated to learn more...
Tags: Post & VFX