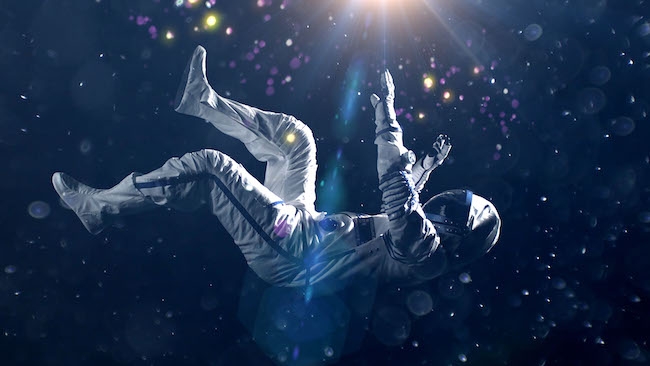 Hawking's Bizarre: Black holes, thermodynamics and radiation get the MTV treatment, with a short film that sees Professor Stephen Hawking and Aardman make beautiful music together.
Bringing two of Britain's most beloved cultural icons together for the first time, 'Inside His Head' sees Wallace & Gromit creator Aardman provide a retro-futuristic introduction for Professor Stephen Hawking's appearance at this year's Reith Lectures. Surprisingly, this isn't Hawking's first foray into pop music. The cosmology and theoretical physics guru already has two Pink Floyd song credits and a guest appearance on Monty Python's 'Galaxy Song' to his name. This latest venture, however, sees Hawking fully embrace his inner EDM diva.
Tapping into 1980s' style sci-fi, 'Inside His Head' pairs stylised 2D and 3D graphics with soundtrack created using old-school synthesisers. "I loved the kitsch futurism of the BBC's TV version of Hitchhikers Guide graphics, or the weird spacey covers of Omni magazine," explains Aardman director Will Studd. "I wanted to bring a bit of this back to explore Stephen's thoughts."
Amidst the morphing 3D forms, scientific diagrams and kaleidoscopic eye candy, Hawking's familiar computer-interpreted voice explains his own infectious love of physics. Able support is provided via audio snippets from several other notable scientists, including Carl Sagan and Brian Cox. Even more ambitiously, Aardman and Hawking also created a second trailer animation to promote the lecture on iPlayer, one that aims to explain the tricksy concept of black holes in less than two minutes.
[And apologies to anyone if these don't work outside of the UK - pesky geoblocking!]
Tags: Post & VFX