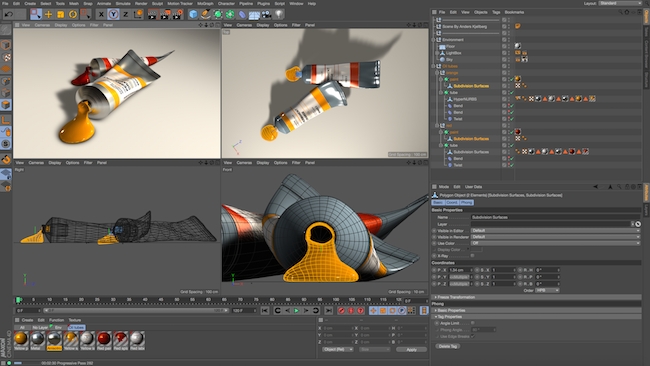 Maxon has launched Cinema 4D R17, the latest version of its evergreen 3D modelling, animation and rendering tool.
The developer is pitching this latest iteration as something powerful enough to satisfy the demands of professional 3D artists while also providing an ideal entry point for enthusiasts and 3D newbies. Along with the expected roll-call of new features, many of the existing tools have also been reworked to provide faster and more efficient working environment.
On the modelling front, Cinema 4D now provides an in-built splines toolkit, giving users the ability to create and modify splines using a range of familiar-looking sketching tools or via boolean commands. Sculpting also benefits from a major upgrade, while rendering includes new variation and formula shaders, along with a powerful material overrides function. Integration with video footage has also been addressed, with enhanced motion tracking and a new tool to compensate for lens distortion issues.
Maxon also seems to have taken a leaf out of Adobe's book, with a range of controls and tools - including a range of colour picker and swatch tools - that will make Creative Suite users right at home. Pipeline integration has also been addressed, with support for SketchUp model files and full compatibility with Houdini digital assets. But perhaps the biggest overhaul in R17 is with the overall workflow, which introduces the new Take System. This facilitates the creation of multiple takes of the same scene, with all versions saved to the same scene file and easily nested using 'parent-children' hierarchies.
As before, four versions of the software are available: Prime for entry-level users, Broadcast for motion graphics design, Visualize for visualisation work, and the full-featured Studio edition. Prices also remain unchanged, starting at £600 for a full licence, or £230 for an upgrade. Maxon has released Aixsponza's short film, Seed, to showcase the power of Cinema 4D R17. You can view it below.
Tags: Post & VFX