Adobe is announcing the next set of enhancements to Creative Cloud for video, adding features to Premiere Pro, After Effects and Frame.io in this update cycle.
Premiere Pro
In May 2023, Adobe released text-based editing in Premiere Pro after a public beta cycle. It is important to note, as our Adobe press briefers reiterated to us, that text-based editing does not require an internet connection for text-to-speech transcription, which does set it apart from other applications that send audio to cloud servers. Adobe is adding Filler Word Detection to this feature in response to user requests. This means that Premiere Pro can detect pauses and so-called filler words like all the uhs and ums and, with one click, delete them. It is also possible to set a duration of pause to be detected and deleted. This also works across multi-track audio.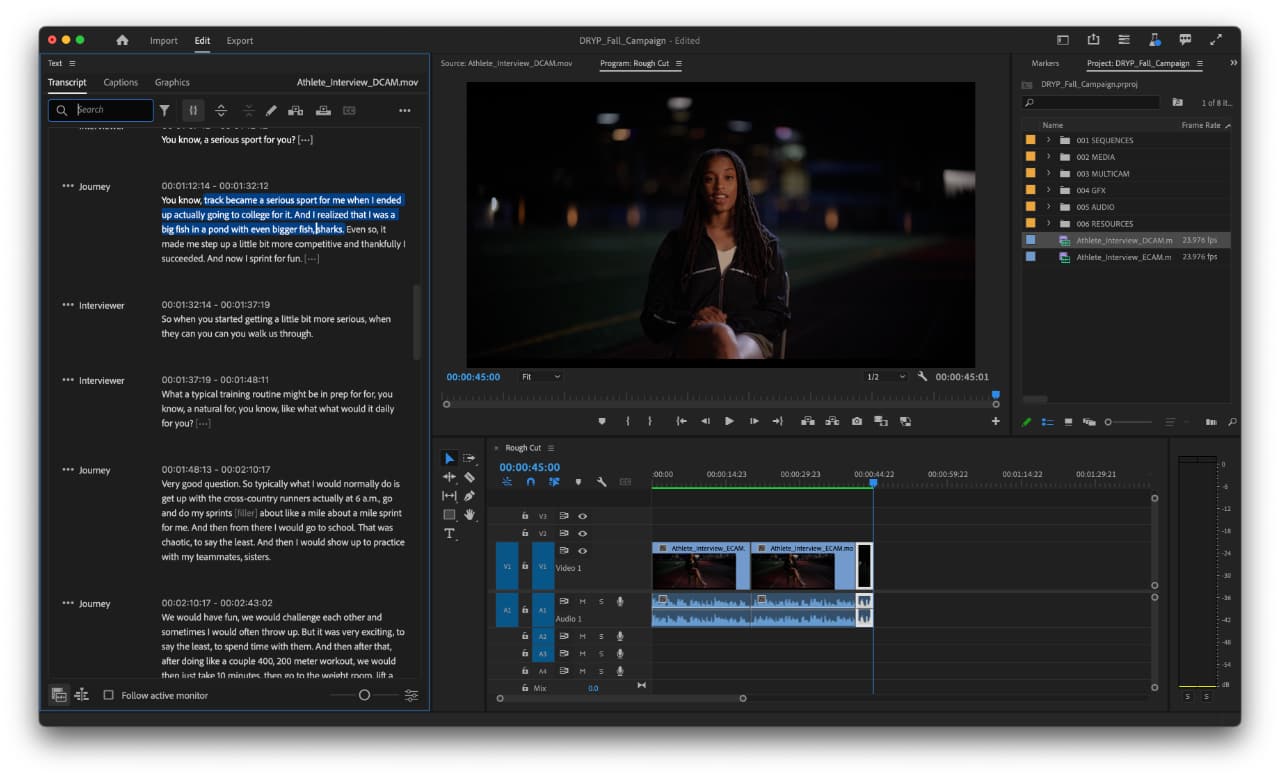 Text-based-editing is iterating rapidly
Enhance Speech removes noise from voice with just one click. AI technology can make voices sound like studio rather than field recordings. This feature too comes from user requests, in this case from the podcast community.
A frequent request from all users is timeline performance. Adobe claims up to a 5x faster performance in timeline thanks in good measure to clearing out considerable legacy code. I guess it is always good to clean out your closets occasionally.
Color sees improvements in automatic tone mapping with options for three new tone mapping methods. Settings in the Lumetri Color panel are also consolidated, and there are improvements to LUT management. But the most significant improvement in color is a fix to the dreaded Quick Time gamma differences. The sequence gamma can be set to match QT, so no more of that gamma 2.2 or 2.4 manual gyrations! Writer's note—thank you, Adobe.
Ever had a third-party plug-in crash the system? Effects Manager can detect a third-party crash, isolate that plug-in, and, on relaunching the application, recover your place automatically.
According to Adobe, here are a few more features based on community feedback. Metadata and TC can be burned in. New project templates, custom export across projects and export to Media Encoder are added. There is guidance in installing Blackmagic RAW, and perhaps the most significant feature for many of us, batch selection of markers is implemented.
After Effects
While Premiere Pro is a mature product to which Adobe adds new functionalities, After Effects continues to add features.
Advancing After Effect's 3D capabilities is True 3D Workspace for motion graphics. It is now possible to import, animate, light, shade and render 3D models regardless of the source of those 3D models. Users can combine 2D and 3D elements in this new workspace. A new GPU-accelerated rendering engine can deliver photo-realistic results. And through Creative Cloud libraries, Substance 3D assets are available for free.
Rotoscoping gets AI! Simply using the rotoscope tool, just draw a line along the object or subject and AI will figure out the rest. It is particularly effective for overlapping hair or limbs as well as transparent elements. Of course, manual adjustments can be made, but it does seem remarkably accurate in picking up details that could take hours of manual refinement pre-AI rotoscoping.
Frame.io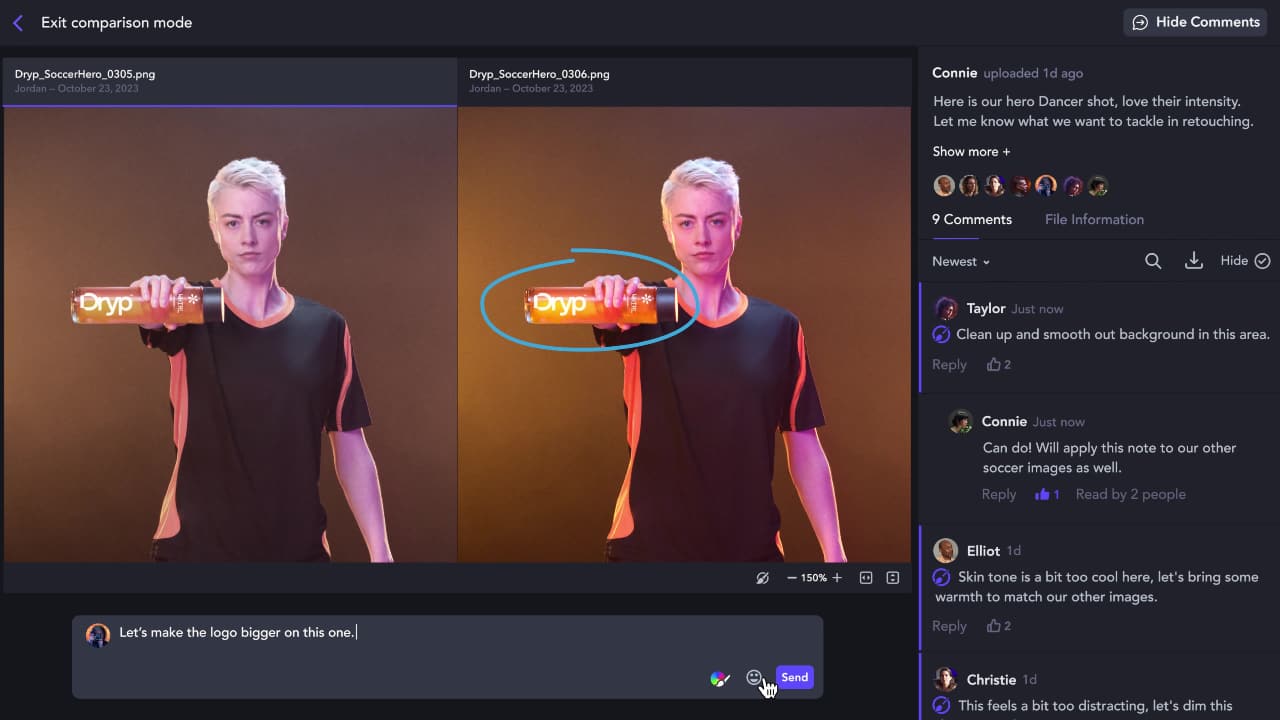 Comments are quicker in Frame.io now than ever before
Adobe continues the development of Frame.io at a rapid pace in response to individual and enterprise-level users.
Frame.io now recognises audio, video, images or PDF assets, and these can be compared side by side, matched and annotated.
ProRes RAW and 10bit 4K workflows are now possible with Atomos Ninja and Ninja Ultra.
The newly announced 102MP Fujifilm GFX-100 II, also with 8K video, is now supported for camera to cloud at the high end, and at the other end, the Accsoon SeeMo and SeeMo Pro are supported for c2c.
Enterprise users constitute a significant part of the Frame.io base, and in direct response to the storage requirements of this segment, AWS S3 bucket can be connected directly to Frame.io. This represents both a cost-saving as well as workflow efficiency for enterprise users in c2c workflows.
All of these features will be released in public beta on September 13, 2023, with release versions coming at some point in Fall 2023.
Tags: Post & VFX