We kick off the first of what will no doubt be several IBC2023 news round ups with news from Hedge, Marshall Electronics, INFiLED, Dejero, LYNX Technik, TVU Networks, Genelec, VIVE Mars CamTrack, and Magewell.
Hedge (7.A32) has introduced new Mimiq Pro Workspaces with Quantum StorNext. Mimiq has long been established as the solution for editors and post facilities looking to liberate Avid Media Composer from expensive, proprietary storage, and with the launch of Workspaces back at NAB it allowed users to mount folders on block-based storage to create shares that Avid Media Composer recognizes.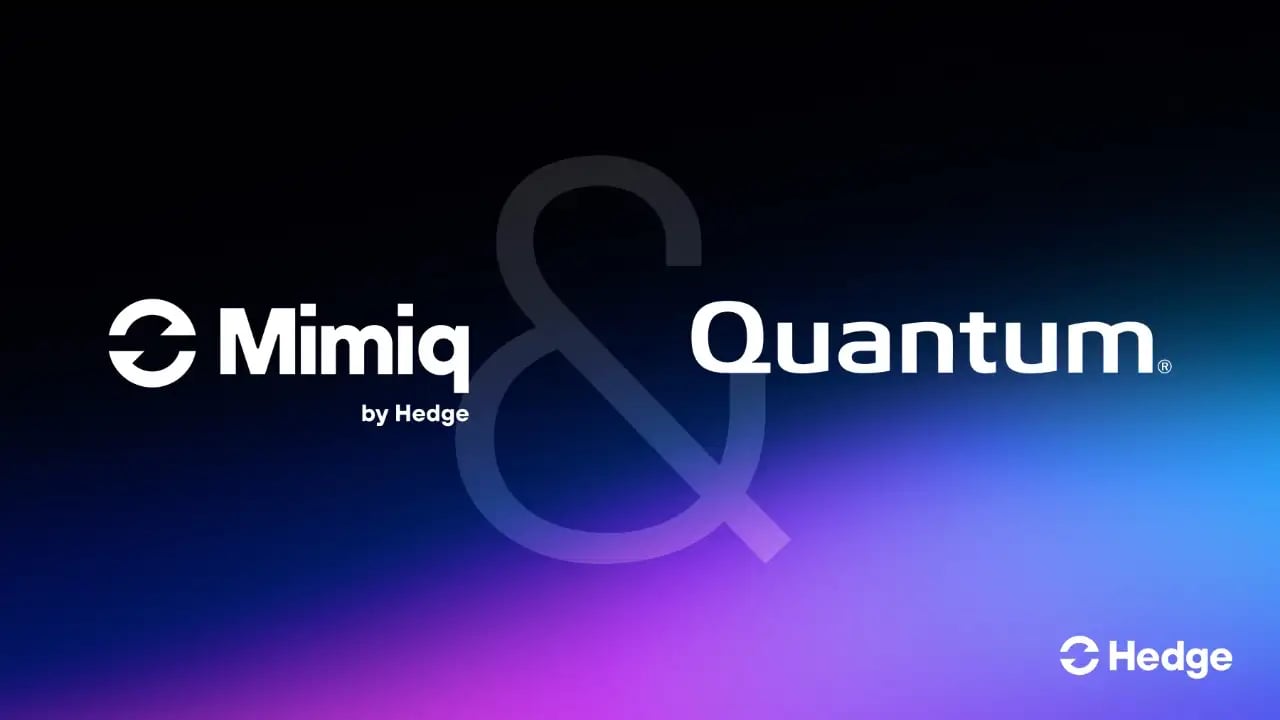 "At last editors and post-production facilities can easily add Avid Media Composer projects to their shared storage environments powered by Quantum StorNext," says Hedge CEO, Paul Matthijs . "With Workspaces on Mimiq Pro, it's easy to set up shared folders and mounts for Avid Media Composer and run Media Composer alongside other NLEs right on their existing infrastructure. This unlocks the ability for these teams to migrate older projects off of ageing storage, archive and retrieve completed projects within StorNext and dramatically streamline their operations. The once impossible - is now possible."
Mimiq Pro is available to purchase now with licenses starting at $499.
Marshall Electronics (2.A47) will showcase its new CV420Ne, a compact 4K60 camera with NDI for the first time in Europe. An NDI|HX3 version of its ultra-wide 100-degree angle-of-view streaming POV camera, the CV420Ne features an impressive 9.5 Megapixel 4K sensor and offers digital pan, tilt and zoom with over 250 presets at HD resolutions within the larger 4K sensor space. Connectivity includes NDI, HDMI and USB outputs.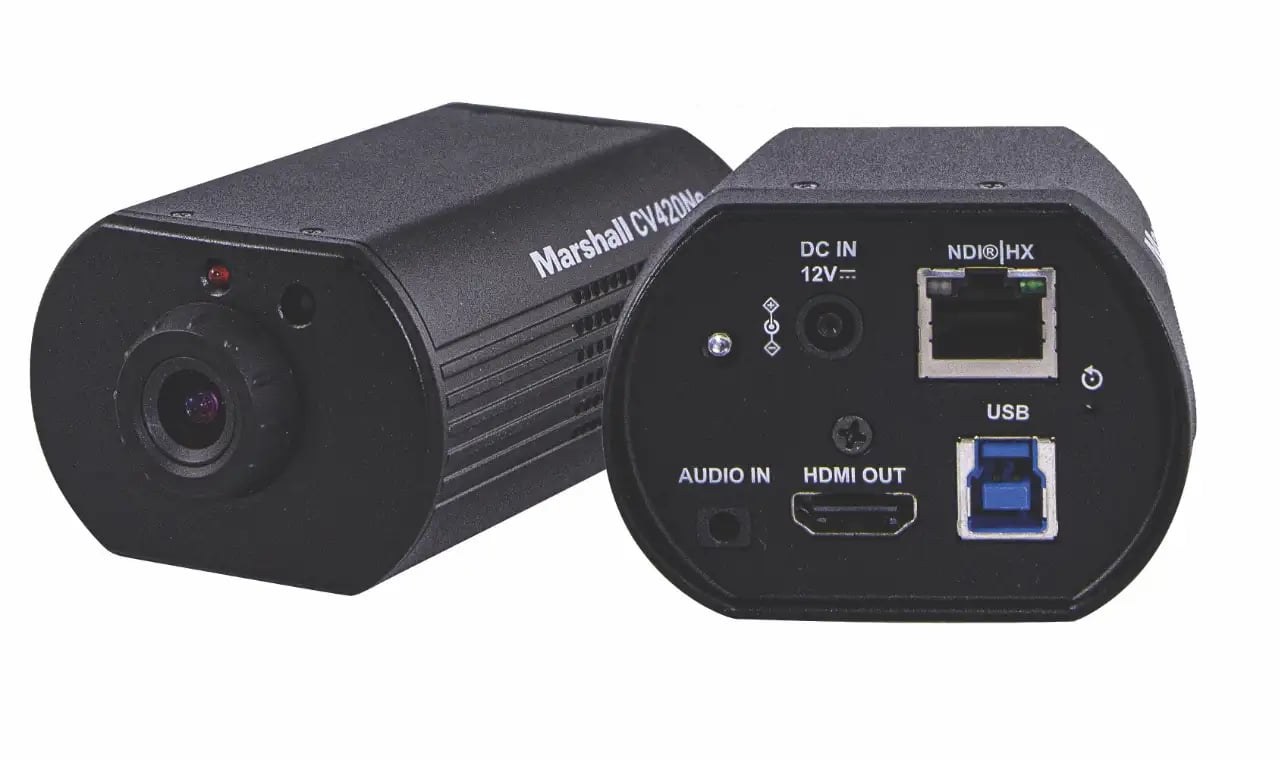 Over on the virtual production side of things, INFiLED (2.B43) is launching its new Infinite Colors technology for LED Displays. As you are no doubt aware, traditional LED video displays only use three emitters being Red, Green, and Blue. INFiLED is introducing a fourth emitter in a custom LED package that increases the color spectrum viewed from professional cameras by using a LED video Ceiling. Infinite Colours improves a variety of LED applications by allowing full variations in tone, saturation, and colour appearance in white light and custom colours, all featured in one display.
The initial application of Infinite Colors technology can be observed in the INFiLED Studio AR Series, which will be presented during the show. The company says that this implementation serves as a stepping-stone towards the development of a comprehensive range of high-performance extended light and color spectrum solutions tailored specifically for virtual productions.
Dejero (2.B51)will introduce its latest EnGo mobile video transmitter to visitors at the show. Not only does the new EnGo 3s carry the same powerful features of the EnGo 3, including native 5G modems and built-in GateWay Mode for wireless internet broadband connectivity; it also offers 12G-SDI and HDMI connectors. Because 12G-SDI can deliver eight times the bandwidth of HD-SDI, that means users have the ability to handle high frame rate and live 4K/UHD signals, over a single cable.
Lots from LYNX Technik (10.A10). The company reckons that a new 4K HDMI to 12G SDI Converter is an ideal throw-down module or system solution for any professional video and media application where users need to convert an HDMI 2.0 signal to 12G SDI in real time and without any loss in signal quality. A new yellobrik, the CQS 1462, is a bi-directional single-link / quad-link converter billed as the perfect bridge between single link 12G SDI and quad 3G SDI signals. Typical applications include the conversion between legacy quad 3G 4K transport systems (SQD or 2SI) into single link 12G SDI signals.
And two new AES and Analog audio embedders/de-embedders, both support SDI formats up to 12G. The PDM 1484 B and PDM 1484 D, for it is they, are multi-purpose yellobriks supporting both embedding and de-embedding functions simultaneously and allow access to four audio groups (16 channels), which can easily be selected and assigned by a rotatory switch on the unit or via LynxCentraal or yelloGUI software. By cascading or racking modules together, additional audio groups can be included in, or extracted from the video stream.
TVU Networks (5.C82) has gone 4K. Its end-to-end TVU Cloud Ecosystem for live video production now supports 4K natively, encompassing collaboration, playout and distribution as well as AI-based recording, indexing, and search. Which is interesting because it hi lights how 4K production is rolling out everywhere.
"We are seeing a growing demand for live 4K production, particularly within sports, entertainment, corporate, and major events. The pivotal consideration of applying 4K in these specific industries revolves around cost effectiveness and flexibility, as the cost and complexity of a traditional 4K production environment is generally not practical," said Paul Shen, CEO, TVU Networks.
Finland's Genelec (8.A61) has chosen IBC to unveil the 9320A Reference Controller as a bridge to its brand new UNIO Audio Monitoring Service Platform. UNIO brings together all the benefits of Genelec Smart Active Monitors, GLM 5.0 calibration software and Aural ID 2.0 technology to create what the company says is seamless integration between professional in-room loudspeaker and headphone monitoring services.
With flexible connectivity, a reference grade headphone output and tactile hardware control of Smart Active Monitors, GLM and Aural ID, the 9320A provides a compact and fully-featured hub for both static and mobile professional audio monitoring applications.
Virtual production seems to be taking the eye candy plaudits again this year with Hall 7 the predictable hub. VIVE Mars CamTrack (7.D10) will be showing the latest in virtual production with Aximmetry's Virtual Studio; showing off three different demos including Mars FIZTrack, its newly announced lens encoder, which is making its European debut. Stand demos include: an LED wall-based demo, with INFiLED and a Brompton Technology processor; a greenscreen demo with Green Pro Cyc; and an all-new Augmented Reality demo, using VIVE Mars FIZTrack.
The Director Mini is the first self-contained, full-featured production solution from Magewell (7.A44). Combining multi-input switching, graphics, streaming, recording and monitoring in one compact device, the company reckons that the Director Mini enables a single operator to easily create visually compelling productions for live event coverage, remote production feeds and more.
"Director Mini is designed to make small and mid-sized multi-input productions extraordinarily easy for a single operator," said Nick Ma, CEO and CTO of Magewell. "With support for HDMI and USB AV sources as well as NDI HX, SRT and RTMP streams, it also gives users incredible flexibility in the number and types of inputs they can incorporate into their productions."
Tags: Production IBC2023