The Gigabyte Aero 17 XA has some pretty nifty specs on paper. How does it stack up in the real world, and more importantly against the competition?

Image: Gigabyte.
Decades ago, film and TV productions used a huge amount of very specific equipment, from film itself to editing setups involving three enormous tape decks. In 2020, many of those things have been completely replaced by computers. Meanwhile, we're often expected to shoot and edit 4K and beyond with no more support than we can fit in a backpack. Most laptops spend a lot of time doing web, word and email, but the film and TV industry still has ways of making average machines break down in tears.
So, we need something a bit more than an average machine, something with a reasonable amount of memory and CPU horsepower but also with a decent GPU for those times we need to fire up Resolve, and fast storage for verifying file duplicates. Sometimes, people have bought laptops aimed at gamers to do this sort of work. That can work, though gaming laptops often have displays intended to be fast rather than accurate, and are sometimes less concerned with portability and battery life than we'd like.
Gigabyte's Aero series seems designed to solve exactly those problems, combining the speed and power of a gamer's laptop with display options and industrial design aimed squarely at the creative.
There are options for i7 or i9 processors, up to 64GB of RAM, Nvidia's RTX-series GPUs, and displays including HDR-certified UHD options on the 17.3" machines. There's even an OLED display on the smaller 15.6" version. Choosing the right spec can help avoid keeping the whole camera department hanging around at the end of the day while a flash card is duplicated, so people will certainly make a comparison and in the film industry there's one particular comparison that's almost inevitable.
The $2400 Aero 17 XA seems designed to compete with Apple's $2800 16" Macbook Pro option, and it's a fight the Aero starts winning early.
Both machines have the same Intel Core i9-9980HK processor and 16GB of DDR4-2666 memory; both are upgradeable to 64GB. However, the Aero's Nvidia GeForce RTX 2070 MAX-Q quite simply eclipses the Mac's Radeon Pro 5500m, clocking in at up to 78% faster in user benchmarks. That's enough to make a noticeable difference in GPU-accelerated applications.
What's more, the Mac's Radeon has 4GB of graphics memory, while the Aero offers twice that. That's a very, very significant upgrade, particularly for tasks such as temporal noise reduction in deeply-stacked Resolve timelines. Nvidia even offer a version of their drivers, the RTX Studio edition, which target specific productivity applications in the same way that the mainstream gaming drivers target specific games.
The Aero also makes it easier to watch what we're doing. The 17.3" display is larger than the Mac's, of course, but it's also higher in resolution and enjoys VESA DisplayHDR 400 certification as well as complete coverage of the Adobe RGB colourspace. There's also the option to take a high-speed, 144Hz HD display if the faster refresh rate is important, though creatives will probably go for the UHD option to provide more space for controls outside an image.
In the past, portable computing was often worthwhile only in situations where the portability was absolutely required; otherwise, the compromise to price and performance was sometimes too much. Powerful modern laptops such as the Aero range, though, make it much more practical to go on the move with tasks that would previously have demanded a workstation.
With high-power GPUs, they're capable of running applications such as Resolve on much the same level as some desktop computers. That's made things like on-set grading a lot more capable and a lot more affordable, without requiring cumbersome setups involving an external thunderbolt graphics card.
All that GPU power is just as relevant to people using applications such as Cinema 4D and Blender, where the resources are useful both for previews and the final render. Gaming technology designed to produce attractive renders in real time, things like the Unreal Engine, are increasingly being used for both pre-visualisation and even environment rendering.
With LED video walls constantly growing in resolution, it's also become possible to use realtime environments not just for preview but as a final render of the environment, with camera tracking and screen perspective correction all handled on the computer. There'll always be a limit, but more power means more complex environments at higher resolutions and frame rates.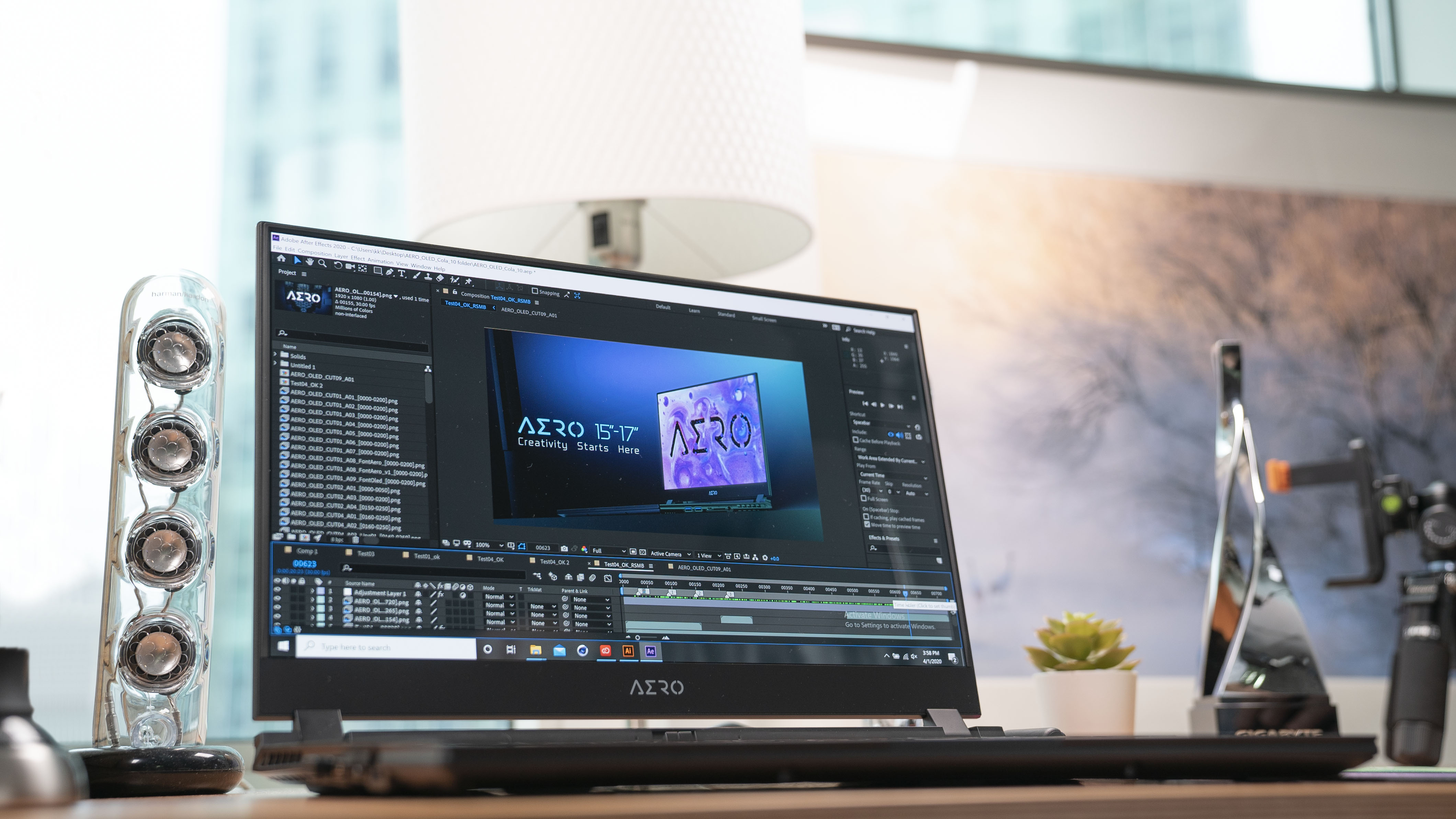 Perhaps the most common application is also the most prosaic, though: more or less every film and television program made at the moment needs to download material from camera cards, duplicate it, transcode it, and store it. That takes both connectivity and fast internal storage for hashing and verifying files.
Each Aero laptop has Thunderbolt 3 and three USB 3.2 gen 1 connectors, so there's no problem connecting high-performance camera card readers and external storage (and there's a UHS-II SD card reader for anyone shooting that format). Perhaps more than anything else, fast storage and fast connectivity makes it possible for everyone to wrap on time, and anyone who's done this for a living will understand just how much that matters.
There's even some upgradeability. The Aero 17 has two M.2 slots for PCIe SSDs, leaving one free for a scratch disk with a potential total of 2TB of high speed storage. Fast as PCIe SSDs are, having one solely reserved to provide scratch space to an editing or grading application is a major quality-of-life upgrade. The smaller 15-inch options somehow maintain exactly the same connectivity and a full keyboard, making them a feature-dense option for anyone looking to support a really mobile production.
And, for those moments where the work is done, there's always Rise of the Tomb Raider. These machines may be a distillation of the best of gaming laptops into a creator-oriented format, but they'll still entertain if the need arises – though most DITs will be busy driving home at that point.