Whatever you're into, there's a podcast for it. Filmmaking is no exception. Josh Edwards cuts through the noise and gives you his top eight favourites.
Podcasts have really taken off over the past 10 years. At first, they were considered a bit niche. Perhaps you just had that one hip friend who listened to them back in 2008? But now, they're everywhere.
I love podcasts because they allow you to take on board useful information or simply just be entertained whilst doing something else. Whether that's driving to a shoot in the car, on a run to unwind or prepping gear. I'm no multi-tasker but podcasts have given me that superpower.
Whatever you want to find out more about, there's a podcast for it. Filmmaking is no exception to this rule. In fact, there are a crazy amount of options out there. If you're just diving into the world of filmmaking podcasts and wondering what to listen to, it can all seem a bit daunting. Too much choice. So here, I've given you my eight favourites that I'm always tuning in to.
Studio Sherpas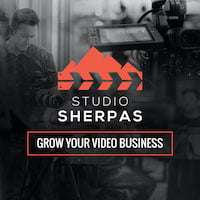 I've been listening to Studio Sherpas since they started way back in 2016. While I knew how to make a film and shoot video, I didn't yet know how to make a business and a living out of it. That's why I love this podcast.
Host Ryan Koral interviews weekly guests from a wide range of backgrounds throughout the video production business and really drills down on what's made them a success. Whether it's identifying the latest trends on social media, looking after your mental health, how to get more clients or how to focus on those projects that really matter, there is unlimited, priceless wealth to be uncovered here.
I guarantee you will learn something from listening to this that will improve your filmmaking.
The Documentary Life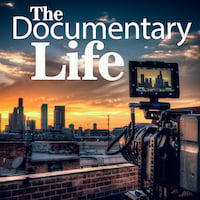 The Documentary Life is one I've just recently stumbled across. Being a documentary filmmaker myself, I've naturally gravitated toward it and really enjoy each and every episode. However, no matter which part of filmmaking you're into, there's real value here for everyone.
There are over 100+ episodes from host Chris G Parkhurst in which he interviews documentary filmmakers and industry guest experts. What's great about Chris is that he's a successful documentary filmmaker himself. He knows the craft and understands the questions we want to hear answered. You'll find a wealth of advice and experience on making films.
Indie Film Hustle
Chances are you've heard of this one. The Indie Film Hustle Podcast was founded by host Alex Ferrari in 2015 and it's a real industry-leader. Every aspect of filmmaking is featured and discussed in this podcast, including cinematography, post-production, color-grading, and distribution (I find this particularly useful).
Alex himself has worked in this industry for over 25 years shooting everything from features, shorts, commercials, music videos, YouTube and more. He's got great connections, interesting guests and real skin in the game. Always nice to know you're in good hands.
The Chase Jarvis LIVE show
Whilst this podcast doesn't focus solely on filmmaking (everything from photography to social media is discussed here), it's really, really interesting. Chase - a renowned adventure photographer himself - goes in-depth with a creative guest every week, finding out what makes them tick and revealing exactly how they got to where they are.
By hearing how others have done it, I've been able to take on board some of their great ideas and navigate my own way into the industry. It's hard to believe these podcasts are free sometimes!
How To Scale a Video Business
Similar to the Studio Sherpas Podcast, 'How To Scale A Video Business' isn't so much about the craft of filmmaking itself, but rather about how to turn it into a viable, successful business.
As creatives, a lot of us don't like to get bogged down by the 'ugly' side of business and money. However, if you're serious about what you do, it is really important.
Listening to Den Lennie talk open and honestly about his experiences, as well as interviewing plenty of guests who've already been there and done it, has really helped me progress and get to grips with ensuring I get to do what I love as a full-time job.
The No Film School Podcast
Another big-shot alongside Indie Film Hustle, NoFilmSchool is a whole brand that's focused on helping you become a better self-taught filmmaker.
The podcast is a fantastic extension of this huge community of filmmakers, featuring interviews with peers and industry leaders around the world. You've got a great variety of episodes, from discussion points like 'will Christohper Nolan's 'Tenet' bring us back to theatres?' (great question) to interviews with Larry Sher, discussing how he shot Joker, built his career and almost got fired on his first day. It's all here.
Oz Film Creatives Podcast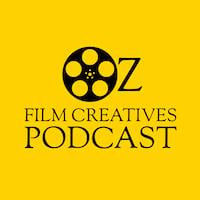 Oz Film Creatives podcast is relatively unknown. I stumbled across it by chance, but I really like it. Host Peter Szilveszter shines a spotlight on the world of Australian cinematography, interviewing leading Australian creatives who are working behind the camera on films, TV shows and everything in between.
As with any interview with industry leaders, each episode is packed full of priceless insight and knowledge. Even though I'm not Australian, I've found this really interesting to think about how each country operates in the film industry. It's helped me to further appreciate the network of friends and peers I am currently building.
Teralon Talks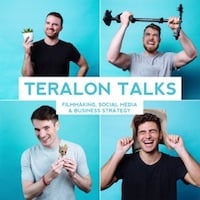 Rounding off this list, another relatively unknown podcast. My friend Santi Morgan Garcia and the rest of the team at production company Teralon have just gotten started with episodes diving into the world of filmmaking, tackling different topics with different guests such as mental health and how to 'make it' in this industry.
It's a good blend of both the craft of filmmaking itself, as well as the business side of things. I've enjoyed the laid-back conversation style and the banter along the way, as well as the fact that the Teralon team are living and breathing this every single day. They're filmmakers and if you want to be a good host of any filmmaking podcast, that's super important.
Tags: Studio & Broadcast