In January 2021, the movie Devotion started production - right in the teeth of the pandemic. Released last year, it remains a textbook example of how the cloud not only aides production workflows, but makes sure they happen in the first place.
Working in HDR
In the ever-evolving landscape of filmmaking, remote workflows have been a game-changer for filmmakers such as the team behind Devotion, which includes director JD Dillard, Billy Fox ACE, and assistant editor Russell August Anderson. Like everyone during that time, these guys encountered many hurdles due to Covid safety restrictions. Following location scouting, they started in late January 2021 with aerial shoots in Washington. With a single airplane carrying six cameras, the crew managed to capture content up to 18 hours of dailies a day. After this, the crew was off to Savannah to start four months of photography, capturing the main bulk of the film.
Russell's connection with Frame.io's Michael Cioni opened doors to using the platform for the HDR (High Dynamic Range) dailies delivery pipeline. The project demanded a seamless distribution process for remote teams while maintaining high-quality dailies for the on-set crew to effectively review the different footage nuances.
Devotion was shot on different cameras including the Panavision Millennium DXL2, RED Komodo, and Monstro cameras at resolutions ranging from 6K to 8K. For aerial sequences, the Sony Venice cameras came into play. All the different footage was tied together using H.265-encoded dailies optimized for the on-set crew, who viewed the content on HDR-enabled iPads and iPhones. HDR scenes enabled to the creation of scenes with stark variations in lighting, where the extended dynamic range improved the viewer's experience.
Collaborating with cinematographer Erik Messerschmidt, Dillard was able to focus on the film's ultimate atmosphere already during the assembly phase. This approach was possible thanks to the HDR dailies's role in capturing the project's essence.
Comparing shots on set
The Frame.io platform hosting the HDR dailies offered an additional advantage: the ability to compare shots immediately on set. In the case of Devotion, scenarios where the main unit and the aerial units work in parallel, the integration of approximately 450 hours of aerial dailies becomes crucial.
"You're shooting a scene and the related portion of that scene was shot a week ago. A lot of that can be done with your video assist, but when you're shooting the main unit in tandem with the aerial, it doesn't have all 450 hours of aerial dailies. And some of those things really need to intertwine," Dillard says.
This innovation in remote workflows showcases the industry's adaptability, even during challenges like the pandemic where working remotely becomes the new norm. The utilization of HDR technology, facilitated by Frame.io, not only transformed the collaborative process but also elevated the production's overall quality. As directors, cinematographers, and crews continue to utilize innovations like this, the possibilities for creative storytelling remain limitless even as the pandemic recedes into history.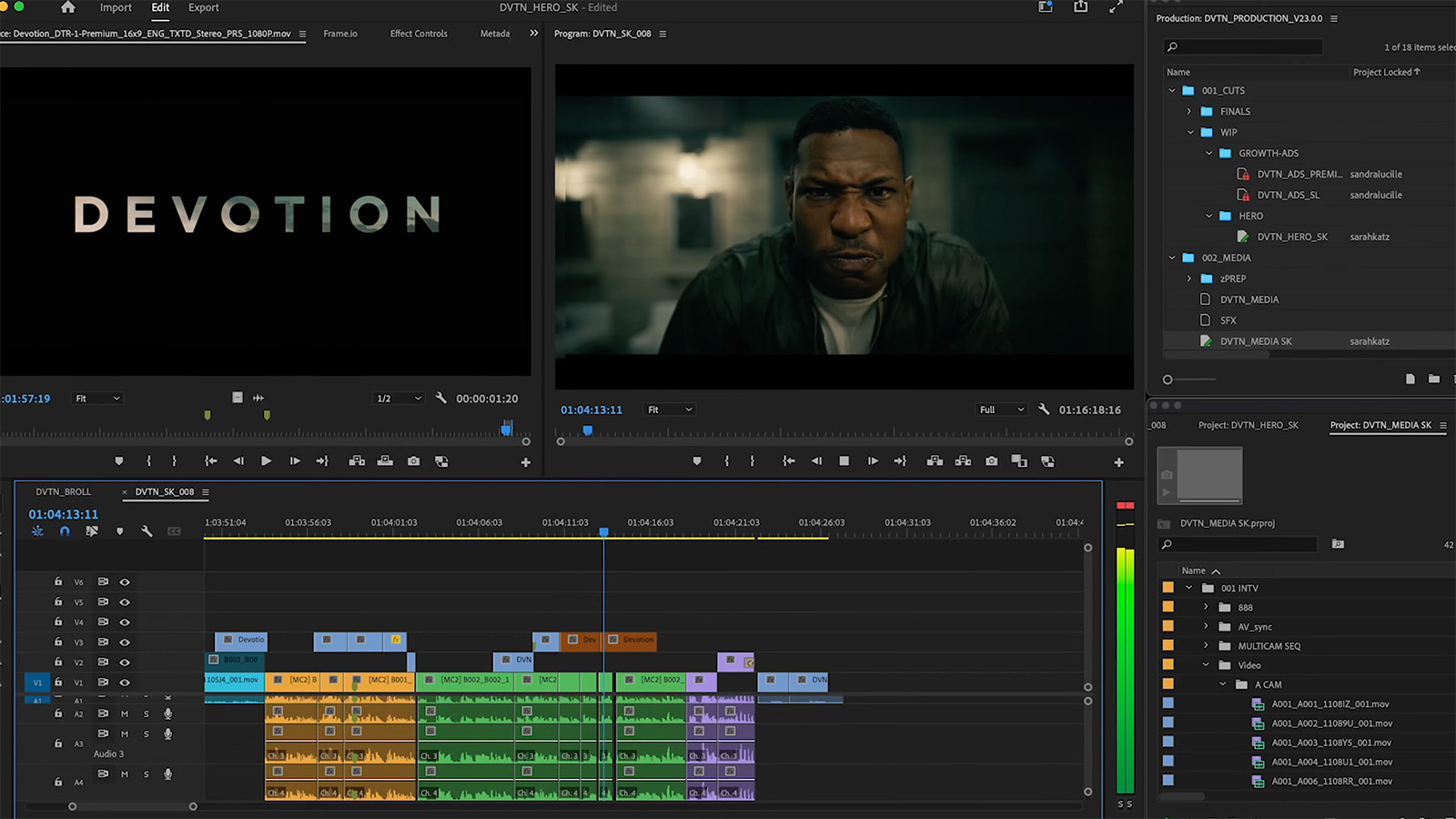 Photo credit Frame.io
Adobe Premiere Pro's Productions
JD used Adobe applications including Photoshop, Lightroom, and Premiere Pro, emphasizing the importance of accessibility during remote work. He could easily access his cuts and dailies, enabling him to experiment and make quick decisions no matter the time of the day. Russell and Billy, all the editors of Devotion, uploaded ProRes proxies into Premiere Pro and used the Productions feature, which organized multiple project files within a cohesive structure. This enabled the team to work remotely through their complex multi-project workflows.
For collaboration, LucidLink cloud storage centralized their media, while Resilio Sync facilitated the sharing of terabytes of assets. Discord provided instant communication, allowing Billy to easily collaborate with Russell as if they were in the same physical space, where Russell organized dailies into scenes for Billy, and each reel was transformed into its own project. A Work in Progress (WIP) project allowed Billy to make changes beyond the initial "God edit."
Collaboration and automation through Frame.io
Throughout both production and post-production, Frame.io enabled collaboration through various departments. It facilitated communication, review, and collaboration across different stages of the filmmaking process. Russell highlighted the use of Frame.io for color notes, edits, turnovers, and sharing of elements with different team members.
"Links would go out to the director, producers, editors, mixers, composers, and VFX. Frame.io was our way to get edits to people and track who watched them," he says.
Russell's coding background enabled him to leverage Frame.io's API for automation. He developed command-line scripts to automate uploading processes and renaming tasks, which would have been "quite boring to organize manually." Other workflows were created within Adobe Premiere Pro through automation, enhancing efficiency in tasks such as preparing content for After Effects.
The synergy between Adobe Premiere Pro and After Effects was used as part of the remote workflow strategy. Russell extensively utilized After Effects to stabilize shots, create rapid compositions, and collaborate with Billy. Dynamic Link bridged these two platforms together and supported the sharing of After Effects creations. This included managing thousands of shots which each included potentially multiple elements.
Devotion was the result of creative collaboration, even in the face of enforced remote constraints. Adobe Premiere Pro and Frame.io didn't just help to overcome the challenges of remote collaboration but made it even better, creating a borderless workflow that productions can now spec by choice rather than simply necessity.
Repurposed from Made in Frame: "Devotion" Takes to the Cloud here.
Tags: Cloud