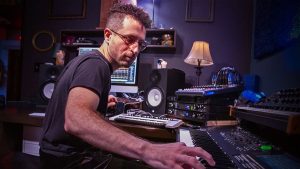 First look: Avid's Pro Tools is an industry standard for very good reasons indeed. We take a look at the latest version.
Avid let me have a go at the latest version of its DAW, Pro Tools Ultimate. That's the version that is specifically tailored to creating musical scores and editing dialogue for movies and TV series besides plain music. Included with the Ultimate version are 115 plug-ins at no extra charge of which UVI Falcon 2, a virtual instrument that makes it easy to create real-world and out-of-this-world sounds and HEAT (Harmonically Enhanced Algorithm Technology), a software add-on that gives you the euphonic characteristics of prized analogue gear.
At first sight, Pro Tools is quite daunting but musicians and movie sound editors will feel right at home once they get to know the basics. Scratching the surface, however, doesn't give you an insight into the unique functionality that other DAWs lack or at least have less of. As an example, the Avid Cloud Collaboration feature offers users a way to collaborate on a project with other artists, songwriters and producers without having to travel. Better yet, Avid Link lets you find and connect with a community of music creators and audio professionals to collaborate and exchange ideas with.
Even while working on a low-end iMac 5K/2017, I was capable of trying out most features without any problems — although I had to occasionally turn up the buffer size or output at a lower spec than you'd be using for professional music and film. For best performance, you should really pay attention to Avid's minimum system requirements.
For moviemakers, Pro Tools software, together with its dedicated Avid control surfaces, is the most often used solution for mixing immersive audio such as Dolby Atmos or other 3D audio for film or TV. You can work with Atmos 7.1.2 audio systems and object panning. With the latest Dolby Atmos Production Suite and enhanced Core Audio support for Dolby Audio Bridge, you can send 130 channels from Pro Tools to the Dolby Atmos Renderer. None of the other DAWs on the market does better.
Pro Tools also lets you create immersive full-sphere surround sound mixes for virtual reality productions — from start to finish in a 3D space with support for first, second and third-order Ambisonics formats across Pro Tools tracks and busses.
With the buffer size and cache set to default values, my machine allowed me to work directly with a 4K video clip that I had to convert to MXF first as I am on a Catalina system. If it'd been a production clip for streaming, I could have output it to Netflix since Pro Tools Ultimate 2019.12 has become part of the Netflix Post Technology Alliance. This should ensure that Pro Tools solutions support Netflix's technical and workflow requirements.
With all of the features Pro Tools delivers and of which I have only started to scratch the surface, it's easy to see why it's still the market leader by a large margin. Its collaboration functionality and standards support are far beyond what other DAWs offer. Their focus is almost exclusively on the creative side while Pro Tools has an eye for the commercial side as well.